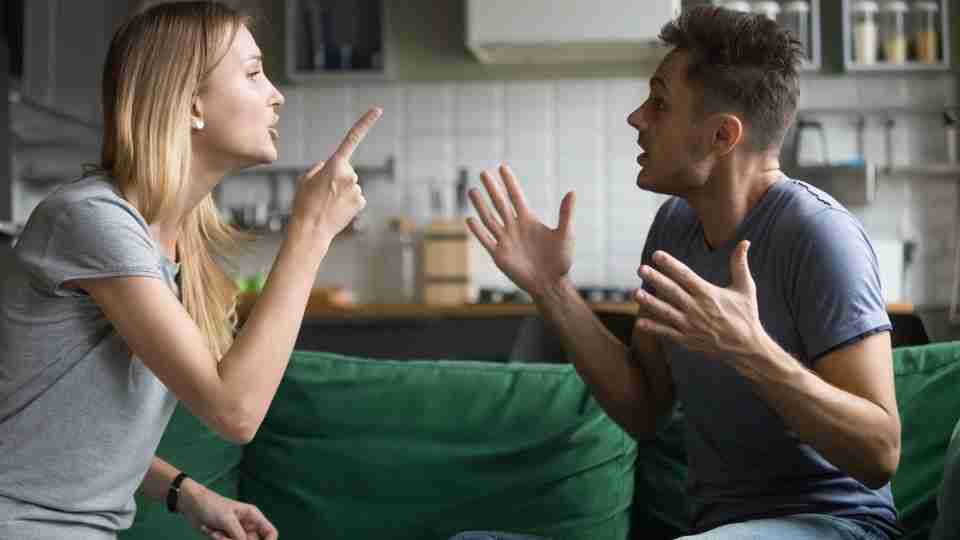 Family feud is one of the most popular television game shows in America that has been around for 40 years. Families gather around to watch the show regularly and enjoy their evenings by answering the family feud questions from their living room.
However, one can also make it more enjoyable and exciting by playing the home version of family feud game during the family nights rather than watching the show.
Instead of scrolling the web for selecting the right questions for this game, be ready and use our complete guide for fun at home family feud games.
In order to get everyone engaged, here is our list of 500 survey questions including family, friends, kids, adults and many more. Moreover, you will also come to understand how to play, prepare and set up family feud games from the comfort of your couch at home.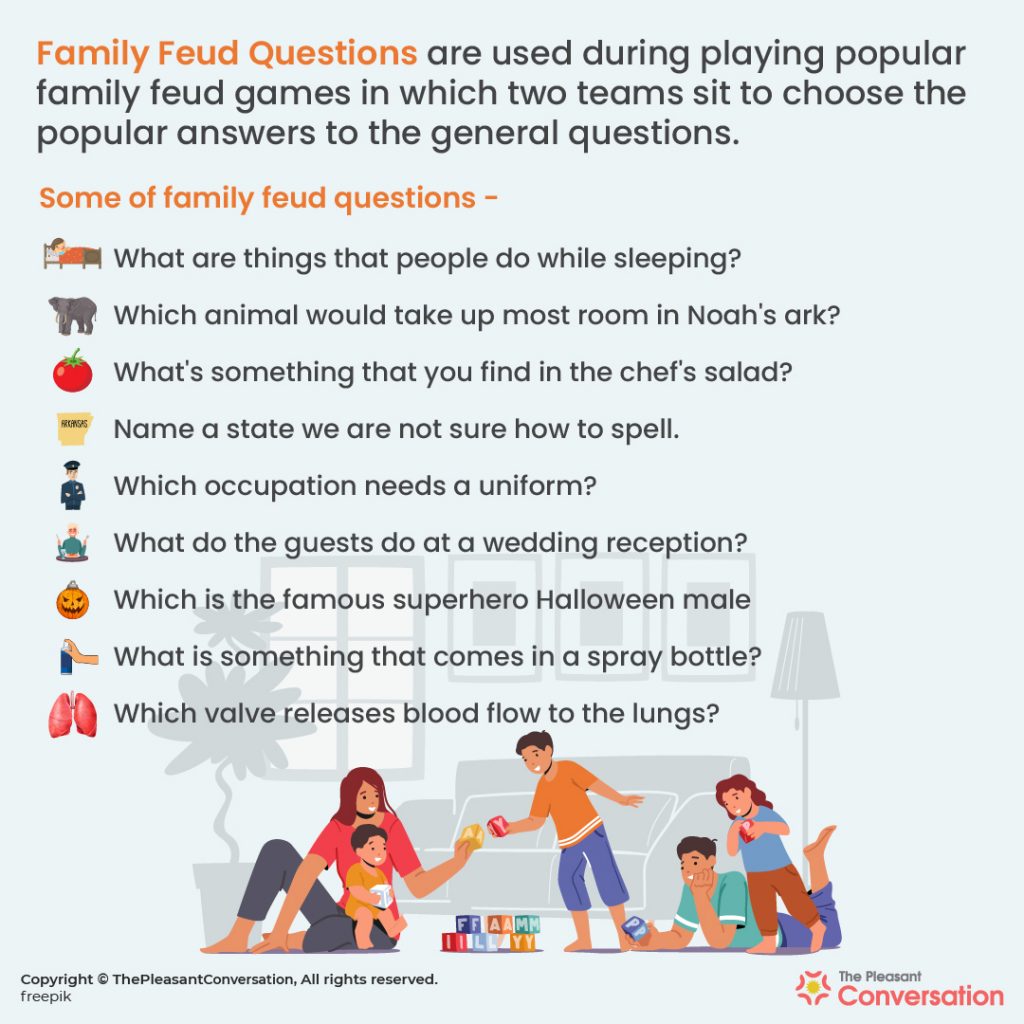 What is the meaning of a family feud and how does it work?
SUMMARY
Family feud is a game that involves two families or teams to correctly guess the most famous responses to family feud questions in order to compete with each other and win the game.
In this game, the players are divided into two teams that compete against each other. These two teams will need to choose the most popular answers to the general questions used on a daily basis.
Family feud is not only about who has a good IQ but it is also about who knows better what the general public answers or in simple words what is chosen by most of the people. You need to select the top answers and get points for each answer.
For instance, if 40 people say that a cat is their favorite pet and your team chooses a cat as an answer then you will get 40 points. The points for answers will be given by 100 people surveyed for the same.
The team with the most points will be declared the winner.
How to play a family feud game at home?
For setting up the game, most of the families prefer to turn their couches so they can face the other team in front of the room. There is a complete step by step process to play the game in the right way and tends to be more fun.
Before playing family feud game, you need to select a host who can sit at the front with the scorecard and the family feud questions.
It's necessary to have the same number of team members in each team, therefore, if you have any extra members then you can choose the parent.
Ensure to make team captain who hits the buzzer and ensure to find a buzzer before starting while answering which can be a free app. There will not be any deduction in choosing wrong answers and answers on the board will be written. So, let's start with the game rules.
Step 1
The host will give the first question to the team captains in a face-off to make a decision regarding who starts the game. And players will answer the host.
Step 2
The team will start the game and get a chance to guess the answers of the first question. Each member of the team will get a chance to answer until the correct answers get revealed or the team member guesses correctly, or they got three wrong.
Step 3
If the team guesses answers to 3 questions, the turn is passed to the opposing team and they can have all the points to answer the remaining questions correctly. When passed to the second team, the host adds the questions one by one.
Step 4
The host reads the scoreboard and the team which answers all the correct questions will get the points and the game will continue until all the team members get a chance to come to the front for the face-off.
Step 5
The rounds can be conducted according to the team members. And the team with the highest number of points will be the winner of the family feud game. And the winning team gets some reward.
Now, let's delve deeper into the different versions of family feud questions and answers.
Family feud questions and answers
Are you a family feud regular? You might probably nail the most questions and answers asked on the show. Here are some of the family feud questions and answers that you have not heard before that will bring an excellent opportunity for you to try this in a family feud game night at home.
1. Choose a house that you never want to be in.
Haunted house
Big house
Doghouse
Drug house
Small house
Glass house
2. Choose something related to vampires.
Twilight
Bloodsucker
Garlic
Bat
Cape
Dracula
Fangs
3. Choose something that a baker might call his wife in a bakery.
Honey
Oven
Sweetie
Cupcake
Muffin
Sugar
Doughy
4. Choose a thing that only comes out on special events from a person's closet.
Suit
Dress
Jewellery
Dress shoes
5. If you can go to the land of OZ then what would you ask the wizard for?
Money
Health
Brain
Peace on earth
Love
Magic power
6. Choose that you see a commercial for during a basketball game.
Car
Basketball equipment
Basketball games
Restaurants
Medication
Beer
7. Choose a word that rhymes with election.
Selection
Erection
Perfection
Detection
Rejection
Collection
Section
8. While entering the bathroom, which color do you really want to not see in the toilet bowl?
Yellow
Green
Brown
Red
Pink
Black
9. If your dog ran away, choose something that you are surprised he took with him.
The cat
Leash
Food
His bike
Clothes
Bed/Pillow
Favorite toy
10. What is a thing that you can keep in your car by chance?
Money
Food water
First aid kit
Map
Flare
Gas can
11. Select An occasion for which you might wear your favorite underwear.
Hot Date
Job Interview
Casino/Gambling
Sporting Event
Wedding/Night
Anniversary
Valentine's Day
12. Give an example of something you would find on a breakfast buffet.
Eggs
Sausage
Juice
Coffee
Melon
Cereal
Bacon
13. What would most people try to buy a husband with if there was a store that just sold husbands?
Job
Personality/ Humor
Warranty
Character
Back account
Head of hair
Brain
14. Name a professional sport in which the players are well compensated.
Football
Basketball
Baseball
Tenis
Darts
15. Describe what you would do if the person next to you on a plane had B.O.
Change Sears
Cover face
Turn head
Enjoying it
Spray perfume
Sleep
Hang in bathroom
16. Choose Marvel's avengers.
Captain America
Iron man
Black Panther
The hulk
Thor
Black widow
Spiderman
17. Name a place where teenagers go where there's always a killer on the loose in horror movies.
Cabin/Camp
Graveyard
Movie theater
Basement
Bathroom
Bedroom
Party
18. Name a state with a lot of sports teams.
New York
California
Florida
Texas
Pennsylvania
19. Name a location to which a wife would be furious if her husband took her on her anniversary.
Strip joint
Sporting event
Tacky restaurant
Bar/Club
Car show
The movies
His parent's house
20. Name a Place Where Snowmen Might Have Nightmares About.
Sun/beach weather
Fire/Flame
Blow dryers
Rain
Snowplow
Drought
Snowballs
21. Name a Common Candy Bar Component.
Chocolate
Peanuts
Caramel
Almonds
Nougat
Coconut
22. Name a type of insurance.
Car
Health
Life
Home
Flood
Travel
23. Name something a woman who has a crush on Santa would leave out instead of cookies.
Better food
Lingerie
Phone number
Sexy pictures
Love letter
Herself
Booze
24. Name anything you'd buy after you've gotten engaged.
25. Name something other than letters that might have holes.
Swiss cheese
Clothes
Story
Fishing net
Colander
Screen
Road
26. Name something that a naughty child does to Santa.
Pull his beard
Bite
Go to bathroom
No cookies
Poison milk
Cuss out
Farts on him
Stays up
27. Name something people get in the mail other than letters.
Junk mails
Magazines
Bills
Packages
Postcards
Checks
28. Choose a large-population country.
29. Name something with which a squirrel might get into a battle if it tries to steal his nuts.
Birds
Another squirrel
Chipmunk
Cat
Dog
Rabbit
Human
30. Choose a type of building where it always seems to be cold.
Dark office
Work
Classroom
Hotel room
Igloo
31. What do people do with their armpits?
Shave or wax
Put deodorant
Make noise
Rub it
Sniff it
Wash them
32. Name something that you might think your house is haunted.
Noise
Moving objects
Flickering lights
Door open and close
Ghosts
33. What is something that grows faster than you want?
Hair
Weeds
Kid or baby
Belly or weight
Nails
Debt or expenses
34. Choose something that might be brewing.
Coffee
Tea
Trouble
Storm
Plot
35. Name an occupation that starts with the letter 'J'.
Janitor
Judge
Jewelers
Jockey
Journalist
36. What is something that you see your neighbor doing while wearing a bathrobe?
Getting newspaper
Watering plants
Removing trash
Washing the car
Gardening
37. Choose which starts with the word Chow.
Chowmein
Chowder
Chowhound
Chow Chow
Chow down
38. What is something that is licked?
Ice cream
Lollipop
Stamp
Envelope
Your lips
39. Choose an activity that needs your lips.
Kissing
Talking
Singing
Whistling
Playing flute
Licking your lips
40. Choose an animal that a snake can swallow.
Mouse
Crocodile
Rabbit
Dog
Pig
Cat
41. What's the word that you can replace with woman?
42. What's something that you see outside and would make you want to stay inside?
Bad weather or storm
Animals
Zombies
Fire or smoke
Bad celebrities
43. Fill in the blank– "Raging ______"
Bull
Waters
Fire
Hormones
Rapids
44. Choose an animal that you never want to eat and start with the letter "C".
Cat
Camel
Cougar
Cow
Cheetah
Coyote
45. Other than feet, name something that runs.
Water or toilet
Engine or car
Refrigerator
Nose
Clock
46. Choose a thing that a person might keep in a cellar.
Wine
Canned Goods
Dead bodies
Tools or hooks
Furnace
Gun
47. What can be another word for "rear end"?
Buttocks
Backside
Derriere
Bottom
Heine
48. What can be a nickname that someone gives their lover and starts with the word "Sugar"?
Sugar pie
Sugar bear
Sugar daddy
Sugarplum
Sugar lips
49. What can be an activity that is easier to do in extreme wind?
Fly a kite
Sail
Surf
Air dry clothes
50. What's something that might get rained out?
Sporting event
Picnic
Parade
Outdoor concert
51. What's something that kids line up for in school?
Lunch or snack
Recess
Fire drill
School bus
52. What's is the most useful and important part of our body that starts with the letter "L".
Family feud Christmas questions
Family feud questions related to Christmas can be used for special events and holidays. In order to strengthen family bonds, rebuild connections or simply enjoy quality time with your family together with grandpa and kids.
Then these questions are the best ways to bring people together and give them a chance to play.
These are perfect for teamwork and learning from each other during Christmas when the family comes together. Below is the list of questions that help to strike your Christmas and make it fun and memorable like never before.
53. Which gift kids don't want to open on Christmas morning?
Underwear
Socks
Hygiene products
Books
Puzzles
54. What can be Santa's reindeer?
Rudolph
Comet
Donner
Blitzen
Cupid
Dasher
55. Who was present at the first Christmas?
Jesus
Mary
Joseph
Angels
Animals
56. Which drunk can be served at a Christmas party?
Eggnog
Apple cider
Hot cocoa
Punch
Soft drinks
57. Which state someone might want to travel to for Christmas?
Hawaii
New York
Florida
Colorado
Alaska
58. What is the tradition for Christmas Eve?
Opening event
Going to church
Dinner at Grandma's
Reading bible story
Looking Christmas light
59. Which gift is difficult to wrap up?
Basketball
Football
Stuffed animals
Pet
Bike
60. What's something that is on every mother's Christmas wish list?
Babysitting
Sleep or nap
Spa day
Gift card
Jewelry
61. Which place is remaining open on Christmas day?
Grocery store
Gas station
Movie theater
Airport
Hospital
Hotel
62. Which dish do people enjoy most during Christmas dinner?
Ham
Turkey
Sweet potatoes
Stuffing
Cranberry sauce
Green bean
63. Which item would you need to dress up as a Santa Claus?
Santa hat
Beard
Big belly
Red coat
Black boots
64. Which is the classic kid movie for Christmas day or celebration?
Home alone
Elf
The Grinch
A Christmas Story
65. Which is the most popular Christmas quote?
We wish you a Merry Christmas
Jingle bells
Frosty the snowman
Deck the halls
Joy to the world
Silent night
66. Which is the first thing that people might start doing after Christmas on December 1st?
Listening to Christmas music
Christmas shopping
Decorating tree
Putting up lights
Sending cards
67. Which desert people want to eat a lot at Christmas time?
Cookies
Pie
Pudding
Fruitcake
68. What are some of the plants for Christmas?
Cactus
Poinsettia
Holly
Christmas tree
Mistletoe
69. Which item can be found at the North Pole?
70. Which famous Christmas animation plays on TV every single year?
The polar express
Arthur Christmas
A Christmas Carol
Mickey's Christmas carol
71. What do you love about Christmas the most?
Food
Gifts
Decoration
Gatherings
Family trips
72. Which city can one travel to for the Christmas holiday?
Paris
New york
Florida
Dubai
73. What are some of the boring gifts that you want to give your spouse on Christmas?
Handkerchief
Bread
Underwear
Nothing
74. What are some of the clothes that you can easily find in the closet of Santa?
75. What are some of the activities that people usually do the day after Christmas?
Relaxing
Watching Christmas
Cleaning
Opening gifts
76. Apart from chicken, what other things would make Christmas dinner incomplete if they are missing from the menu?
77. What scent is famously associated with Christmas Eve?
Cranberry
Cinnamon
Candy
Chocolate
78. Whom would you like to buy the Christmas present for?
Family
Friends
Pet
Relatives
79. How many weeks before Christmas, the Christmas card will be sent?
One week
Two weeks
Three weeks
Four weeks
80. Who are some of the difficult people to buy gifts for during the Christmas holiday?
Teenagers
Grandparents
In-laws
You
81. When do people start the decoration and preparation for Christmas?
Before a week
Before two weeks
In November
Two days before
Family feud fast money questions
Fast money is the last round in which players will choose what they feel are the most popular survey answers. If the team only has one player, that player will play. If there are two players then both will play.
In case of three or more players the team will choose the two players from the team to play the fast money round. However, the other players can't help the players to choose the right answers.
Here are some of the best questions that you can use in the fast money bonus round in the game of family feud.
82. Which term is used for the game of bowling?
83. What did you do in your kindergarten days that you are still thinking about doing every day now?
Nap
Toys or play
Color or paint
Get free snacks
84. What is hardcore football fans used to wear to the stadium on game day?
Team or jersey color
Body paint
Hat
Foam head or finger
85. Which word rhymes with honey?
86. Which is a type of hoop?
Hula hoop
Basketball hoop
Hoop earrings
Hoop skirt
87. Which drink can be served as both hot and cold?
88. What do you usually hang up?
The phone
Clothes or coat
A towel
A picture
89. What do you hate to see on the bottom of your shoe?
90. What people used to decorate?
Christan tree
House or apartments
Cake
Easter eggs
91. What does a baby do when you kiss its tummy?
92. When you were a child, who could see right through your lies?
Mom or dad
Grandma or grandpa
Teacher
Friend
93. What can be a type of chip?
Potato
Chocolate
Poker
Micro
94. Which is the most popular ride at a carnival?
Ferris wheel
Carousel
Roller coaster
Tilt a whirl
95. What is the thing that people take out?
Food or Chinese
The trash
Money
Pet
96. Other than a person, name a thing that people love to hug?
Pets
Pillow
Trees
Teddy bear
97. Which word rhymes perfectly with buckle?
Knuckle
Suckle
Chuckle
Huckle
98. In which place are you supposed to be quiet?
Library
Church
Theater
bedroom
99. What do you find hard to do with open eyes?
Dream
Squeeze
Kiss
Swim or dive
100. What is a thing that you would find on top of a poker table?
Poker chips
Cards
Money
Green felt
Fun family feud questions
For adding more fun into your family feud game, it's necessary to ask some fun questions that make players think and laugh out loud. You can ask any questions under any topic but nothing can beat fun questions.
Let's have a look at the most fun and exciting questions to add to the list of party game questions.
101. What is the reason you might get rid of an old family heirloom?
Broken
Ugly
Divorce
Need money
102. Where do kids spend most of their time nowadays?
Room
School
Internet
Friend's house
103. What is a thing that many people do just once a week?
Church
Shopping
Laundry
Eat out
104. Why might a person wake up at 2:00 in the morning"?
Bathroom
Child
Bad dream
Heard a noose
Work
105. What is something that you might eat along with a hamburger?
French fries
Soup
Salad
Onion rings
106. What is something that you haven't done since high school gym class?
Run a mile
Dodgeball
Push-ups
Lift weight
107. Who is the most popular character on the TV show Friends?
Rachel
Joey
Ross
Chandler
Monica
108. What can be something that you can buy which costs a dollar or less?
Fruit
Fast food
Soft drink
Newspaper
Stamp
109. In which country do people speak Spanish?
110. What can be a liquid in your kitchen that you hope no one ever drinks by mistake?
Soap
Vinegar
Cooking oil
Soy sauce
Family feud questions for kids
If you are planning to conduct a family feud game with your kids, then here are some family feud questions for kids. You can give the points to all options according to your own and can be in the wild game.
These help to add fun to the game and yet involve a little bit of thinning of the part of the players. Kids friendly questions are ideal for playing with kids. The excitement of the fun game completely depends upon the questions you ask.
111. When you don't want to go to school, what excuse do you make for an illness?
Stomachache
Fever
Headache
Ear pain
112. Why do you love the summer season?
Summer vacation
Winter vacation
Weather
No homework
113. What is the one thing that your parents told you to not waste?
114. What is the favorite snack of kids at the movie theater?
Popcorn
Nachos
French fries
Chips
115. What is the one thing that you never forget to pack on a trip?
Money
Underwear
Medicines
Toothbrush
116. When do kids close their eyes?
Sleep
Prayer
Horror movie
Hide and seek
117. What do you find on a man's arm?
118. What is something that you put in their front yard?
Garden gnome
Flowering plants
Fence
Letterbox
119. Which household work do kids hate to do?
Cleaning the room
Walking the dog
Mowing the lawn
Raking leaves
120. What does a wrestler not wear during the match?
121. What did mom tell their kids to do before dinner?
Wash hands
Set the table
Do homework
Pray
122. Who has fangs?
123. Why do kids often manage to lose?
124. What does a dog do most of the time?
125. Where do kids not want to visit often?
126. What would you do if you put hot food in your mouth?
Spit out
Gulp it
Drink water
Choke
127. Which word has a key in it?
Monkey
Donkey
Key chain
Keyboard
128. What is the one thing that you do before going to bed?
Prayer
Brush teeth
Drink water
Change clothes
129. What would you do when you fall sick?
Not go-to school
Sleep
Go to doctor
Throw up
130. What is something that is cold?
131. When does your teacher want to talk to your parents?
Bad grades
Bullying
Not doing homework
Cheating in exams
132. In a deserted house, what would you find?
133. What is used for writing?
134. What do you like about salad?
Lettuce
Tomato
Chicken
Dressing
135. What melts when it gets hot?
Snow
Chocolate
Candle
Butter
136. What is used in a sandwich?
Family feud game questions
The daily feud game has the most exciting and fun moments when played with the families on holidays or small gatherings. You can also organize it via zoom or video conference. For making your game night wild, here are some of the questions that you can ask during playing party games of family feud.
137. What do you need for making a smoothie?
138. Which food is served with melted butter on top?
139. What do people keep in their car while going to the beach?
Umbrellas
Beach chairs
Towels
Coolers
140. Which things do we use until they are worn out?
Jeans
Shoes
Phone charger
Cooking pan
141. What kind of punishment do parents give to their children?
Grounded
Time out
No TV
No dessert
142. What should we drink to keep us warm?
143. What can be spoiled?
144. What do we usually do during the weekends?
Cleaning
Laundry
Cooking
Watching movie
145. What things do you do with friends?
146. What do people donate?
Blood
Clothes
Old you'd
Money
147. What is a thing that you don't like to get in mail?
Spam mails
Ads
Bulk mails
Product catalog
148. What do people do with an envelope before posting the same?
Read the letter
Cold and place the letter inside
Seal it
Paste the stamp
149. What are you losing as you grow old?
150. What do you find in a hamburger?
151. How do people go to the office or work?
152. What are things that people do while sleeping?
153. What do you do on the weekend mornings?
Wake up early
Eat breakfast
Check emails
Iron the clothes
154. What can you find under the cushion of the couch?
Family feud questions for adults
Family feud is an awesome game for house parties or friendly adult get-togethers. The questions given below are ideal for adults since they can find it hard to answer them.
Some of the questions might be sensitive as well, therefore, they are not specifically meant to answer the survey question around your co-workers.
Are you looking for neutral questions for instructions and suggestions to play? Then, here are some of the questions that you can ask related to adults.
155. Why do people wake up in the middle of the night?
Bad dream
Visit bathroom
Thirst or hunger
Heard a noise
156. Why do people go to work late?
Traffic
Getting up late
Weather
Car breakdown
157. What is the first thing you do in the morning?
Visit bathroom
Turn off alarm
Brush teeth
Shower
158. Where do you not have cell phone reception?
In basement
Inside tunnels
On mountains
In a flight
159. Which plant do you like to grow in your garden?
Tomatoes
Roses
Thyme
Chilies
160. After taking a selfie, whom would you send it to?
Spouse
Friends
Parents
Social media
161. To whom you went for advice?
Parents
Spouse
Best friend
Boss or manager
162. What would you never leave home without?
Mobile
Money
Water bottle
House keys
163. What chores do you tend to procrastinate on?
Dishes
Cleaning room
Laundry
Grocery shopping
164. What is the benefit of working from home?
No travel
Flexible working hours
Spend time with family
Save money
165. What do you keep in your wallet?
Money
Credit card
Driver's license
Bills
166. What are things you find annoying drivers for?
Overtake from wrong side
Blowing the horn
Talk on phone
Drive too fast
167. What are places where you are not allowed to touch anything?
Art gallery
Museum
Zoo
Gift shop
168. What can be another name for a restaurant?
Diner
Cafe
Coffee shop
Cafeteria
169. If deserted on an island, what would you search for first?
170. What are things you find in a park?
171. What is the one fruit that takes time to break into?
Coconut
Pomegranate
Jackfruit
Pineapple
172. Which is the animal that starts with the letter "M"?
Dirty family feud questions
Want some dirtiness in your family feud game? Then here are some naughty questions that you can ask in any group gathering of adults and teenagers. These are the most fun and entertaining questions that will take your family feud game night to another level.
173. Which Olympic game would you watch more often if it were played in the nude?
Volleyball
Gymnastics
Swimming
Soccer
174. Where do you hide something you wanted to smuggle into prison?
In a cake
Up the butt
Underwear
Shoe
175. On which topic a father may give advice to his son?
Relationship
Jobs
Personal finance
Children or family
176. What is something that a person orders in a restaurant while dieting?
177. How many hours of sleep do you need every night to wake up in the morning?
8 hours
6 hours
7 hours
9 hours
178. Which language makes everything sound sexy?
French
Italian
Spanish
British
German
179. Which part of the body do people see a plastic surgeon about?
180. What are some things that you don't want to do on Sunday?
Wake up early
Work
Chores
Cook
181. Which things would you do first if you inherited a million dollars?
Quit job
New house and car
Vacation
Invest
182. Which fruit reminds you of a part of the human body?
Banana
Peach
Watermelon
Coconut
183. Which athlete made the news for being involved in a big scandal?
Lance Armstrong
Tiger Woods
Barry bonds
Michael Vick
184. Which place you might choose for a date who isn't in a serious relationship?
185. Which one food you might buy from a cart at the park?
Ice cream
Hot dog
Soft drink
Water
186. Which month of the year have most of the baby's born?
November
September
March
December
187. Why do people take out a loan?
Buy house
Buy car
Education
Pay debt
188. Which is a thing that is usually made out of rubber?
Tire
Ball
Rubber band
Gloves
189. What do people try to do when they want to get out of speeding tickets?
Cry
Flirt
Offer money
Ask for warning
Best family feud questions
In order to run a family feud game, you should come up with a lot of solid questions. These questions are ideal for kids, teens and adults so that the entire family can participate in a game of family feud.
You can give the points to all the answers as per your choice in descending order. Let's take a look at these questions that are perfect for families.
190. What do the guests do at a wedding reception?
191. How did people communicate before texting was invented?
Phone calls
Letter
Telegram
Pager
192. What do people usually run out of at home?
Milk
Toilet paper
Eggs
Bread
193. What are the things that you don't like to discuss during holidays?
Politics
Religion
Love life
Finance
194. What's a thing that only happens once every few years?
Eclipse
Leap year
Olympics
FIFA World Cup
195. What is an important number that people often use to memorize?
Phone number
Bank routing number
Social security number
Driver's license number
196. Which food frequently goes bad before you get the chance to eat it?
Avocados
Banana
Fresh berries
Mushroom
197. What will you find in a home medicine cabinet?
Rubbing alcohol
Bandages
Thermometer
Antibacterial ointment
198. What might you put in your coffee?
199. Which is a thing that you keep on your office desk?
Computer
Notepad
Pen stand
Water bottle
200. Which is the thing that gets tangled?
Hair
Earphones
Rope
Long chains
201. What is the thing that people often misplace?
202. When do people throw a party?
Birthday
Getting married
Promotion
Anniversary
203. How do you pass the time when on a flight?
Sleep
Read
Watch a movie
Eat snacks
204. A profession that starts with the letter "T".
Teacher
Technician
Taxi driver
Truck driver
205. Which activities are scary and fun at the same time?
Roller coaster
Drive fast
Skydiving
Bungee jumping
206. What do you find on a woman's arm?
207. What dogs bark at?
Strangers
Another dog
Cats
When hungry
Halloween family feud questions
Struggling to come up with a Halloween party idea? Take it a step further by inviting your guests, giving them family names, and having them arrive in complimentary costumes. Here is the list of all awesome Halloween questions to add to the fun tonight.
208. Which is the most popular female inspired costume?
Wonder woman
Catwoman
Cinderella
Superwoman
209. Which is the famous superhero male costume?
210. Which is the Halloween prank?
Toilet papering houses and trees
Egging
Soaping windows
Smashing pumpkins
211. Which is the famous Halloween treat?
Snickers bar
Candy
Chocolate
Popcorn
212. Which is a thing that trick-or-treat collects candy in?
Plastic pumpkin
Pillowcase
Bag
Bucket
213. Which is the famous Halloween party decoration?
Pumpkin
Spiderwebs
Spiders
Ghosts
214. Which game you might play at the Halloween party?
Hide and seek
Scavenger hunt
Costume contest
Bobbing for apples
215. Which is a superstition related to Halloween?
Black cat
Ghosts appear
Don't walk under a ladder
216. Which is a scary Halloween character?
217. Which is the most famous Halloween movie?
Halloween
Friday the 13th
Scream
Hocus pocus
218. Which is the most popular theme at Halloween dances?
Monster mash
Thriller
Ghostbusters
Addams family theme
219. Which is an accessory that is essential to a witch's costume?
Broom
Balck hat
Pointed nose
220. Which is a thing that makes a haunted house scary?
Scary movies
Darkness
Spiderwebs
Ghosts
221. Which is a thing that people decorate their yards with at Halloween?
Pumpkin
Lights
Skeleton
Ghosts
222. Who played the vampire on the big screen?
Tom cruise
Robert Pattinson
Boris Karloff
Brad Pitt
223. Which is the famous Halloween cookie cutter shape?
224. What other name is Halloween sometimes known for?
All Hallows eve
All saints eve
Trick or treat might
Devil's night
225. Which is the scary Halloween sound effect?
Screams
Boo
Creaking door
Spooky laugh
226. What do people wear to scare off evil spirits?
Holiday family feud questions
Want to ask the questions related to holidays? Then, here is the complete family feud questions guide to make your wild night game memorable and like never before.
227. Which beverage you might drink at a typical party holiday?
Eggnog
Smoothie
Soft drinks
Shakes
228. Which gift a child may have for holidays?
229. What do people forget to do before the holiday?
Buying gifts
Spending holidays
Planning trips
Buying clothes
230. On which holiday would you like to go to the theater to see a movie?
231. Other than Thanksgiving, which holiday do you celebrate with a lot of food?
232. What is something that kids fight over during the holidays?
233. Which relatives do you never see during the holidays?
In laws
Paternal grandfather
Maternal grandparents
Aunt and uncle
234. Which pie filling is often used during the holidays?
Pumpkin
Strawberry
Avocado
Apple
235. What is something that your house might smell like around the holidays?
Cookies
Pine
Chocolate
Fruits
236. Which band or singer is living or dead with an old CD do you want for holidays?
Beatles
Bing Crosby
BTS
Coldplay
237. Which is a modern day holiday movie?
Santa Clause
Home alone
Avengers
Captain America
238. Which holiday is more fun for adults than kids?
New year
Valentine
Christmas
Easter
239. Which holiday you might get dressed up for?
Halloween
Easter
New year
Christmas
240. Name a game you play with your family on holidays.
Charades
Pictionary
Family feud
Video games
241. In which city snows a lot during the holidays?
Chicago
Denver
New York
Finland
242. How many toys does a child want for holidays?
243. During which holiday there are several sales?
Christmas
Thanksgiving
4th of July
New year
244. Which is a common holiday craft?
Making ornaments
Painting
Tree trim
Card
Thanksgiving family feud questions
Who doesn't love Thanksgiving? If your family, kids, adults and relatives are gathered during thanksgiving then don't forget to play family feud games. Here are some questions to add up to the list on the occasion of thanksgiving.
245. If a person can't cook then which thanksgiving food might they purchase instead of a bake?
Cake
Turkey
Pumpkin pie
Stuffing
246. Which food do you eat on Thanksgiving but not during the rest of your life?
Pumpkin pie
Stuffing
Cranberry sauce
Yams
247. What is something that people relate to thanksgiving?
Turkey
Cranberry sauce
Family dinner
Pumpkin pie
248. Which thanksgiving food often comes from a box or can?
Stuffing
Cranberry sauce
Corn
Yams
249. Which item a person might ask to bring to Thanksgiving who can't cook well?
250. What kind of pants are best to wear when you are okay to overeat at Thanksgiving?
Sweat pants
Jeans
Overall
Track pants
251. Which food on Thanksgiving causes the least damage if thrown out in a fight?
Turkey
Stuffing
Mashed potatoes
Pie
252. Which image is often used in ads at thanksgiving?
Turkey
Family dinner
Pilgrims
Native Americans
253. Which is something Snooki might say she is thankful for on Thanksgiving?
New jersey
Men
Drinking
Tanning
Pickles
254. Apart from thanksgiving, which holiday do you celebrate with a lot of food?
Christmas
Easter
Fourth of july
New year
255. Which Thanksgiving item do children make at school?
Turkey
Pilgrim hat
Card
Indian headdress
256. Which movie would you like to invite for Thanksgiving dinner?
Brad Pitt
Tom Hanks
Sean Penn
Julia Roberts
257. Which food would you make all the leftovers after thanksgiving?
Turkey sandwich
Stew
Stuffing
Yams
258. What is something that people do on the day after thanksgiving?
259. Which do people buy at the last minute of thanksgiving?
260. What would you get on a Thanksgiving pizza?
261. Which holiday do you celebrate with a lot of food apart from thanksgiving?
Christmas
New year
Easter
4th of July
262. Which is the most popular tradition of Thanksgiving?
Watching parades
Eating food
Visiting with family
Black Friday shopping
263. Name a team that plays on Thanksgiving.
Green bay packers
New York jets
Miami dolphins
Dallas cowboys
Detroit lions
264. Which is the popular black Friday department store?
Kohl's
Best buy
Target
Wal-Mart
265. Which is the famous Macy's Thanksgiving day float or balloon?
Santa
Big bird
Snoopy
Barney
266. What is the most popular Thanksgiving dessert?
Apple pie
Ice cream
Pecan pie
Pumpkin pie
Family feud bible questions
In a gathering of adults, elders and religious members, bible family feud questions are a way to make the game more fun and engaging. Here is the complete list of bible related questions to add in the list.
267. Which woman's name is popular today from the Bible?
268. Which commandment is the average person most likely to break?
Honor thy mother and father
Thou shalt not covet
Tbiyt shalt not steal
Thou shalt not commit adultery
269. If the plague of Egypt modified for modern times then what would be the most devastating thing god could send?
Death of cell phones
Internet darkness
Murder hornets
Wrinkles
270. Which animal would take up most room in Noah's ark?
Elephant
Giraffe
Hippo
Whale
Bear
271. Which word is used more than any other in the Bible?
272. Which biblical hero would you most like to have as a friend?
273. Which animal is mentioned many times in the Bible?
274. If you need to create a habitable world in six days then what is the first thing you would create?
Light water
People
Plants
Animals
Heavens
275. Which gift the Three kings brought to baby Jesus?
Frankincense
Myrrh
Gold
Silver
Food
Water
276. Which book from the Bible is longer than most other books?
Jeremiah
Genesis
Psalms
Ezekiel
Family feud trivia questions
For checking IQ and gathering more general knowledge, trivia questions are a way to go. These are the most engaging questions that make people think and understand the concepts. So, here are some of the trivia questions that you can ask during a game of family feud.
279. Which celebrity has the most plastic surgery done?
Michale Jackson
Britney spears
280. What is something that neighbors often fight over?
281. Which valve releases blood flow to the lungs?
Bicuspid Valve
Tricuspid valve
Pulmonary semilunar valve
Aortic semilunar valve
282. What Star Wars Villian did Aniken Skywalker turn to in Star Wars Episode III?
Darth Maul
Count Dooku
Darth Vader
The Emperor
283. What is something that you'd find in your school classrooms?
Whiteboard
Chalkboard
Books
Posters
284. What produces light when it's dark?
Flashlight
Lightbulb
Fire
Sunlight
285. What do you and your friend do for fun?
Ride bikes
Watch cartoons
Write a book
Plant flowers
286. Which activity you might do with your parents on the weekend?
Going to concert
See family
Play with friends
Watch a movie
287. What is something that can make your mom and dad happy?
Compliments
Doing homework
Writing a letter
Giving a card
288. Which food is healthy for you to be eating?
Carrot
Celery
Broccoli
Lettuce
289. Which animal would you see in the zoo?
Polar bear
Giraffe
Zebra
Lion
290. Which is the largest country?
291. What is something that you might get in trouble with at school?
Watch TV
Reading book
Doing homework
Doing chores
292. What is something that would make you not drive?
293. When would someone need to give a speech?
Award show
Wedding
Funerals
Conference
Political events
294. What are some of the popular housewarming gifts?
Towels
Plants
Wine bottle
Candles
295. Where people don't want to wait in line?
Hospital
Theme park
Restrooms
Theatres
296. What do people do to change their appearance?
Dye their hair
Cut their hair
Change wardrobe
Lose weight
297. What items do you find in a cafe?
Coffee
Sandwiches
Pastry
Tea
Family feud sexist questions
Are you playing the family feud game with your partner? Then, you have to ask sexist questions to make your game and night intimate and romantic. Let's take a look at the sexist questions to ask during family feud games.
298. Which accent does an American pretend to have in order to sound sexier?
French
British
Italian
Spanish
Australian
299. Which celebrity is so handsome that he could make a Santa suit look sexy?
Brad Pitt
Tom Cruise
George Clooney
Will Smith
300. Which job makes a sex symbol even in initial age?
Actor
Model
Dancer
President
301. Which sports uniform do many men look sexy in?
Baseball
Football
Soccer
Basketball
302. In which occupation, women are portrayed as sexy?
303. Why do you want to take your child out of a movie?
Bad language
Crying during movie
Violence
Sex scene
304. Which Halloween costume do adults wear in order to look sexy?
305. Which accent do many Americans consider sexy?
French
Italian
Spanish
British
306. What is something that you do with your face and considered sexy?
Wear makeup
Smile
Mask
Skincare
307. What cowboy wears that makes them sexy?
308. Why do parents want to know sex of baby later?
Clothes
Name
Decorate room
Curious
309. Why do parents wait to name their baby until they are born?
Find out sex
Looks
Personality
Indecisive
310. What is a sexist piece of clothing that women wear in public?
Skirt
Swim suit
High heels
Shorts
Jeans
311. What an athlete can't do the night before a big game?
Drink
Have sex
Stay up late
Eat too much
312. What is a famous cocktail?
Bloody mary
Cosmopolitan
Margarita
Manhattan
313. When you're exhausted, what do you want to avoid doing?
Cook
Housework
Homework
Talk
314. What sports do women think is sexy to watch?
Basketball
Hoops
Baseball
Soccer
315. Other than his appearance, what does man think that makes them sexy?
Personality
Brain
Sound of voice
Timber
Family feud online questions
Being a fan of family feud games, questions are hard to find on your own. Therefore, in order to organize this game at home with your family, here are some online questions to make your game night wild and enjoyable. Take an online family feud quiz and test your knowledge about this famous show.
316. Why do people prefer summer over winter?
Warm weather
Clothes
Beach
No snow
317. Other than eating lunch, what do people do during their lunch hour?
Sleep or nap
Exercise
Read
Shop
318. How much money do you owe?
319. An eye for an eye is an expression that contains the word eye, what can be another one?
Beauty is in the eye of beholder
Apple of my eye
Cross my heart, hope is die, stick a needle in my eye
I have eyes in the back of my head
320. What's something that you find in the chef's salad?
Lettuce
Ham
Boiled eggs
Tomato
321. What is associated with Zorro?
322. What kind of "how to book" would interest you most?
Cook
Lose weight
Decorate
Make money
323. Complete this sentence: The true measure of success is having a great ______.
Family
Life
Bank account
Job or career
324. Choose a name you would like to call your grandmother.
325. Which occupation should a bad driver avoid?
Truck driver
Taxi driver
Delivery
Auto racing
326. What is something that people make reservations for?
Dinner
Hotels
Airplane
Tours
327. What woman never forgets about her fiance's marriage proposal?
The way he asked for
The place
The size of ring
328. What is something you have that a neighbor might try to borrow?
Sugar
Lawn mowers
Ladder
Shovel
329. Which phrase starts with the word happy?
Birthday
New year
Anniversary
Days
330. How much more money would you make for a good raise?
1%
$100 per week
5%
$50 per week
331. Which type of business do people call where they expect to be put on hold?
Doctor office
Phone company
Bank
Insurance company
332. What is something that children have difficulty learning to use?
Toilet
Eating utensils
Bicycle
Talking
333. Which subject do people know lots of trivia about?
Sports
Entertainment
History
Politics
334. What do you see in a mansion?
Chandeliers
Painting
Staircase
Antique
335. Which is your favorite activity for burning calories?
Walking
Running
Swimming
Bike riding
Good family feud questions
Trying to have more fun as you are expecting? Then, try out these good family feud questions in a gathering of parents, kids and adults. The whole list of questions for this game is given below.
336. Which word or phrase is used exclusively by the British?
Bloody
Tallyho
Cheerio
Ta-ta
337. If you are right handed then what is something that you can't do with your left hand?
Write
Comb hair
Swing a baseball bat
Throw a ball
338. What excuse do teenagers give to their parents for coming home late?
Car trouble
Lost track of time
Ran out of gas
No one would bring me
339. What is something that comes in a spray bottle?
Window cleaner
Hairspray
Shower cleaner
Perfume
340. What is the kind of person on display in wax museums?
Performers
World leaders
Royalty
Murderers
341. What is a thing that has wooden legs?
Chair or stool
Table
Pinocchio
Rocking horse
342. Name one invention that you are glad was invented.
TV
Telephone
Automobile
Computer
Electricity
343. What is something that makes it hard to get out of bed?
344. What is a thing that makes people blink?
Bright light
Dry eyes
Dust
Smoke
345. Where do you usually see an antenna?
346. Which drink tastes best when you get chilled or cold?
Beer
Coca cola
Iced tea
Water
347. If you own a gun, where would you like to keep it?
Closet
Lock cabinet
Night stand
Under bed
348. Which word has ski in it?
349. Other than engines, what is under the hoods of cars?
Battery
Radiator
Carburetor
Spark plugs
350. Which work is used to describe the diamonds?
Sparking
Brilliant
Ice
Expensive
351. What is one thing that little kids sent to their room for more than any other?
Talking back
Fighting
Misbehaving
Not listening
352. If you get arrested and can make only one phone call then whom would you call?
Spouse
Parents
Lawyer
Sibling
353. In which closet you don't want to put clothes in?
Linen
Pantry
Storage
Utility
354. Where do people often put their name?
Personal check
Mailbox
Suitcase or luggage
Office supplies
355. Which occasion do people forget frequently?
Anniversary
Birthday
Valentine's day
Father's day
356. What is something that men's magazines give tips on?
Women
Health
Grooming
Exercising
Family feud questions for couples
Couple's family feud games are a great way to connect, enjoy and make memories. Thus, couples compete by trying to uncover the top answers to all the thirsty family feud questions which revolve around love and marriage. So, here are top couples questions to play with your partner.
357. What is something that married couples often fight over?
Budgets and finances
Kids
Sex
Chores
In-laws
358. What can be an excuse to not have the weekly fare night with your spouse?
Too tired
Kids
Too busy
Don't have a plan
359. What can be a thing that people might do for a date night?
360. What can be the reason a person might say they love being married?
Sex
Companionship
Emotional support
Not being single
361. What is a thing that spouses often do to show their love and emotion?
Buy flowers
Hug and kiss
Giving gifts
Writing love note
362. What is something people found hard about getting married?
Communication
Compromise
Sharing
Not enough alone time
363. Name a popular married couple (past or present) with an ideal marriage?
Barack and Michelle Obama
George and Barbara Bush
Tim McGraw and Faith Hill
Chip and Joanna Gaines
364. What is the common place where people get married?
Church
Mosque
Temple
The beach
365. What is the most common gift that newly married couples might receive in large quantities?
Toaster
Towel
Dishes
Slow cooker
Blender
366. What can be the greatest gift to give newlyweds?
Money
Cards
For date night
Games
367. What is something that a spouse might not like doing around their partner?
Farting
Using bathroom
Picking the nose
Shopping online
368. What can a wife tell her husband he needs to change?
Clothes
Underwear
Attitude
Haircut
369. What is a thing that couples stop doing after getting married?
370. What should a husband do for his wife to apologize for any mistake?
Buy flowers
Cleaning
Giving gifts
Cook dinner
371. Where do couples often go for date nights?
Movie theater
Restaurant
Bowling alley
Amusement park
372. What is the most necessary thing you should consider while planning a date?
Time
Babysitting
Cost
Your interest
373. Which is a thing that you might do on a romantic day with your partner?
Picnic
Sleep in
Go on a hike
Have sex
374. What are the features of your spouse that are most likely to attract you?
375. What is the most important thing that a couple has to pick up for their wedding?
376. What is a type of party centered around a couple?
Anniversary party
Engagement party
Wedding reception
Bridal shower
377. What's an activity that is more fun to do with your partner?
378. What is a thing that a woman changes that her husband might not notice?
Hair
Makeup
Nails
Perfume
Clothes
379. Which is a food that is related to romance?
Chocolate
Strawberry
Pasta
Whip cream
380. What is something that you and your spouse might share on a date?
381. Which advice do newlyweds often receive?
Don't go to bed angry
Fight naked
Keep dating each other
Budget the money
382. On which occasion do couples have formal pictures taken together?
Wedding
Engagement
Anniversary
Prom
383. Whom do you want at your wedding but not at the honeymoon?
Parents
In-laws
The pastor
Children
384. What can be the reason a married couple might sleep in separate beds?
Arguing
Snoring
Sick
No attachment
385. What is a thing that a new couple dies more often than a couple who has been together for a while?
Show affection
Intercourse
Go out
Cook together
386. What is something that couples wouldn't do in public?
Fight
Feed each other
Baby talk
Kiss
387. What is a thing a couple should not do until they have known each other for a long time?
Become intimate
Get married
Live together
Have kids
388. Which married couple's marriage you don't want to emulate?
Al/Peggy Bundy
Homer/Marge Simpson
RoseAnn/Dan Conner
Archie/Edith Bunker
389. When jobs around the house might take turns doing?
Dishes
Laundry
Cooking
Take out trash
390. What is something that couples worry less about after having children?
391. Where did the couple go on a date in their fifties and they don't go anymore?
Drive in movie
Soda fountain
Dinner
Lovers lane
392. Which public place would you like every married couple to show affection to?
Park
Movie theater
Restaurants
Beach
393. What is something a couple might save from their wedding day?
Cake
Picture
Ring
Wedding dress
394. When a couple breaks up, what might they want back?
395. Which place fits a couple to start smooching?
Place of worship
Park
Restaurants
Mall
396. Without seeing the baby, how will you tell if a couple has a newborn in the house?
Nursery
Nappies
Sobbing
Weeping
397. What can be the worst place a couple could go on for their honeymoon?
Mother
Parents place
Step-parent
Father
398. Why might a couple fight on their anniversary?
399. What dreams about the future couples pillow talk about?
Apartment
Flat
Retirement
Home
Family feud questions for youth
In a small gathering of same generation people who are young and active, there are some other sorts of questions that you can ask to make your family feud game more fun and exciting. Let's deep dive into the questions related to youth and teenagers.
400. Which game do teenargers often play at parties?
Twister
Spin the bottle
Quarters
Cards
401. What is the milestone for most teenagers?
Driver's license
Graduation
First kiss
College
402. What do teenagers act with their families at the Christmas holiday that they might be embarrassed to have known?
Sing carols
Show affection
Dance
Play family games
403. What is something that kids start to care more about once they are teenagers?
Looks
Clothes
Dating
Money
Driving
404. What is something that teenagers stress out about?
School
Looks or acne
Dating
Friends
405. Which magazines have the highest chances to be bought by a teenager?
Seventeen
Teen
Tiger beat
Teen people
406. What is a thing that teenagers do that they will kick themselves for later in life?
Drink and smoke
Bad grades
Drop out
Dating
407. What is a thing that teenagers would do in the 50s?
Danced
Wore poodle skirts
Hula hoop
Cruise in the car
408. Why do most teenagers want to get older?
409. What is something that teenagers spend more time doing as compared to adults?
Texting
Sleeping
Watching TV
Internet
410. What is a thing that you are sure to run out of if you have teenagers?
411. What act of teenagers makes their parents angry?
Stay our
Talk back
Smoke
Lie
412. What stereotype about teenagers is often untrue?
Irresponsible
Smoke or drink
Bad manners
Loud
413. What is something that teens feel ashamed to do in front of their families?
Buying
Boutique
Purchasing
Movies
414. What is the summer job that a lot of teenagers get?
Wendys
Mcdonald's
Burger king
Pizza hut
415. What is the reason teenagers don't like their high school?
Professors
Educators
Cool teachers
Football team
Hard family feud questions
In order to check the skills and knowledge of players, hard family feud questions are a way to go. These questions are quite difficult and make the player think wisely. Here is the complete list of hard questions to include in your list of questions and enjoy the family feud game.
416. What is something in the house that is very difficult to move?
Piano
Stove
Refrigerator
Dresser
417. Name a word that completes the phrase "Mad_______."
418. Name a state we are not sure how to spell.
Illinois
Mississippi
Hawaii
Massachusetts
419. What is a girl's name that starts with L?
420. Name a word that follows the word "ginger".
421. What is a kind of knife?
422. Which food often gets judged at a state fair?
Pie
Chili
Ribs
Pickled vegetables
423. Which is a dental procedure that people loathe?
Root canal
Cavity filling
Braces
Plaque removal
424. What can be a noisy insect?
425. What do people really want to wear until it falls apart?
426. Name a word that starts with "para."
Paralegal
Parallel
Paragraph
Parachute
427. What is something a parent takes away from a teenager as punishment?
Television
Computer
Car
Cell phone
428. What is the part of the body that needs the most exercise?
429. What is something we drink warmer?
Tea
Milk
Hot chocolate
Coffee
430. Which city is best known for its nightlife?
Las vegas
New york
Miami
Los Angeles
431. Which place do we often find an elevator?
Hotel
Mall
Hospital
Office building
432. Which music style would we be surprised to hear that a teenager listened to?
Country
Jazz
Opera
Classical
433. Out of the ten blind dates, how many are winners?
434. Which food do people buy most during the month?
435. Name a word or phrase that starts with the brain.
Brain freeze
Brain trust
Brain fart
Brain teaser
436. What is something that can last all night?
Sleep
Party
Sleepover
Television show
437. What is a thing that a farmer can sell if he needs the money too fast?
Tractor
Animals
Vegetables
Barn
438. What is something that a husband can't keep his hands off?
TV remote
His car
Wife body
His phone
439. Which is something that can grow on feet?
Bunion
Corns
Ingrown nail
Wart
440. Which sport is played on the field?
Football
Soccer
Baseball
Lacrosse
441. What is something you can fill with air?
Balloons
Tires
Diving kit
Beach ball
442. What is something that you do not learn in school?
Parenting
Manners
House chores
Religion
443. What is something that moves really slowly?
Elderly people
Snails
Sloths
Turtles
444. Name something you think of in Spain?
Mediterranean
Food
Dancing
Moors
445. What are things that people are most afraid of?
Spiders
Heights
Other people
Dying
446. What is something that goes up and down?
Roller coaster
Airplane
Thermometer
Elevator
447. What is something that makes a lot of noise?
A rock band
A college dorm
Race cars
A party
448. What is something that is related to goldfish?
Fish bowl
Kids
Swimming
Fish food
449. What is something that friends might swap?
450. What is something you buy from all the rolls?
Toilet paper
Paper towel
Coins
Stamps
Family feud questions for office
Are you playing the family feud question with your coworkers or colleagues? Then, you should ask these questions related to the office in this night game. Therefore, below is the list of questions that you can add in the game round.
451. What is something that a police officer has to give up when they retire?
Handguns
Rifle
Firearm
Revolver
452. Which place do you think might have a waiting list?
Restaurant
Doctor clinic
Hospital
Cafeteria
453. Which supply do you think office managers frequently reorder?
Pics
Newspaper
Paper clips
Paper
454. Which occupation do you think is the line in which you might have to hurt someone?
Fuzz
Police officer
Cops
Player
455. Which occupation needs a uniform?
Fuzz
Police officer
Officer
456. Which office responsibility the boss considered to be beneath them?
457. What is something that people gossip about in an office?
Manager
Deskmates
Colleagues
Workmates
458. In which job you might have to work all night?
Bodyguard
Security guard
Police officer
Ward
459. Name the business where you hear a lot of people complain about the service.
Eatery
Office
Post office
Restaurants
460. Name someone who might knock at your door and this makes you pretend like you are not home.
Bill collector
Census
In-laws
Police officer
461. Which is a thing that you wish you got at the office?
Photocopier
Computer
Printer
Coffee maker
462. Name something specific for which people receive a badge, ribbon or medal.
Saving a life
Track And field
Boy scouts
Police officer
463. Which romantic movie do people like to rent?
Sleepless in Seattle
Titanic
An officer and a gentleman
Gone with the wind
Pretty woman
464. What is something that you find in the lobby of a post office?
Stamp machine
Boxes
Postcard
Mailbox
465. Which occupation has there no room for mistakes?
Doctor
Hairdresser
Police officer
Lawyer
466. Where do you often see husbands standing around waiting for their wives?
Beauty shop
Public restroom
Store
Doctor office
467. Why might someone tell you to close your eyes?
Playing game
Dress warmly
Doctor clinic
Kissing
Family feud questions for students
Want to have more fun with your friends? Then, a family feud game is your right way to go. Being a teenager, you can ask these questions with your opposite team to make the wild night game fun.
468. Other than students, what is something you see in most high school hallways?
Lockers
Teachers
Cabins
Classrooms
469. What's something students use in math class?
Calculator
Pencil
Geometry box
Scale
470. Why might a student have to raise their hand in class?
471. Name a way a student finds out on a snow day.
Radio
Parents
Internet
Play ground
472. What's something first year college students should learn how to do on their own?
Laundry
Cooking
Making bed
Going out
473. What's something students would not want the teacher to catch them doing?
Cheating
Talking
Waking
Laughing
474. What's something that a big school student might buy?
475. Why would a student raise his hands in class?
Bathroom
Drinking water
Asking questions
476. What's something a student might buy that has their school emblem on it?
Jacket
Polo shirt
Pants
Sports shoes
477. What is something a teacher might have a student do in an emergency drill?
Leave classroom
Exit building
Going bathroom
Line up
478. What is something that students would probably get rid of if they ran the schools?
479. What is something a student takes to school?
480. Which class has most students in college but not in high school?
Psychology
Chemistry
Biology
Calculus
Physics
481. What is the reason a college student would stay with parents on the weekend instead of their own room?
Better food
Laundry
Special occasion
Peace and quiet
482. Other than curtains, what's something college students use to cover windows?
Bedsheet
Blinds
Blanket
Towels
483. What's something a teacher can do to ruin a student's day?
Keep them late
Give test
Pop quiz
Tell them
Interesting family feud questions
If you don't want to make your family feud game boring and have less time duration then you should also have some interesting questions in your game list of questions. This way you will have a memorable and enjoyable game like never before.
So, here are some of the interesting and exciting questions that are given below.
484. Name an animal that you wouldn't kiss on the lips for a million dollars.
485. In your nightmare, which place is where you suddenly discover you are naked?
486. Name a phrase or word which has the word dirty in it.
Dirty laundry
Dirty dancing
Dirty Harry
Dirty mind
487. What is something that people usually do at 11:30 pm?
Go to bed
Watch the news
Eat or drink
488. What kind of person might wear a mask often?
489. What is something that might get overloaded?
Washing machine
Electric circuit
Computer
490. Which type of event is in the summer Olympics?
Track and field
Swimming
Gymnastics
Basketball
491. Which food comes in the shape of a ring?
492. Name a phrase that starts with the "Feel the__".
493. What is a thing that people consider manly?
Lifting weights
Fixing cars
Playing football
Hunting
494. What's something that comes in chunks?
Chocolate
Cheese
Pineapple
Chicken
495. What's something that women do when they feel a need for change?
Make over
Shopping
Cut their hair
Exercise
496. Which complaint do you often hear about your daughter in law?
Not good enough
Controlling
Can't cook
Can't clean
497. Which vegetable you can't eat in one bite?
498. Which occupation should someone with a fear of heights never consider?
Window washer
Pilots
Roofer
Skydiver
499. What's something that people have to clean for them?
500. Which palace has assigned sitting?
School
Park
Restaurant
Concert
Conclusion
Well, there you go. This is all you'll need to put on your own version of the classic family feud game show. It's easy, fun and brings the entire family together for a wild night.
The best thing about family feud game nights is that anyone can participate in the family and can contribute to the last score. Due to not having any specific answer, this game ends up with high entertainment.
Whether it's a family occasion or a birthday party, holiday celebration, this game will help you create long lasting memories of fun.
Try to customize family feud questions according to age, interest and experience of the players. There is no right or wrong way to choose and prepare questions, therefore, you can adjust how you can keep score as well.
Set the game, enjoy and have fun!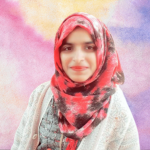 Hazra Khatoon
A writer by day and a reader by night, Hazra is a well-skilled freelance writer. She is tender, compassionate, authoritative and has a fun personality shine at the same time. Her valuable quality of understanding things helps her tackle even the critical situations making it the easiest of all time. She can dive deep into one's heart through her words bringing them close to oneself. She is a firm believer and achiever who loves to explore new things. Besides, she is a compulsive information seeker who is fond of reading, writing and drinking too much coffee with a laptop. When not writing, Hazra enjoys exploring the outdoors.