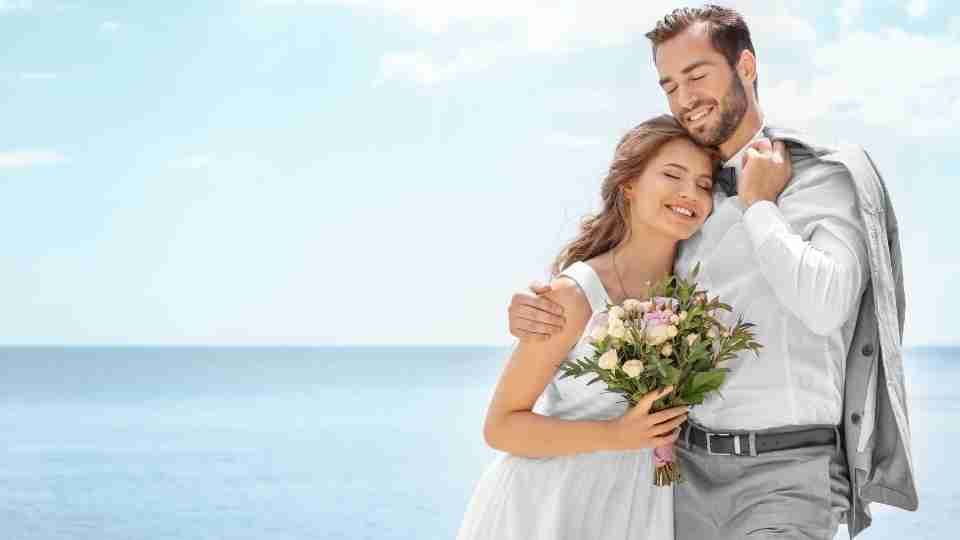 If you are a new face to the newlywed game questions, welcome!
Newlywed game is basically a question game and its rules rest on a game show that had a similar name.
The name of the game makes it pretty evident that it's a game for couples. It's a rollicking party game where a newlywed couple is quizzed on various aspects of their relationship and marriage.
This is one of the favorite picks for an affordable source of entertainment at wedding-related events.
This wonderful game has a great strategy to bring two people even closer after they have already tied the knot. Well, we all know the "new" is so exciting when a newly married pair of doves reveals some of their memorable fun and love facts.
…and for the couples, it can be a great opportunity to learn some entirely new facts about each other.
But before you start playing the game, let's first find out what exactly a newlywed game is.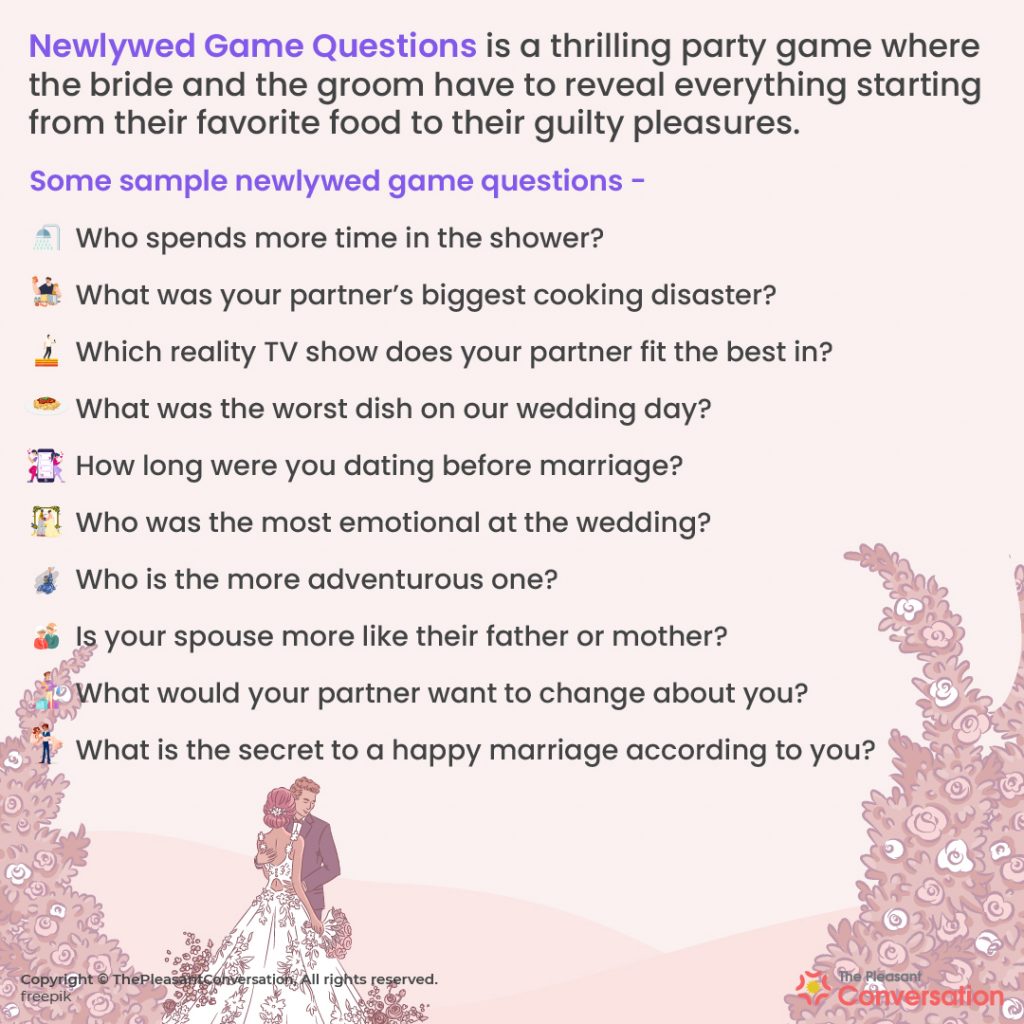 What is a Newlywed game?
SUMMARY
The Newlywed Game is a thrilling Party game where the bride and the groom have to reveal everything starting from their favorite food to their guilty pleasures.
Newlyweds, amidst the hustle-bustle of the celebration, have so much to talk about each other… and the guests want to know so much more.
The Newlywed Questions game helps you do just that.
So, why not?
There is a vast range of questions hovering around the personal life of the lovebirds. Whether it is about the first impressions of each other or stories of their dating times, we just have to know everything about the married couple!
Now that you know we are going to invade their privacy, it's always wise if you seek prior permission from the newlyweds so that you don't run into trouble later.
The couple joining you should be equally enthusiastic and interested in the game because that is going to make their answers engaging for the audience joining the event.
The newlywed game is a fun silence breaker that indulges every person present in the party, sharing heartfelt laughter after learning about the happy couple. You can also combine it with the super-famous shoe game for added fun!
By now you must be curious to learn about the rules and regulations to play the game. Don't worry, here's your answer right below.
How to Play Newlywed game?
Hosting a wedding-related event is even more fun! While it's no big deal for show hosts to break the ice with fun games, the Newlywed game has its own charm!
Why just a wedding event? It can also be your go-to game during your honeymoon. Quizzing the couple on their married life is sheer entertainment and the most effortless way to light up the event with comedy and positivity.
The entire agenda of the game is to discover how well the partners know each other, how good they are at predicting each other's choices and living patterns, and most importantly, the love for each other.
So now you know the objective of the game which is going to help you understand the rules better.
Step 1: Seek permission in advance from the newlywed couple
Before doing anything else, the first thing that you need to do is to reach out to the couple and ask for their permission, if they are on the same page with you or not.
It is essential to have your couple on board and ensure that they are equally excited to play the game.
This is required because we definitely have intimate questions in the list that can seek some private details, so having a prior discussion will help you to smartly filter those questions if the couple feels hesitant to answer them.
Step 2: Have a one-to-one discussion and keep it a secret.
When you are on your way to take the permission of the couple, present them with a list of the questions that you have in your hand for the newlywed game. Present a list to both the couples, but keep it a secret and don't let them discuss the answers among themselves.
The couple must keep their responses to themselves, without letting the other partner know about what they feel.
Step 3: Hire a Good Anchor
Unlike other games, the real fun in playing Newlywed Game is with a capable anchor who can lead the game in its true spirit and zest. This game feels best when it is played as a running game show.
Ask the host to announce the rules of the game, and keep the audience entertained through the game.
If the host has some personally designed questions, they are absolutely free to ask them. All they need to ensure is, the interest and fun is alive all-through the event.
Step 4: Keep a record of the earned points
No matter what game it is, to bring in the fullest energy and a roaring excitement, it is necessary to have a marking system.
Having a scoring system develops a competitive spirit among the players thereby taking the entertainment a level up.
Step 5: The marking system
Ask each of the partners to prepare a sheet where they should write down their answers to the question list. Tally the answers of the partners when you are actually through one category of the game show.
They get a point for every matching response. However, whether to mark them negatively on incorrect answers is up to you.
You can also mark them based on their performance and keep a record of the earned points on completion of each of the categories. It's a no-brainer that the partner who has earned the most points after the completion of all the rounds is going to be the winner.
That was a quick explanation of how to play the game. And now, let's move on to…
What do you need to play?
Don't worry you don't require huge props to play the game, there are a couple of small items that are necessary to play the game. Let's find out what they are:
The first thing that you would require to play the newlywed game is a pen and a paper to write down answers.
The second prop is a scoreboard or a scorecard so that the host can keep track of the winner.
Apart from these, you can have a stock of drinks, food, and some music.
Unfortunately, ever since the pandemic has hit the world a lot of wedding events are being carried online. If that's the case, no need to lose your hope. You can play the newlywed game online on Zoom too!
Coming down to the most important thing that we need to play the game, it's a list of questions. Well for this you don't need to reach out anywhere else, because you have 500 best newlywed game questions under 25 different categories right here in the list!
The style of asking questions and addressing the couple completely depends on you. Here we are just gonna dive in right away into the list of newlywed game questions because it's getting so difficult to wait any longer.
First up, we have some Funny Newlywed Game Questions so that the couple share giggles and laughter right from the beginning of the wonderful journey that they are up to. Let's see who answers the questions best, the bride or the groom!
Funny newlywed game questions
If you want the couple and the audience to be interested in the game, the best idea is to start with funny newlywed game questions.
Further, what can be better if you can start with the bride and groom laughing their heart out without you having to put in any extra effort!
So, let's dig in. Get ready for some super fun and lots of laughter!
What was our worst date?
Who spends more time in the shower?
Who would win in a burger-eating competition?
What is my most weird habit?
When did we first get drunk together?
What is my shopping addiction?
How many dates did it take for us to have our first kiss?
Was our first hug awkward?
What was your partner's biggest cooking disaster?
Who takes more time to get ready before a party?
What superpower would you want as a couple?
What animal would your spouse be?
What is the most embarrassing thing you have done in front of your partner?
Whose friends would you both rather move in with?
Whose family has more dramatic folks?
What is the funniest photo you both ever took?
Who is the boss at home?
Who paid on your dates?
What would be the name of the movie featuring your relationship?
Which reality TV show does your partner fit the best in?
The question: "who paid on your date?" must have had eyes on the answerer.
Now that we have successfully wiped off all sorts of hesitation, or dilemma, why not engage the couple in flirtatious newlywed game questions?
After all, who wants to miss the cute and coy faces!
Flirty Newlywed Game Questions
Alright, this is going to be a good prep for the couple for their nuptial night. Some flirt and dirt in the game is just going to bring the lovebirds even closer.
All you need to ensure is that you don't have elders around to discipline you… shhh, there is no place for them in the flirty list!
What is my guilty pleasure?
Which physical feature of your partner do you find sexiest?
Where did you both make out for the first time?
Which pair of clothing of your partner is the sexiest?
Who is the better kisser?
Do you prefer a bikini or a one-piece suit?
How do you know your spouse is in the mood?
Is your partner a teaser?
Who initiated the 'seal the deal' first?
What is your idea of romance?
Does your partner enjoy Netflix and chill?
Who likes to play around more?
Does your partner love forehead kisses?
Have you both ever danced in the rain together?
Have you both ever made out in the movie theatre?
How has your partner saved your number on the phone?
What do you call your partner, with love?
Who is more likely to know their partner better?
Who can cook for a romantic date better?
Who always buys the right gift for their partner?
No use burying the faces in the Palms!
There is more dirty fun waiting for them in our very next list: Dirty newlywed Game questions. So, brace yourselves and get ready…
Dirty newlywed game questions
Now that the flirty questions have already warmed up the couple, it's time to drill into the dirt.
Having a set of dirty questions in the game becomes so much fun when you have a newlywed couple to answer them.
Don't be hesitant in triggering the turn-on button of the pair with this sultry list! 😉
Who is more adventurous in bed?
Who is horny at the time?
Who was more excited for the first night after marriage?
Who knows how to explore in bed better?
What is your partner's favorite position?
Who is more dominating in the bedroom?
Which body part of your partner is the most appealing?
How long does the session last for you both?
What do you want your partner to wear on the bed?
Do you both sleep naked together?
What is the most random place you've made love at?
Do you both keep a wish list for things to try in bed?
Who likes giving massages?
What was the most shocking thing your partner did on your first night?
Who is the bigger spoon?
Who enjoys cuddling more?
What is your sexual schedule?
Would your partner enjoy roleplay?
Who keeps sending surprise nude pics?
Who enjoys sexting more?
This was "something"… but you must have enjoyed every bit of it. With the pouring sexual fun, we need some break now…
While dirty questions are pure excitement, they might not be your pick when it comes to asking questions in front of family. Keeping that in mind, the following lists of questions are going to be family-oriented, so that there is no compromise on the fun.
Moving on the next list is about Clean Newlywed Game Questions.
Clean newlywed game questions
Who said clean questions cannot be fun? This list is full of neat and clean stuff as well, but stay assured it's as thrilling!
Starting from your best memory as a couple to your story of dating before marriage, revealing and discovering the secrets is gonna be the best kind of fun one can have.
What was the menu at our wedding?
What was the worst dish on our wedding day?
What is your best memory of us?
How many were on the guest list at our wedding?
Who did you wish would have caught the garter at our wedding?
How long were you dating before marriage?
Who did you miss the most at the wedding?
Which song played for the first dance?
Who was the most emotional at the wedding?
Who is the more adventurous one?
Who likes to travel more?
Which is your favorite spot for a vacation?
How should couples make decisions together?
Who fights more in the marriage?
Who has a more loving/close-knit family?
Which one of you is the more emotional one?
What has been the blessing in your love?
Who confessed their love first?
What is the one thing you would do-over in your wedding?
Who is the forgetful one?
Was it fun extracting the lovely secrets piece by piece? Must have been!
No problem if you don't want to stop the drilling here. In fact, drill deeper if you can with the next list of deep newlywed game questions.
Deep Newlywed game Questions
Who doesn't like diving deep into the love of the newlywed couple?
Even a simple question like: "what is your partner's biggest fear?" can reveal a lot about the couple's deep love. Go on and stir the depth further because this is what the Deep Newlywed Game Questions do!
Is your spouse more like their father or mother?
Who maintains a diary or journal amongst you both?
What would you call your spouse, pessimist, optimistic or realistic?
What will always make your partner laugh?
What was the most terrifying moment for your partner?
Who spends money the most?
What is your partner's biggest fear?
Where does your partner want to be in life?
Was your partner ever scared of commitment?
Who is your partner's inspiration?
What can make your partner cry?
What would your partner want to change about you?
What is the one way your partner wastes time?
When does your partner not realize who is being dishonest?
Will your partner lie if it helps them?
What is the secret to a happy marriage according to you?
Who listens better?
Who cannot stay in a long-distance relationship?
What was the biggest challenge in your marriage?
Who puts more effort in the relationship?
Got your answer for the last one?
Could you have guessed the angry one to be putting in more effort than the cute partner? But it happens. Love can make everything possible.
This was sooo romantic! We won't break the flow either. Let the list be followed up with the next list of Romantic newlywed game questions:
Romantic Newlywed game Questions
For some, romance can be all about snuggles and kisses… while for a few others, it can be about confession of love.
For others, it can be something as simple as trying hard to make a partner smile when they are angry or upset. Let's see what our newlywed couple reveals about it!
Who is the 'better catch'?
Cutest feature about your partner?
How often do you both say "I love you" in a day?
Who said "I love you" first?
Who made the first move?
The cutest gesture your partner has ever done to make you smile?
Where did you both first meet?
Do you think you could have found someone better?
Who will talk about kids first?
What is my idea about a perfect weekend?
How would I spend my ideal vacation with you?
What did your partner wear on your first date?
Best gift your spouse ever gave you?
When did you both have your first fight?
Who apologizes first after your fights?
What is your dating anniversary?
How would you describe your partner in three adjectives?
Who proposed first?
Describe your first proposal day?
Who plans the better surprises?
That must have transformed the newlyweds into a fairytale couple… right from the magical world!
We have had a fair share of fun, flirt, dirt, and romance by now. It's time to taste the best in the game with the best newlywed game questions.
Best newlywed game questions
This is the best list of newlywed game questions infused with pure delight and entertainment.
Right from who among the couple wins an argument to whose decision matters the most, you are free to seek all the details here.
Who usually wins an argument?
Which song is your couple song?
How tall is your spouse?
What was the last book your spouse read?
Which TV show is your partner currently binging on?
What's your partner's favorite movie?
Which was the last movie you both saw together?
Who is the more intelligent one?
Who makes better life choices?
Who trusts people easily?
Who can never go wrong in the kitchen?
Who always keeps the room messy?
Who is the careless one?
Whose mom is cooler?
Who has no chill when it comes to work?
Who is horrible at keeping secrets?
Who is more fun at a night out?
Who prefers to stay in on weekends?
Who can never say no to food?
Who decided to live together first?
Bravo! That was a brilliant lead to the game so far… and no surprise this is going to get better as you keep scrolling the lists.
The Internet being such an important sphere of our lives, it is time to explore the online habits of a newlywed couple with the list of online newlywed game questions.
Online newlywed game questions
Online habits have become a thing to discuss for the newest generation.
Starting from downloading movies to books, there is so much to talk about online habits. Your favorites, likes, dislikes and addiction, here you go with all the questions.
Partner's favorite podcast?
What would your spouse do if you both won the lottery?
Who always delays cleaning the house?
Who is not a fan of remote work?
Who looks better in white?
Who sleeps on the right side of the bed?
Your partner's favorite yogurt topping?
What is your partner's favorite cake flavor?
What are the three things your partner will carry to a deserted island?
Who went ring shopping first?
Who plans great gestures the best?
Who is the better tipper?
Who is always indecisive at restaurants?
Who is the bigger packrat?
Who is the first one to post on social media?
Who caves in easily?
Who is the stricter one?
Who can stay without food easily?
Who prefers soda over juice?
Who has locked themselves in the car?
Online shopping, online gaming, online chatting, and pretty much online everything! The list was an absolute delight.
Moving ahead, would you like to have a list of versions especially compiled while in the company of friends of the newlywed couple? If yes, the next list is waiting for you.
Newlywed game questions for friends
The friends of the newlywed couple must be waiting to have a blast. To make it happen, newlywed game questions are the best to rely on.
This list has everything that can keep you indulged in the moment with gripping chit-chat questions:
Who is more likely to re-gift?
Who hates wrapping gifts?
Who cooks the best birthday dinners?
What is your partner's comfort food of choice?
Your partner's go-to skincare product?
What is the most different about you and your spouse?
Your favorite outfit for your partner?
What is your partner's pant size?
Who is the stubborn one?
Does your partner enjoy stand-up comedy?
Who is a bigger fan of attending live concerts?
Your partner's favorite pizza topping?
What was your partner's high school mascot?
Was your partner ever a nerd?
Who would be the first one to retire?
Who is the entertainer?
What is your partner's favorite spot for a date night?
Will your partner choose to wake up early for a move?
Who wears the same pair of jeans for a month?
Who snoozes the alarm the most?
Snoozing the alarm can be one of the most common guilty pleasures of the maximum world population. And the guilt is hard to overcome…
And there we have another enjoyable list of newlywed game questions but this time it's gonna be fun for the families!
Newlywed game questions for families
Who can deny the excitement of our families on wedding occasions?
It takes them months on end to shop for clothes and accessories besides planning the wedding rituals. Thus, we decided to give them a bonus list of newlywed game questions for families because families deserve it!
Who is your partner's best friend?
Who is the more competitive one?
Who was your partner's mentor in life?
Who was your partner's favorite teacher?
Who is more likely to win a horse race?
Who is better at poker?
Does your partner have any superstitions?
Who is likely to call 911 by mistake?
What is your partner's silliest quirk?
Who is the more impulsive one?
Who gets sick easily?
Who is the one to win at bowling?
Who is always doubtful?
Who follows politics the most?
Who is most likely to decorate during Christmas?
Who always enjoys long drives?
Who is a candy lover?
Who is better with kids?
Who is the creative and innovative one?
Who can handle responsibilities better?
Talking about wedding rituals, how can we forget about a very special ritual: a bridal shower!
How about having engrossing gameplay with the newlywed game questions dedicated especially for bridal showers? Do you agree? Here you go with the next list.
Newlywed game questions bridal shower
All thanks to the modernization, families are finally moving on to infusing their traditional rituals with modern gameplays to take the wedding excitement a level up.
So, here' a twist to the famous bridal shower games
What is your partner's favorite cuss word?
What are the 5 things your partner will save if your house was on fire?
Who is on your partner's speed dial?
How many shots can your partner have in one go?
What is the most important day in your partner's life?
Name of your partner's first crush?
Did your partner ever fail a test?
Who will get the last slice of pizza?
Who can bake a better cake?
Who absolutely enjoys meal prepping?
What scares the shit out of your partner?
What is your partner's hidden talent?
What does your partner always have for breakfast?
Who enjoys celebrating festivals the most?
Was your partner popular in high school?
Is your partner a bookworm?
Is your partner judgemental at times?
Can your partner go a week without their phone?
Which one of you finished a meal first?
Who is your partner's most ancient friend?
Never mind those happy tears rolling down your cheek to see the giggling bride-to-be! That must be a busy and thrilling moment for all.
We are going to take this enthusiasm at its crown with the two most enthralling rounds of questions lists, and competition between the wife and the husband.
First up we have newlywed game questions for the husband round.
Newlywed game questions for Husband round
If you are wondering what the husband round would bring to the newlywed game questions, this round is just for the wives. We are to discover how well the newlywed husband knows his heartthrob.
Starting from the little things to some deep loving gestures, there is a lot that he needs to reveal about his darling's habits, likes, and dislikes. So, let's see who wins the match!
Three things your wife will always carry with her?
Who is her celebrity crush?
Who was her first pet?
What would she choose, family or money?
Which fruit does she hate the most?
What was her favorite subject in school?
Who is her favorite singer?
What is her favorite thing to eat on cheat days?
Has she ever broken any bones?
Which day would she want to change in her life?
What is her biggest achievement?
Who is her favorite author?
Your spouse's most repeated sentence or phrase?
What cuisine does your wife enjoy cooking?
What is your partner's favorite drink?
Does your partner enjoy learning new things?
What does your partner talk about a lot?
What is her favorite emoji?
Does she like social media?
Is she someone who enjoys PDA?
Don't hesitate to add more queries to the list, if you have one ready. After all, the game is pure delight.
When the husband has already been interviewed, why spare the wife? The next newlywed game question is for the wife.
Newlywed game questions for wife round
Husband, are you prepared for the fun? This round has to be a little tough because wives are always smarter when it comes to knowing their husbands.
But you see, it is always a pleasure and pride to see your honey winning a game… isn't it?
Well, it's too soon to decide all that, it also helps to know better everyone and see who can claim the winning crown.
Your husband's favorite bonding activity?
What is his favorite dance move?
His lamest joke to tell ever?
What can always make them nervous?
What is the one thing that can make them go crazy?
Which superpower would he choose to have?
Which video game does he play all the time?
Which word would he use to describe your family?
Which gift would he love the most?
Which is his favorite bike?
Which sports team does he support?
Which TV show does he dislike the most?
Would he call himself more decisive than you?
Which is his favorite thing to do for fun?
Has he ever been bungee-jumping?
Is he a water baby?
Does he enjoy going on treks?
Has he ever been in a physical fight?
Does he prefer pizza over steak?
What is his biggest pet peeve?
Before you announce the winner, don't forget to appreciate the efforts of the lovebirds!
Next up, we have Newlywed Game Questions for Couples. This time both partners have to display their wit and love to prove they're made for each other… which of course they are, irrespective of their performance!
Newlywed game questions for couples
This can be really action-packed with the newlywed couple revealing how they plan their days' post-wedding.
No matter how hard we try to stay out of their privacy, we all love to peep into those little details when it's about a newlywed duo!
Who does the dishes better?
Who is the bigger procrastinator?
Do you like it when your partner wears makeup?
Who would you both love to go on a double date with?
Who falls asleep first at night?
One thing you both will never agree on?
If you both could live anywhere in the world, where would it be?
Who usually picks the date location?
Who is the elected one to switch off the light?
Who is always late?
Who is more patient?
Who is more health-conscious?
Who controls the radio in the car?
Who forgets to flush the toilet?
Who is the one to pick the tab after dinner?
Who has a louder voice?
Who can never say no to family dinners?
Who has a better taste in gift cards?
Who is the last-minute shopper?
Who panics first?
This is becoming captivating now! And the best is yet to follow. Before we move ahead with the list, a huge congratulations to the host who has led the game so far, it was such great jubilation!
Next up, we have the best version of the newlywed game, similar to the husband-and-wife rounds. If you enjoyed the previous rounds, this round is going to amuse you again! It's called: How Well Do You Know Me?
How well do you know me questions
The heading clearly suggests the intentions of the game. In this version, both the partners have to prove how well they know each other as individuals.
This list is going to be specific about the living patterns and routine of the partners, revealing their soulmate qualities. Are we up for it? Let's begin!
Wo is their favorite actor?
Which instrument can your partner play?
Which sports were your partner's favorite in school?
Which indoor game does your partner love?
What is your partner's favorite color?
Which is the one thing your partner can't stay without?
Which watch brand is your partner's favorite?
What was their first job?
What did your partner do with their first income?
Which celebrity does your partner loathe?
What is your partner's hobby?
What is their coffee order?
Do they like waking up early?
Does your partner have tattoos?
Who does your partner trust the most (except you)?
What was your partner's dream job as a child?
What will your partner do with a million dollars?
What is your partner's zodiac sign?
What is your partner's first nickname?
What does your partner never tolerate?
The roaring excitement and uncontrollable pleasure is going to get two-fold. Because what is coming next, is a completely new style of the newlywed game trend.
Here the couple have to fill up the blanks of incomplete sentences, only to have a blast time together!
Fill in the Blank questions
Right from some unacceptable realizations to some stubborn habits, the list packs it all.
Make no delay and try to complete the incomplete sentences.
Ready, set, Go!
I wish my spouse would stop ________.
I hope my partners someday realize _______________.
My partner loves __________.
My spouse's favorite bar is ____________.
My partner always orders a __________ at their favorite restaurant.
If my partner could wake up as any other person for a day, they would be _________.
My partner's dream dinner guests are _______ and ___________.
My partner always buys _________ while grocery shopping.
On our first date, I loved my partner's _________.
I hate to tell my partner ________________.
My partner always reminds me about _________.
My partner has the weirdest ____________.
I wish my partner was more _____.
I hope to someday visit _________ with my partner.
It makes me mad when my partner ________.
My spouse thinks I am an expert on _______________.
My partner thinks I am _________ as a Disney character.
I know my partner loves me because ___________.
If we had never met, I would _________.
________ has the worst influence on my partner.
Who would have imagined 'Fill in the blanks' to be so gratifying, after leaving the blanks unfilled in the examinations, being clueless about the answer!
Such a contrast, but a good one of course.
Guess what? The next list is most likely to overwhelm you with another round of compelling questions list because it's: Most Likely to Newlywed Game Questions:
Most Likely questions
The most likely list does not demand a long answer. Here, the answers are going to be just the name of a partner.
Confused? We'll explain how: You just have to call out the name of your partner when being questioned: "who is most likely (to do a particular thing)?" Let's see if your predictions come true or not!
Who is most likely to go viral on Instagram?
Who is most likely to end up in jail?
Who is most likely to hold a long grudge?
Who is most likely to forget a birthday?
Who is most likely to forget the house keys?
Who is most likely to text the wrong person?
Who is most likely to sleep through an alarm?
Who is most likely to get fired at work?
Who is most likely to forget to do household chores?
Who is most likely to cry during a movie?
Who is most likely to sleep on the sofa?
Who is most likely to win a game show?
Who is most likely to get abducted?
Who is most likely to drop their phone on their face?
Who is most likely to do volunteering?
Who is most likely to play pranks?
Who is most likely to win a dance battle?
Who is most likely to become a vegan?
Who is most likely to go skydiving?
Who is most likely to go a week without showering?
It must be a full 'aww' moment to see the couple teasing each other down the list. Don't worry, if you are not done with the chuckling disclosures yet. I am neither.
Spilling such funny facts, denying and accepting your partner can become even more fun if we scroll down to just the neighboring list which is Fun Facts Newlywed Game Questions:
Fun Facts Questions
Alright, now that we have already sworn to nudge all the fun facts about the newlywed couple, this list is going to add to it!
Right from something as funny as 'who is a bathroom singer?' to something as kinky as 'what's your wife's… Size?', this set of questions can raise your eyebrows in amazement!
Who enjoys driving the most?
Who loves pets more?
Who has the worst taste in movies?
Who always chooses home food over junk food?
Who is a bathroom singer?
Who always keeps their phones on silent?
What is your partner's shoe size?
How many pairs of shoes does your partner have?
What is your wife's bra size?
Who always overshops during grocery shopping?
What is your partner's native name?
How many cousins does your partner have?
Which cousin is your partner's favorite?
When did your partner have their first kiss?
What is your partner's favorite clothing brand?
What can make your partner angry quickly?
How many people have your partner dated before you?
What international countries has your partner been to?
How many languages can your partner write in?
What is your partner's favorite scent?
While scrolling down the lists, it must be becoming quite difficult to measure which one would be the best of all.
Well, as you see each of the lists has stood up to be unique and one of a type, they are just different versions of the same game with different styles of question patterns.
We are just to hit the last few lists of the newlywed game questions so hold onto the playful spirit and keep cherishing the moment.
Next up, we have this or that newlywed game questions:
This or That Questions
High Heels or flats? An umbrella or getting drenched in the rain together? Visiting hills or beaches? Buying normal clothes or sexy nighties? … by now you must have understood what the list demands.
Basically, the married couples have to give answers to the questions, thereby picking one of the options that are placed in front of them in a particular pattern of 'This or That'… Excited? Let's do it!
What is your choice: Coffee or Tea?
What is your choice: White chocolate or dark chocolate?
What is your choice: beach or mountains?
What is your choice: dessert or jungles?
What is your choice: summer or winter?
What is your choice: city or country?
What is your choice: heels or sneakers?
What is your choice: animals or birds?
What is your choice: cats or dogs?
What is your choice: long baths or quick showers?
What is your choice: home or car?
What is your choice: parties or vacations?
What is your choice: clothes or electronics?
What is your choice: sports or dance?
What is your choice: waffles or pancakes?
What is your choice: horror or romance?
What is your choice: cocktails or mocktails?
What is your choice: gym or parkour?
What is your choice: rain or snow?
What is your choice: guacamole or sour cream?
Such an effortless way to live up to the mirth and zest! You must be waiting to learn what's 'new' the next list holds for you.
This time you rather guess it yourself. Did you? Come on, it's all about guessing because the next list is "Guess Who" Newlywed Game Questions:
Guess Who… Newlywed Game Questions
Remember the questions, where you claimed your partner as the answer with full certainty? This time it's going to be a little more tricky because you are required to guess… and keep guessing until you know the real answer.
The predictions are going to be challenging ones, after all, who knows the truth?
Who is the better planner?
Who is the better organizer?
Who is the better storyteller?
Who is street smart?
Who is more expressive?
Who is the caring one?
Who is the concerned one?
Who is scared of hospitals?
Who is the risk-taker?
Who is a gamer?
Who finds it difficult to say 'no'?
Who misses the work train more often?
Who had a better GPA in school?
Who has been a rebellious teenager?
Who owned a car first?
Who has a higher emotional quotient?
Who has a better social quotient?
Who is always the excited one?
Who can never stay angry for very long?
Who always makes bad decisions when it comes to binge-watching?
Don't take it at heart if a few guesses went wrong, the marriage is gonna take you long ahead of this.
Keeping that aside, do you want to indulge in some relationship questions? If you wish to know the amazing truths about the newlywed couple, the next list is dedicated to the same. It's relationship Firsts newlywed questions.
Relationship Firsts… Newlywed Questions
There has to be a beginning to every long journey. Entering into a relationship is one of the most memorable beginnings for couples who get married.
All those first hook-up stories, first love moments, and first romantic gestures have a completely different place in our hearts. Let's track down some of those relationship firsts right away:
The first time you met your partner's family?
When did you see your partner cry for the first time?
When did your partner say 'I miss you' for the first time?
When was the first time you both didn't meet for a month?
When did you tell your parents about your partner for the first time?
Who was the shy one during your first kiss?
Where did you get your first picture clicked together?
Who posted first on social media about your relationship?
What did you both dress up as on your first Halloween?
When did you both first kiss under mistletoe?
Which was the first song you both danced together on?
Where did you both travel to for the first time together?
Who was your partner's first ex?
Who was your partner's first lover?
Who farted first in front of the other?
Who had the better first impression?
Who was the first one to initiate intimacy?
The first time you both discussed a fight to sort it out?
The first time you both cried together?
The first time you both shared a bed together?
Can't kill this vibe! Once you have successfully made the first move, what follows next is proposal engagement and wedding. Why miss on such adventurous revelations either?
The next list takes you to a proposal, engagement, and wedding newlywed questions, go on and have fun unearthing the beautiful past!
Proposal, Engagement & Wedding… Newlywed Questions
Let the couple have a memorable flashback down their memory line of hearts and flowers with this version of the newlywed questions game.
The questions are amorous and all you need to do is spice it up with some heart-wrenching answers:
Who has the better in-laws?
Who'll be the fun parent?
What is your spouse's favorite junk food?
Your spouse's favorite tv shows which they force you to watch?
What frightens your spouse in marriage/relationships?
Who are your partner's close friends to attend the wedding?
Who has a higher pain tolerance?
Do you ever make any sacrifices for your bond?
How do you feel about your future together?
Do you worry when someone else finds your partner attractive?
Have you ever kept a secret from your partner?
Does your spouse still make you feel giddy?
How often does your spouse share their thoughts with you?
Is your spouse more of a texter or a caller?
What would your spouse choose as their last meal?
If you and your spouse could be in a fiction movie as the main leads, which one would you choose?
What is the best advice you have ever received as a couple?
Which possession do you both treasure the most?
What is the secret recipe to a successful relationship in the modern world?
What stresses out your partner the most?
Must have been dream-like to see the passionate couple coming with lovey-dovey answers.
How about getting to see the intellectual side of our love birds? It's time to take the game forward with a thought-provoking list of Finance And Money Newlywed Questions:
Finance & Money… Newlywed Questions
Marriage ties a couple to ample responsibilities and dutiful activities. It's a responsible shift from being merry lovers to a dedicated couple who have to plan a family.
Finance and money is such a responsibility when it comes to planning a family. So, take up the list if you want to know some financial plans of the newlywed couple.
Who has a better investment plan?
Who saves more?
Who is a better stock trader?
Who keeps a track of finance news?
Who owns the greatest number of cards?
Who owns the greatest number of bank accounts?
Who is always aware of discounts?
Who never goes shopping on sale?
Who makes better financial decisions?
Who is responsible for tracking household expenses?
What is your partner's biggest financial influence?
What does your spouse spend most on?
Has your partner ever donated money?
Has your partner ever bargained?
Has your partner ever stuck to a monthly budget?
Does your partner crib about having less money?
Do you believe in charity yourself?
What is your partner's financial philosophy in life?
Will your partner turn in any unmarked cash that they found randomly?
Has your partner ever cheated for money?
Alright! That was a good mix of pleasure and duty. Heading to our last list of the game, this one has to be pure entertainment.
What about Dating Times? There is so much that happens when two individuals start to discover each other. Are there hands up supporting the idea? Let's go then!
Dating Times… Newlywed Questions
Dating time questions are all about fun, friendship, dating, flirting, and love. Every question is one of its kind, deserving an equally soul-stirring answer.
So, without any further ado, let's hit the list of questions because this has to be worth remembering!
How would your partner choose to become famous?
Who would your partner love to trade places with for a day?
What is your partner's go-to jam song?
Has your partner ever cheated on someone before dating you?
Does your partner snore at night?
Your spouse's favorite ice cream?
Your partner's most irritating habit?
Your partner's most cringe moment?
Have you both ever fought over finances?
Who can hide the truth better?
What color are your partner's eyes?
Do you both ever want to act in a play?
Is your partner not happy with their job?
Who plans the best for Valentine's?
Who gets control of the tv remote?
Which cartoon character would your spouse be?
Who enjoys road trips more?
Who can never sleep on a flight?
Who has a better eye for design?
Who enjoys swimming more?
I'm sure it would have been fun going through these electrifying lists of the newlywed game!
Hope you lived a magnificent time through the list of different versions of the newlywed questions game.
But, Hang on! I still have to tell you if you want to know how you can play the newlywed game at home. There you go…
Bonus: How to play Newlywed Game at home
To begin with, choose any one of the family members and designate the one as the host of the game show. The host needs to throw questions to the couple.
Each of the partners needs to pen down their individual responses. Once you are done with one category, the couple reveals their answers and see if their responses are the same and correct.
For every matching answer, the partners are awarded a point.
After you have been through all the rounds of questions, it's time to calculate the points and decide the winner.
Wasn't that easy? Of course! So, scroll up once again to the first question category and start playing the newlywed game now!
Over to you…
Newlywed game is not just one of the best games to play at weddings, even in a bachelorette party, this can be a fun game to play.
You can simply not have enough of these long-running threads of questions. But then there must be some wedding rituals and planning waiting too.
It's time for you to catch up with the work by the time I'm back with another delightful list of questions for some more gripping conversations.
Surabhi Kedia
Surabhi has a deep passion for words. She puts her heart and mind into whatever she pursues and craves for creative ventures. She has always been keen on creating original content that can make a difference. In her experience as a content writer, she has had the opportunity to work on several fields with Psychology being her favorite. Surabhi says, words have the power to transform the world, better than a sword. So she hopes to contribute her bit to this revolution. At ThePleasantConversation, she feels lucky to have the opportunity to share content capable of bringing about a change in the lives of the readers.