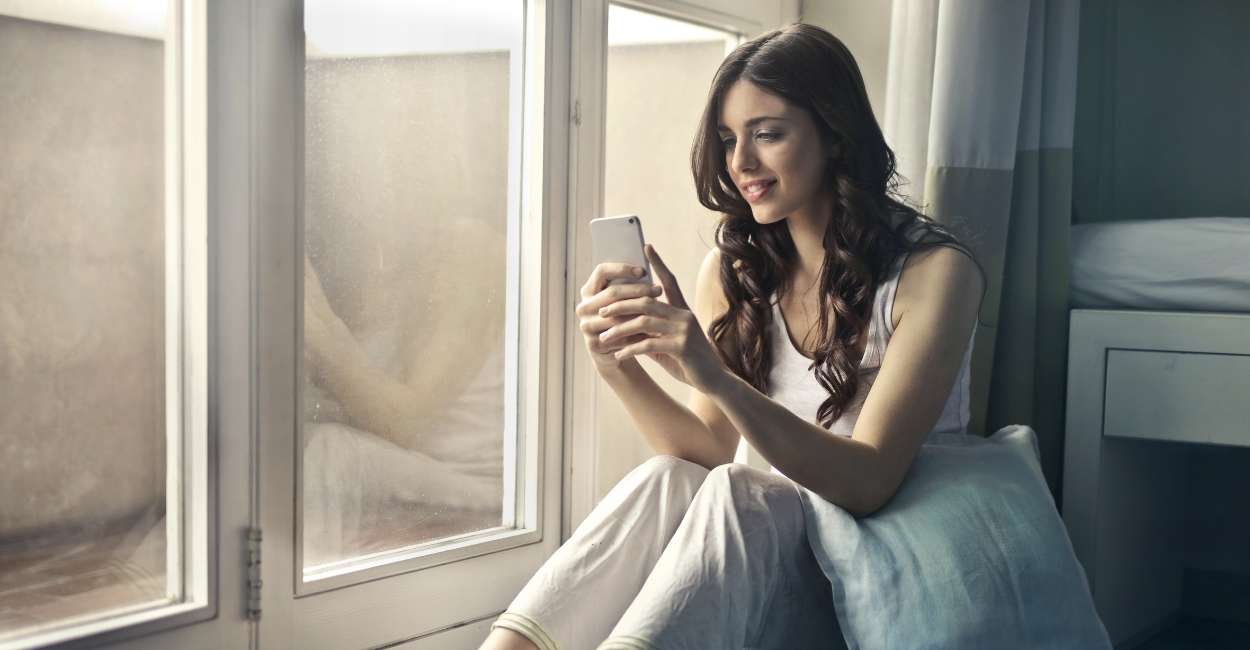 If you want to send a message to crush to make her smile, I've got you! Here you'll find all kinds of text messages to make her giggle like a kid and fall in love with your plain innocence.
To make your crush swoon over your texts in no time, I'll show you texts for every moment and mood.
So, don't delay and hit the list!
Sweet messages for crush to make her smile
To convince your crush that you're her dream partner, be sweet to her! Your sweetness will definitely bring a shy smile to her face, so let's start the magic with these…
You always find new ways to make me fall in love with you.
I always act like an idiot around you, don't I? It's all your fault for being so stunning.
Send me a picture of that beautiful/handsome face.
You're such a dream girl.
Hey gorgeous, what's up?
Your optimism makes you so hot.
I love the glimmer in your eyes when you get excited.
I gotta say, nobody can wear black like you.
How do you manage to look this adorable every day?
Give me a break… I know many other dudes are crazy over your smile.
Spending time with you is always worth it.
I promise to be the man who can *fill in the blank* for you.
Dear crush, stop being so clueless and give me a chance already.
Stop running on my mind already… it's no track and field day up there!
*when she says something interesting* Tell me more!
You always know how to put a smile on my face.
Before starting the day, I need a cup of coffee and a high dose of you to recharge myself.
I was so busy thinking about you all day that I'm tired now.
I've never met someone as humble and polite as you
Even 100 cute puppies can't be as cute as you.
But if you wish to begin your day with a smile on her face, make her lucky with an early morning greeting! Exactly, a good morning filled with sweetness can do the work.
Good morning message to my crush to make her smile
Most people send their crush "GM" instead of "good morning" and it creates a bad impression of zero commitment. So, let's show her how committed you are while you make her smile with these…
Every morning I wake up and think I'll send a sweet good morning text… and I lose my chance. But good morning anyway!
I hope a beautiful girl like you starts her day with a beautiful smile. Good morning, beautiful!
I just realized you're so wonderful… and I think you should know it. Good morning, my darling!
I wish I could begin my day with your incredible laugh. Good morning, dear!
I can't wait to meet you today. Good morning, princess!
Good morning, baby girl! As usual, I'm still smitten by you.
Good morning, my love! I didn't catch any sleep at all last night… I was busy thinking about you.
I'm so excited to spend another day with you, good morning!
I hope my favorite person woke up healthy and happy, good morning!
Can you stop being so lovable? I might get a heart attack.
Have a lovely day ahead, miss gorgeous.
I can't imagine waking up without texting you, good morning.
Wake up sleepyhead, it's your turn to shine and rock.
Here's another great day waiting to be happy with you.
If only I could kiss my sleeping beauty to wake up, good morning!
I hope you can help me have a good day for the rest of my life with your awesomeness, good morning.
Every single day I wake up hoping you had a sweet dream.
You can make my dreams come true if you text me good morning. But for today, good morning, beautiful!
If I hear your voice in the morning, I think good luck will be on my side. Good morning, honey!
Every morning I'm amazed to wake up and know you're not a fantasy. Wake up, time to shine!
But, if you wish to make her blush too while making her smile, try to flirt with her because that'll get both jobs done. So, let's check some here…
Flirty messages to crush to make her smile
Not all kinds of flirting can make her smile. Some might just disgust her if she's still not quite interested in you. So, play with subtlety to make her blush, smile, and even feel a bit naughty like these…
Your lips are so kissable.
Dayum! You look so hot today!
Any guesses about my outfit right now?
I swear you were amazing last night in my dreams.
You really looked pretty in that dress… but I wonder what it's like without it.
Sometimes your cuteness becomes a total killer.
Here, I broke the ice. Wanna pour a drink over it?
I checked your Instagram and feel astonished that you're not a model yet.
Next time, warn me before uploading such killer pictures.
I'll keep texting you until you tell me you'll be mine.
You're under arrest for stealing my heart.
If being pretty was a crime, you'd be covered in tickets.
It feels wrong to pay attention to anything other than you in this world.
I wonder if you can send a snap of that million-dollar smile.
The way you speak is absolutely irresistible.
Your elegance is always the showstopper.
Stop attracting me with that stunning gaze.
I wish to be your prisoner forever.
Being close to you is the most thrilling thing for me.
That outfit looks so sexy on you.
However, if you're a hopeless romantic, you might not feel satisfied with the previous list. So, let's put on the correct mood to put that pretty smile on…
Romantic messages to crush to make her smile
Romance is one of the best ways to not just make her smile but also show her that you like her more than just a friend. So, let's show her that you're passionately in love here…
This beautiful day is incomplete if I don't hear your voice.
All those love quotes sound like they're about you and me.
I wish to hold your hand while walking together in the rain.
Your pure heart really makes me melt.
I wonder why I feel this special and deep connection towards you.
The greatest favor you can do for me is to be happy forever.
I wish to go for an evening walk with a sunset-watching date someday.
Cloud nine is overrated, your presence sends me to cloud ten.
Sometimes I wonder, do I crush on you more by every day or every second?
I always wondered how you can be so beautiful inside out.
I feel we match perfectly together.
Your smile is so darn contagious.
Give me a moment to recover from your splendid beauty.
I can't wait for our coffee date tomorrow.
Someday, I'm sure you'll let me get a bite of your cute cheeks.
Don't you get tired of giving me so many sweet memories?
Is there anything at all you're bad at?
I feel so drunk from your gorgeousness. Do you have hangover pills?
I really wish to go on a dancing date with you.
I swear we have good chemistry.
Instead of making her smile, do you want her to cackle like a hyena? I can totally smell your dedication and love for her. So, let's make the lucky girl luckier here…
Funny messages to make her smile
A good sense of humor was always irresistible… it can make your crush smile and send her heart racing. So, to touch her heart while you put a smile on that angelic face, use these…
You have the best cereal recipe ever.
Your sense of style inspires a dork like me
I really love how dedicated you are to your work.
You amaze me with your stubbornness and sometimes I wish I were like you.
You'll make a great mom with your amazing values.
My heart skips a beat from your strong sense of justice.
How long will you touch my heart without permission? That's impolite!
You look the best with your coffee foam mustache. I feel so secure with you.
So, let me tell you a secret. Everyone teases me saying I have a big crush on you but that's the truth!
May I have a little chat with you as part of my breakfast?
Dogs can bark, cats can meow and you make a man like me crazy for you.
I thought your skin just looks like honey… but what if it's really made of honey? Will you let me have a taste?
Solve this mystery: Why do I text you so regularly?
I have no photography degree but I can totally picture you and me together.
Are your parents mobsters, because you're a fine dynamite!
I don't gamble usually but I bet my heart and soul to never stop loving you.
Do me a favor… go on a date with me on days that end with "day".
I used to be a crybaby… it seems it was because I didn't find my soulmate back then.
I usually hug my pillow to sleep until I dream of you… I wish I could hug you to sleep until I see my pillow in my dreams.
I have the best idea for a crime… let's steal each other's hearts and refuse to return them.
On the other hand, if you wanna stick to genuine praises to make her smile and not say something made up, here you go with an exclusive list…
Heartfelt messages to make her smile
Some girls like being genuinely complimented for their hard work instead of superficial beauty. If your crush is the same, this list will help you reach her heart and curve her lips upwards…
I hope today will be an even better day than yesterday for you.
Though a picture is worth a thousand words… yours make me speechless.
I'm hopelessly in love with you… do you have a fix for it?
I'll say I love you until the sun collapses.
Your hard work is really impressive.
I swear everyone around you feels motivated by you.
The best part of being around you is feeling so motivated no matter what.
I'm sure your family loves how filial you are.
Your undying efforts inspire me to work harder to woo you.
You always listen to whatever I tell you and I can't be thankful enough.
Not gonna lie, you make the most interesting conversations.
Did you know you have great *inset any skill*? That's not a simple trait.
Remember how you always told me things get better? You're no exception, so bear with it a bit longer.
I'm glad I didn't take too long to understand how special and unique you are.
I love how you always challenge me and make me a better person every day.
Your personality really tugs at the right places in my heart.
When you step in, any room lights up.
I love how you can always pull off any outfit.
Your blue eyes remind me of the deep blue sea… I wish I could be the only one to swim there.
In the current rom-com I'm watching, there's a character that's so much like you!
Another way to make her blush and smile is to send her voice clips unexpectedly. Your musky voice can do all the trick with some heart-touching words like these…
Voice messages to make her smile
Hearing your voice clips can do a better job at impressing your crush over reading your texts. She'll feel much closer to you with your voice near her ears which will surely make her smile…
I'd like to be sentenced to be imprisoned in your heart
Someday, I'd love to hear your voice too… will this be my lucky day?
Your single glance is enough to get me high-spirited.
Can I be the reason for you fall asleep with your smartphone in hand?
Whatever happens in my life, you can always improve my mood.
I know our first kiss will be unforgettable and I can't wait for it.
It's so cold… if only you could help me warm up.
I can't believe I found a girl this cute and brainy.
Just for your information, I'm this brazen only with you.
Did you ever notice that whenever I enter a party my eyes look for you first?
I can't explain how much I'm craving you right now.
Spending time with you always makes me smile so hard that my cheeks hurt.
I can't stop thinking about our recent date… what about you?
You know… let's stop texting! Instead, let's meet up more.
A kiss from you can make my day better… but you're probably not ready. So, what about a kiss emoji?
I wonder how many times I'll say "I like you" until you fall for me.
I'm sure we could do anything together and I'll never get bored.
Wish me good luck, I'll confess to my crush today. I Love You!
So, you know I like you… what do you plan to do with it?
I hate that you're having a bad day… can I help you in any way?
Do you wish to make her smile at the end of the day? Goodnight text messages with a hint of romance and flirting are your best bet! So, let's explore those here…
Good night message to make her smile
It's hard to say goodnight to your crush and go to bed… you obviously want to monopolize even her bedtime. But, tell her to go to sleep and express your feelings, it'll surely make her smile…
In my nighttime routine, I thank the heavens for everything good in my life including you. Goodnight!
The fact that you returned home safely before the storm hit the city is such a relief. Now catch some shut-eye!
Do you know how fascinated I am by you? Now that you know, I hope the most fascinating woman gets the best sleep… goodnight.
Since you live in my dreams so comfortably but don't have the time to meet me in reality, I'll come to meet you there… goodnight.
I promise to love you forever and won't hesitate to wait for an eternity for you… Goodnight, sweetheart!
I don't wish to convince you to love me. I hope you'll fall in love with me by yourself… goodnight, dear.
Nothing feels better than receiving texts from you till late at night but you need sleep, so go get it, baby girl!
I love texting you and I want to continue it… but the drowsiness hit me super hard. Mind if I talk to you in my dreams? Good night.
After thinking about you all day long, I'm quite tired. So, goodnight until another day of thoughts about you.
I'd like to be the only one whose texts make your heart skip a beat… for now, I need you to fall into a deep slumber, my dream girl.
Imagining a life without you is tough… but I'll try to bear with a night without you just for sleep… Goodnight, my lady!
I can't bear to stop texting you even though it's past bedtime. Now off you go to sleep before I change my mind. Goodnight, love!
I'll call the cops on you… you stole my heart and now I can't sleep. Wish me goodnight if you don't want me to press charges.
Goodnight dear, gimme a virtual kiss at least… because if you don't we'll have a kiss fight in our dreams.
I wish I could explain how I feel… but that would take the entire night. So, goodnight, let's continue tomorrow!
I swear I like you much more than waking up late… so, I'll let you sleep early, goodnight my princess!
I don't plan to woo you when it's time to sleep. So, I hope you come to me in the morning… Goodnight, babe!
I'm not Buzz Lightyear, but hey I love and care for you… so, goodnight and sweet dreams.
Thanks to you I'm done with climbing castles. After finding my princess I can finally sleep peacefully, goodnight!
I want to make you the happiest woman of all, so let me pray so you sleep well. Good night.
If your crush seems extremely adorable to you, only the cutest words can help you reach her heart. So, let's ease into the chat with this list…
Adorable message to my crush to make her smile
When your crush is as cute as a teddy bear, you can't bear to say anything but sweet to her. But you can make it even better with these adorable words…
When I first saw you smile, I knew you were the one… and right now, I read your text and I know you're sleepy. C'mon, get some sleep, goodnight!
You definitely enchanted me with your first look… where did you learn that magic?
Your voice is so sweet… I wish we could talk longer.
I wish to make a permanent reservation in your heart, may I?
It's unfair how you completely own my mind, heart, and soul.
It's so astonishing that you can talk so patiently to me… I've never seen anyone like you.
I'm sure you're more interesting than my homework, wanna hang out with me?
Whenever you need help, call… I'll pick up even in the middle of the night.
When we're together it's so hard to focus on your words with your pretty face in front of me.
You're so cute like a teddy bear… can I bear hug you someday?
I miss you awfully… what do you think I should do?
Texting you is much better because I don't wanna get caught staring at you.
Thank goodness Heaven doesn't have an attendance list… or else they'd find out you're missing.
I have both good and bad news. Bad one first: I like you less than before. Good one: I love you more and more.
Your smile is so frigging contagious… mind if I broaden that?
Your pure heart is all it takes to make me swell in happiness.
Can you make me yours for all of eternity?
You're probably a dictionary… after all, you add meaning to my life.
Is your family in the baking business? I mean you're sweet as hell.
Don't be mad because I'm head over heels for you… you're to be blamed.
If your crush and you live quite far away… whether you send her text messages or audio clips, the distance always dulls the effect. So, let's fix that here…
Message to make her smile if she lives far away
If she lives far away, you never get to see her in person. Without a physical meeting, she might not take you seriously. But, let's come clean with your feelings and put a genuine smile on her face here…
Every day it's like I'm knowing a new side to you. You're so intriguing.
Sometimes I try so hard to text you repeatedly and yet fail.
I love the way you smell, but I miss it so much… I wonder when we'll meet.
Your very thought leaves me grinning like a fool… I don't know how much my face will hurt when I meet you.
Why do you always stay on my mind? Did you bewitch me?
Honestly, if I had the chance to be with anyone in this world, I'd still choose you.
If you like me and I love you… it must be just the distance stopping us.
You'd know my feelings if you saw my smile while texting you.
I'm going on a vacation next month… and your city is the only thing on my mind. Would you be my personal tour guide?
Life is complicated but when you tell me things will be better, I can't help but believe you.
If you were to be sick with nobody around you, I'd cross a thousand miles for you.
If my words can make you so happy, I'm ready to make a waterfall of words.
I'm happy that you went so far away… I act like an idiot around you so now you'll see my cool side.
I've never met a woman that can share such genuine compliments. Despite the distance, I feel you're so close to me.
I don't know what will happen when we meet… I feel the entire zoo in my stomach instead of butterflies.
Whenever I see you online, I can't help but feel excited and wait for your texts.
Just because we're in different time zones, don't think that I won't make time for you.
Send me voice clips sometimes… I really miss you a lot.
Though the distance between our cities might be thousands of miles, I feel there's hardly any distance between our hearts.
We might be so far away today… but someday, I promise to be by your side as your one and only.
Wondering why exactly make her smile with messages? Let's know the reasons here…
---
Why should you send messages to your crush to make her smile?
If you're serious about your crush and truly wish for a relationship, all you need to do is to make her smile. So, let's find out how a smile leads to the merging of two hearts here…
1. She'll notice you
For starters, you want her to smile and you don't need a reason. But if you still want to know, that's because you're in awe. If you go out of your way to make her smile, you'll be closer to her and she'll notice you more.
2. She'll know you're a fool in love
If you always make her smile, she'll know you're dedicated. She might initially think you'll get tired and leave… but with your dedication and devotion, she'll know how deeply you're in love which will help you later.
3. Her friends will know
If she often smiles at your texts whether she's at home, school, or work, her friends and family members will ask her the reason. When they often hear your name behind her smiles, they'll convince her to date you.
4. She'll give it a deep thought
When her loved ones tell her that you're a good person and tell her to consider dating you, she'll be convinced even more. So, don't forget to text her short and sweet messages whenever she hands out with her friends and family.
5. You have better chances
With all the above benefits added together, she'll be more likely to consider you as a partner/boyfriend. Moreover, if you're the reason for her smiles, she'll naturally feel closer to you and crave more time with you. This might lead to a sweet relationship later on.
A word from ThePleasantConversation
You can't stay beside your crush every hour of the day… but you definitely want to. While you can connect with her with general messages too, being sweet will help you score brownie points.
She'll slowly learn that you'll stay with her through thick and thin and open her heart to you. And obviously, in no time, you both will grow closer than ever.
So, don't miss the chance to show her you care and make her heart swoon to fall in love harder!
Surabhi Kedia
Surabhi has a deep passion for words. She puts her heart and mind into whatever she pursues and craves for creative ventures. She has always been keen on creating original content that can make a difference. In her experience as a content writer, she has had the opportunity to work on several fields with Psychology being her favorite. Surabhi says, words have the power to transform the world, better than a sword. So she hopes to contribute her bit to this revolution. At ThePleasantConversation, she feels lucky to have the opportunity to share content capable of bringing about a change in the lives of the readers.