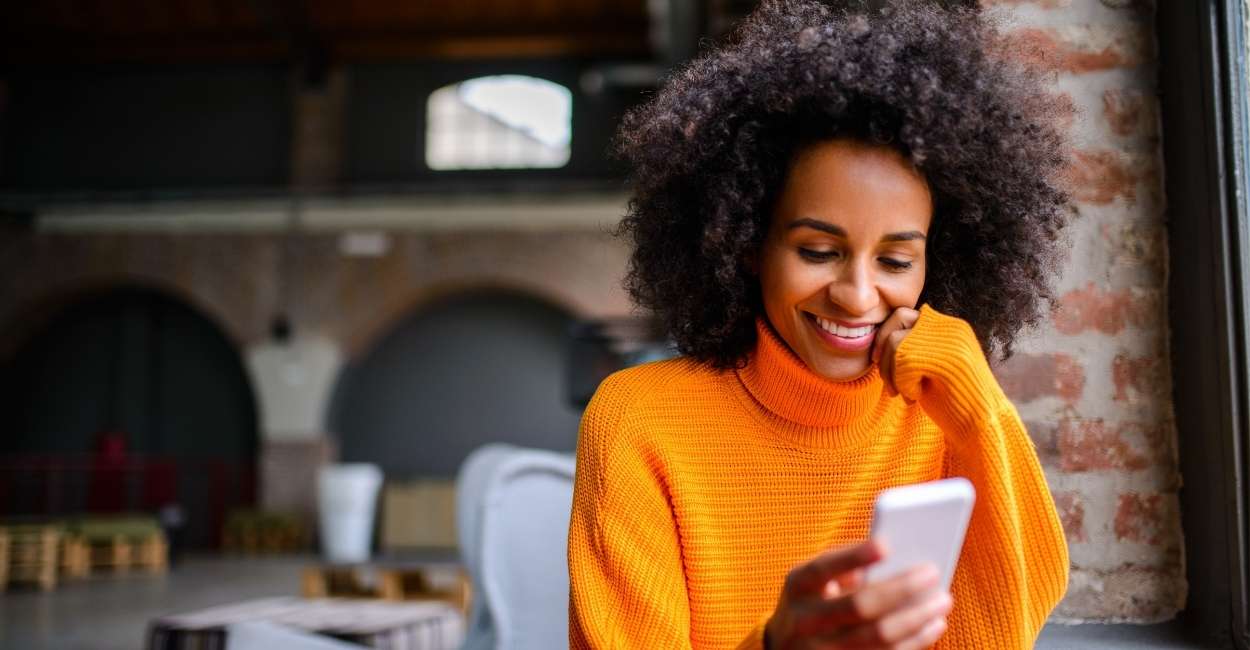 If you're looking for a list of cute messages to send to your crush, this think-piece is all you need!
You'll find all sorts of cute text messages to send to your crush… whether you want to use them as good morning and good night texts or you want to dedicate long romantic paragraphs for your crush.
So, let's begin the day here…
Cute good morning messages to send to your crush
Who doesn't want to greet their crush first thing in the morning? But a simple "good morning" won't ever get you noticed. So, use a combo of flirty, romantic, and sweet good morning texts like these…
Good morning, my darling! I hope you had the sweetest dreams last night and have a great day ahead.
Good morning, my love! I wish you were right beside me… I can't wait to greet you in your ears.
Good morning, baby! I thought of starting the day by greeting the cutest woman in the world.
Good morning, dear! I hope you brighten the world today with your beautiful smile.
Good morning, princess/prince! Wish me good luck so that I can stand the day until I see your face.
Good morning, sweetheart! I miss your beautiful face so hard, can I get to see it anytime soon?
Good morning, beautiful! I'm sending you this message to thank you for everything you do for me.
Good morning, sleeping beauty! I'm having a cup of coffee from your favorite place and started missing you.
Good morning, my guardian angel! Thanks for making my heart skip a beat so early in the morning with your text messages.
Good morning, my teddy bear! I want to cuddle so badly today.
The morning is gloomy… I can't wait for you to bring a smile on my face with your quirks.
Sending a long and tight hug from me… good morning, love!
Good morning… I hope to fall in love with your smile once again!
I couldn't sleep well last night thinking of our date today. I hope you have a great morning!
Before starting the day, know that you're the most amazing person in the world. Good morning, sunshine!
Good morning, pretty boo! I hope you begin your day with a smile on your face.
It's a lovely morning… but not as lovely as you!
The flowers, cool breeze, the dewdrops, and even the soft sunshine remind me of you. Good morning!
I have a hectic schedule today… I just need your smile to feel motivated. Good morning!
To the most beautiful person in the world, good morning!
But if you're not the kind to send one-liners to your crush… if you believe that you need more words to express your feelings, let's find a way here…
Cute long messages to send to your crush
A single line can never do justice to your love for your crush. So, if you want to shake your crush's heart with a detailed explanation of your feelings, let's hop in…
Often you run across my mind and I feel time passing by doing nothing but imagine you by my side. It's crazy how deeply I want you by my side. I wonder if you feel the same. I don't expect you to and there's no hurry to answer either… but I hope I'll get at least some response.
Hey, I care a lot about you and want you by my side for the rest of my life… not as a friend but something more. I don't know if you feel the same, but I hope you do. But, still, tell me about your feelings honestly.
Whenever I'm anxious, you help me calm down. You always warm my heart with your kindness. I don't know what it is about you that soothes me so perfectly… but I just know that I'm extremely grateful for your presence in my life.
I plan to welcome this pretty day with your million-dollar smile but that's only possible if you'd either go on a brunch date with me or video call me right now. But judging by how shy you feel, I guess I'd have to try harder to convince you.
I always wish to fall asleep at night while talking or texting you and wake up in the morning with a text notification from you. And sometimes I wish I can do the same for you some other days… I'm a hopeless one, aren't I?
I hate seeing you sad because you're that special to me. My heart shatters into pieces whenever you cry. I wish to protect your laughter till the end of time because you deserve no less than the best. I hope you'll let me lend you a shoulder whenever you need one.
If I were a writer, I'd write bestseller love stories for you… if I were a poet, I'd dedicate tons of love poems to you. But I'm neither and so confused about how to bare my feelings to you. So, would you stick around longer to watch me express it in my language?
"Home" isn't an address or a place enclosed within four walls. To me, home is a peaceful feeling when I'm around certain people. Around you, I feel happy, loved, cherished, safe, and if anything bad were to happen, I'd be protected,
I'm so glad I met you at that point in my life. You saved me from making bad decisions, taught me how to care for myself, and today, I'm this capable all because of you. But even though I'm independent and can take care of everything… I still feel I need you, now and forever.
Whether it's about going on dates, hearing your voice, getting a snap from you, or just getting a text… everything about you makes me feel so happy that I can't help but smile. Whatever you do, you're always the reason for my happiness.
I looked around for cute and long paragraphs to sway you romantically. But those aren't enough to express my deep feelings. I want you to give it a shot and try to understand me yourself instead of copying words that don't truly express my feelings.
So, we've been flirting on and off with each other but I just wanted to tell you that I don't want to have a casual fling. I like you as a person and not for your looks or money. So, I'd like to know if you're equally invested in me… don't wanna get my hopes high and my heart broken.
The first time I saw you, I felt you were really loud and annoying. The last time we met, I felt I don't want you any other way… I wish you're happy and keep any room you enter buzzing. I feel if I told my past self that I've fallen in love with you… they'd call me a liar but it is what it is.
The first time we held hands, you totally electrocuted me. I always thought love and these sensations were a bluff but I guess everything about you is so appealing. I can't even pinpoint what part of you I like because there's too much to say. Umm… I wonder if an "I love you" will convey things?
I love to daydream in my leisure time about an ideal life with everything and everyone feeling happy and cheerful. The visions keep changing but one thing stays constant… you're always beside me in those daydreams.
These days, I find myself daydreaming a lot about you. Thanks to my friends, family, and coworkers I'm always brought back to earth before it's too late… but it's kinda embarrassing and I really need a quick fix. So, I was wondering if dating you would help my situation.
I heard you'll move out of the city for further studies/job. I'll really miss you and the times we spent together. This might be the worst moment to tell you that I crushed on you all this while and enjoyed your presence way more than that. I guess you feel nice to get away from me at this point… but I liked you a lot.
I always felt fairytale stories with a knight saving a princess were silly. Little did I know that these stories are all inspired by reality and they still happen in this age. I know how the princesses being saved felt now that I met you. It's as if those stories were all about my life.
It's been so long since I started crushing on you. I thought I'd get over it soon, but the more I tried to ignore this feeling, the feeling became intense. Right now, I don't think I can reverse this feeling ever. I'll hold myself back until I know your feelings.
I suck at putting my feelings into words… but I've never met someone with an amazing personality like yours. You really bring out the best in me and make me think from a better point of view. You help me become someone I could never imagine, thank you!
On the other hand, if you don't feel comfortable typing or feel text messages might not be as convincing, I totally get that point. So, let's work harder with audio clips here…
Cute voice messages to send to your crush
Text messages never convey your emotions for your crush. But your voice can help you emphasize the perfect tone in every syllable and fill the words with romance and sweetness. So, use your voice now…
How would you feel if I asked you to meet me right now?
I swear nobody understands me like you.
I really miss hearing your voice, so here I am making the first move so that you'd do me the favor.
You looked great in that outfit today.
Would you rather rest or go on a date with me?
I've never met anyone who can *fill in the blank* as well as you.
If we were together right now, I can't imagine what we'd be doing… can you?
I'm so bored right now… do you wanna join me on the boring spree?
This took me lots of guts to ask… would you chill with me in the arcade tonight?
I just reached Miami, I wish you were here together.
Send me your picture or should I send mine?
I wonder where you've been hiding for so long!
Did the award for the Most Amazing Smile reach you yet?
I really wanna know how you'll feel while listening to my voice.
I wonder if you had a bad day… I'm here to console you.
I missed you the entire day. How are you feeling?
You know I really love your smell… is it your deo or your pheromones?
I'd love to keep you awake, but you must hit the hay… you have a long day tomorrow.
So, I was thinking of visiting the beach, wanna see me in my swimsuit/trunks?
I saw a puppy that looked just like your pet. Wanna video call?
Do you stay up long hours thinking about your crush? Don't waste your sleep time like that… no, I won't ask you to sleep! Rather take this opportunity to send your crush messages…
Cute messages to your crush while they're sleeping
Most of us stayed up till late fantasizing about our crush… but it's time to be honest! Tell your crush about your true feelings and thoughts and it might become a game-changer!
I'm sure you're sleeping… but I wish we could keep talking.
Hey, are you dreaming about me right now?
I bet you'd text me about seeing me in your dreams tonight.
I hope you're sleeping well right now. You worked so hard… I'm so proud of you.
I want to wish you before anyone else so texting now in case I oversleep: Good luck on tomorrow's presentation.
I just had a dream where you reciprocated my feelings… I wonder if it'll come true any day.
I want to fall asleep but I can't stop thinking about you.
I can't fall asleep after having such a sweet conversation… are you really asleep?
When was the last time you were super sleepy but needed to use the washroom and BAM! No sleep!
My face feels so hot. I wish I could bury it in your neck to sleep.
I didn't have the guts to say this while you were awake… I don't like people but you're an exception.
You know… I really wanted to say this while you were awake. I like you a lot.
I hope when you wake up tomorrow, you'll feel a lot better. I don't like to see you sad.
Hey, I know you're hiding something. Your texts don't seem usual. So, if you need me, I'm just a text away.
You asked me to sleep early… but you know I don't mind sacrificing sleep for you. Rather I'm worried you might become sleep-deprived for me.
I can't help but want to text you even when I know you won't reply anytime before morning.
I miss you so much that I reread our old chats… I hope I don't feel embarrassed in the morning for sending this.
I'm sure you sleep like a baby… or not… I'll find you cute anyway.
Before you wake up tomorrow, I hope you have the best dreams ever.
Hey, what's up with 2 am and all the emotional chats… I want to confess my feelings. Good thing you're asleep.
When you're in a flirty mood, do you suppress your urges? Or do you try to flirt and get turned down every time? Well, I can help you change the situation a bit here…
Cute flirty text messages
Usually, a crush that's not yet interested in you will turn down your attempts at flirting. But, if you make the flirty messages cute, you might be up for a surprise. So, watch them react to these…
*Send a selfie* Can you truly resist this face?
My heart is too excited for the next date.
It's so cold today… if only you were here to share your warmth.
You should really stop doing this… stop running in my mind I have things to do!
So, what were you doing? I was busy thinking about you.
What are your plans for this Saturday?
I think I'll delete my accounts from dating sites… I'm sure you're the one.
You probably heard it a lot… but it doesn't matter knowing it once again. You have the sweetest smile ever.
I'm so glad you're not here… you'd have noticed how badly I blush at your texts otherwise.
You won't believe it… Digimons are fighting in my lawn. Come over quickly to see it.
So, should I make the first move or wait for you?
You should get a ticket for looking so beautiful every day.
I wanted to learn Tango, would you like to teach me/learn with me?
That's enough you've been living rent-free in my mind for too long.
Greetings! You've won a free space residence in my heart.
So, I wonder if we can go on an adventure… maybe a date?
Would you date someone like me that always initiates texts or someone like you that never texts first?
After taking my breath away you owe me a date to the park to help me catch some fresh air.
Spending the vacation alone is such a bummer, wanna Netflix and Chill?
So, is stealing hearts your passion or profession?
Do you wanna chat with your crush but the "good morning" texts seem too generic to you? I think I understand what you need. C'mon, let's explore the next list…
Cute messages for your crush in the morning
More often than not, even I feel cute good morning texts aren't enough to have my fill of my crush. So, I hit them up some other time in the mornings when they're not in a rush to set out for anywhere like these…
I had a dream about you last night, can you guess what it was?
My brain doesn't work in the morning, can you strike the conversation for me?
So, I found I'm pretty free till the afternoon, I was wondering if we can catch up during brunch.
Can we both call in sick and go out on a date instead?
Receiving your texts early in the morning means I'm high on luck today.
I'm free during my lunch break, wanna grab food together at your favorite place?
Trust me, I'm always patiently waiting but when you appear in my dreams, I lose it so badly.
It's just 10 in the morning and I'm already low on Vitamin U.
Let's have takeout at my place tonight. I'll drive you home later!
Will you go on a grilled food and beer date or a wine and cheese date with me tonight?
I'll dedicate a song to you on the morning radio show, stay tuned!
OMG, you gotta know what I saw in last night's dream! It was all about you.
I told my friends about you during brunch… they think we match well. What do you say?
When I receive a notification from you, my heart stops beating.
I have a basketball match in the afternoon. So, should I record it and go on a date with you?
Will you go to this ice cream parlor in the afternoon with me? They have this cool offer that you'll get 100% off if you come with me.
I don't like dating games, so just text me first in the morning from now on.
I completed your recommended book last night and have lots of questions… let's catch up today!
I found a new Bubble Tea place, wanna try it with me this Friday?
Just so you know… stop running around my mind so early in the morning. My mind isn't a park!
But if you guys text till late at night and want to put your crush to sleep, that's also a great way to show your caring nature. So, let's get down to business…
Cute good night messages for your crush
Nobody likes it when a suitor keeps them up till late just because they're too excited. If you don't hog your crush's resting time and instead put them to sleep cutely, you might get lucky! So, check these…
Green looks amazing on you but you know what looks even better? You in my dreams. Good night!
Goodnight, my love! I hope you have sweet dreams with me in it.
I'm so damn sleepy but I also wanna text you for longer… guess we'll continue this in dreams, good night!
I had some R-rated dreams about you last night… so, I'll go to sleep earlier to continue that dream. Good night, babe!
Before you go to sleep, don't forget to tuck in real tight or the monsters under your bed might abduct such a handsome/pretty person. Good night!
Forget about the bad day and give yourself some well-deserved rest, okay? Good night!
If you don't go to sleep right now, I swear I'll keep you up all night.
Stop thinking about me and go to sleep. You can continue your fantasies in your dreams.
I can't believe I'm so blessed to know someone like you. But it's so late, catch some shut-eye while you can.
Good night, sweetheart! I hope you wake up feeling fresh and energized tomorrow.
Someday, I won't feel as sad saying goodnight to you because we'll sleep together in each other's arms.
I'm so happy that at least we can gaze at the same sky while falling asleep. Sleep tight!
I wish to fall asleep in your arms someday… but for now, I'll calm myself with a goodnight text.
I had a great day with you and I can't be any more grateful… goodnight… I won't bug you anymore.
I look at the night sky but no star shines as brightly as you. So, rest up as you have a long day tomorrow, good night!
Your smile is so pretty I wish I could fall asleep to it… but since it's not possible now, good night!
I'm sure you'd fall in love with me eventually if we stick long enough as text buddies.
Hey, what kind of dinner dates do you like?
I can't wait to see you on Halloween… I wonder what costume you'll wear.
With how you take care of me, you always make me fall for you harder.
Did you secretly admire your crush for a long time and never told them anything? Well, you must definitely let them know about your feelings first. So, let's get down with these…
Cute confession messages
Most of us expect that sending cute and sweet messages will show our crush our feelings. But sadly, they might ignore it as just friendly affection. So, make sure there's no misunderstanding with these…
For the last few years, I've known you, I only felt more and more drawn towards you. Do you think we can become lovers?
To be precise, I don't just think of you as my BFF. I love you… and I want to know how you feel about you and me becoming us.
I heard from your BFF that you're not open to relationships right now. But I'd still give this a shot. Your sweetness, quirks, anger, everything draws me towards you. I love you!
Do you believe in love at first sight? I didn't believe it… until I saw you and now I'm so confused. What do you think?
Since the day I met you, I feel all the love songs and love quotes are about you and me. I think I'm in love with you.
I always thought love stories exaggerate everything. But whenever I'm around you, I feel so smitten by you. I wonder if that's what true love feels like.
When I close my eyes, I always picture you beside me smiling when I say "I love you". I wonder what you'd say if I said that in person.
Every day my love for you grows stronger and my heart yearns for you even more. I can't help but admit my feelings for you. I'll be waiting for your response.
The first time our eyes met I felt I knew you from ages ago. I feel you're a part of my soul… do you feel the same?
Your cute face makes my heart skip a beat and your antics make me feel so lively. I'm so deep in love that I feel like I'm drowning.
Recently I realized that I see you as someone more than a best friend. I like everything about you and want to get even closer. Do you think this is love?
I gave it a lot of thought but I just can't prepare a perfect way to phrase it. It's simple…I love you… I don't know how else to explain myself
I've waited for a long time… but the perfect time never comes and I'm losing patience. It's just that I love you and I don't know how else to tell you.
Hey, I want to talk to you tomorrow about something important. It's just that I feel I love you… but I want to say it to you directly.
Remember the time I said "I have something important to tell you" but didn't? Well, your beauty gets me tongue-tied so here's the deal… I love you!
I hope you have a good day… and here's a secret: You make my heart beat too fast but you also soothe me the best. I'm in love with everything you make me feel.
I didn't confess my feelings because I was afraid we'd become awkward and ruin our friendship. But I can't help it anymore… I love you.
Hey, do you know you shine as bright as the sun? Or, is it just because I'm in love with you?
I've gotta say your lover will be one lucky person… sometimes I wonder if I can be as lucky.
People in love perceive their lover as flawless. But I see all of your imperfections and fall harder for you.
Or, do you want to say something extremely sweet and romantic to sweep your crush off their feet? Let's find the best ways for you here…
Cute romantic messages
Romance can be your ultimate way to show your crush that you cherish them and wish to continue this bond for a long time while you get their heart beat faster. So, grab the sweetest ones here…
I can't wait to meet you once again.
Talking to you is the best highlight of my day… what's yours?
When you are yourself around me… I feel so special!
Your glance is enough to melt me into a puddle of goo.
I came across this song *send song link*. Doesn't it describe our bond perfectly?
Tell me a day you don't look like a breath of fresh air.
Don't be shy if you need me, you'll always be on top of my priority list.
I can't keep track of time when I think of you.
*Dedicate a playlist* This entire playlist tells how I feel about you.
I used to feel sad during sunsets… but not anymore because you always light up my life just like the sun.
I saw a wedding dress/suit online and thought how gorgeous/dashing you'd look in it.
Someday, let's get a dog together and raise a family.
I really hope I/you will see you/me walking down the aisle towards you/me soon.
I wish you'll be blessed with someone that will sweep you off your feet… like me.
If you'd be on board I'm ready to even get a ring and get legally married… but I know you need time.
I hope someday we can cuddle by the beach and watch the pretty sunset together.
My one and only desire is to explore the world with you… how does that sound?
I always dreamt of finding my dream partner… but I didn't expect to find him/her so soon.
Sometimes it feels unreal that you're not a fantasy spin in my mind… you're that perfect.
I try so hard but my rose-tinted glasses don't come off around you.
However, if your crush and you are only connected on social media and there's not much rapport between you guys, you must follow a different route, so let's check that here…
Cute messages to your crush on social media
If you don't have your crush's contact yet, social media messages might not stand out well. So, to make your place in their heart, put more effort this way…
Here for an update on whether my text notifications make you smile.
So, it's easier to update your FB status than texting me first… I see now.
Hello there stranger, can we not be strangers?
I stalked your Instagram and gosh… do you have any posts where you don't look so gorgeous?
You really visit some of the coolest places… think you can invite me someday?
You always share the funniest memes and make my day.
*Forward a meme* This reminded me of you.
I planned to wait for a few more days until you text me… but I can't wait any longer.
So, I'm bad with small talk so I'll just start with flirting.
Your reels are really entertaining, but it can hit a million likes if you collaborate with me.
Your food vlogs really get me so hungry that I wish you'd take me on a food vlogging date.
How did you never text a beauty like me on your friend list? I mean, we can make great stories together!
You either stop uploading hot pics or go out for coffee with me this weekend.
This might be so random… but I'm absolutely head over heels for you.
What's your secret to looking so dashing in your sweat-drenched gym reels?
Your texts always plaster a stupid grin on my face.
You have no idea how much I wanna meet you.
I really want to meet your cuteness in person.
Let's have a video call date right now… I can't wait until your schedule clears for a real one.
Someday, if I run out of cute things to say to you, I hope I can still make you smile as much.
Wondering why exactly cute messages for your crush? Here's the deal…
---
Why should you send cute messages to your crush?
You might say "I could even be straightforward and skip the icky cute stuff" but hey, acting, typing, or talking cute things will help you in many ways like these…
1. You'll score better
Many people want your crush's attention. With so much competition, you gotta stay on the top, no matter what. If you don't send them some cute messages, someone else might sweep them off their feet right in front of you.
2. You'll always be on their mind
If you try your best with cute messages, your crush will have a good impression of you. Regular cute messages will also help them remember you better. If you capture more of their headspace, you'll definitely have a better chance of getting into a serious relationship.
3. They might eventually get convinced
If you act cute through texts consistently whether you flirt or greet them, they'll notice your genuine attempts at trying to woo them. They'll know that even after you start dating, you'll stay the same sweet person and you'll have a better chance.
4. You will show off your soft side
Everyone wants to be in love with someone emotionally available. So, if you share some cute messages, your crush will definitely get the hint.
5. You'll always have something to talk about
Cute texts can always lead to great conversations unless it's a good night text or either of you is tired. You can also ask them out on dates and get intimate.
A word from ThePleasantConversation
While sending cute messages to your crush, make sure you pay attention to their mood. Unless it's a good morning or good night text, a bubbly cute message might not be as effective during a bad moment.
That doesn't mean you mustn't send something cute when they're in a bad mood. Instead, approach the situation so your crush thinks you care for them.
Be thoughtful about their feelings and you'll definitely get your feelings across!
Surabhi Kedia
Surabhi has a deep passion for words. She puts her heart and mind into whatever she pursues and craves for creative ventures. She has always been keen on creating original content that can make a difference. In her experience as a content writer, she has had the opportunity to work on several fields with Psychology being her favorite. Surabhi says, words have the power to transform the world, better than a sword. So she hopes to contribute her bit to this revolution. At ThePleasantConversation, she feels lucky to have the opportunity to share content capable of bringing about a change in the lives of the readers.