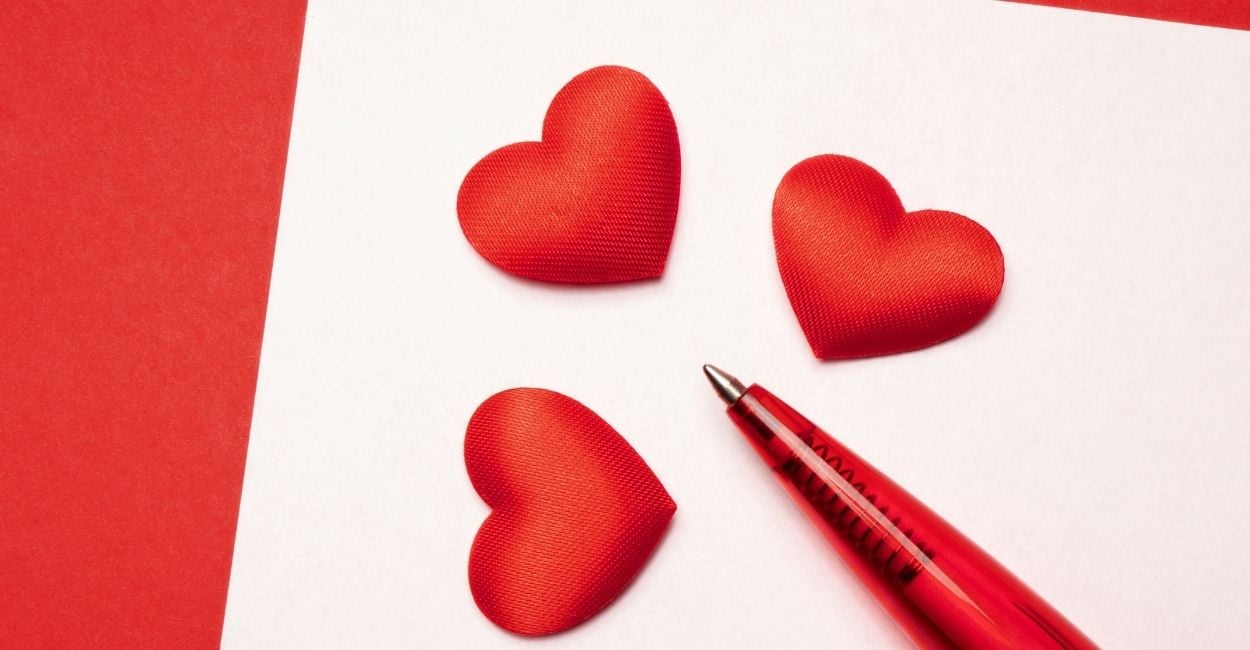 Being in love is a unique kind of pleasure, but it can only be enjoyed if you express your feelings on a frequent basis.
There are thousands of gestures you can make to show or express your love, and the most idolized of which is crafting beautiful love messages for your loved one.
It can be difficult for some people who are not good with words and struggle to find the right words every time.
So, we've compiled a list of beautifully crafted sweet love messages in every possible category.
They are cute, motivational, inspiring, romantic, and sexy messages, so you don't run out of words the next time you want to express your love.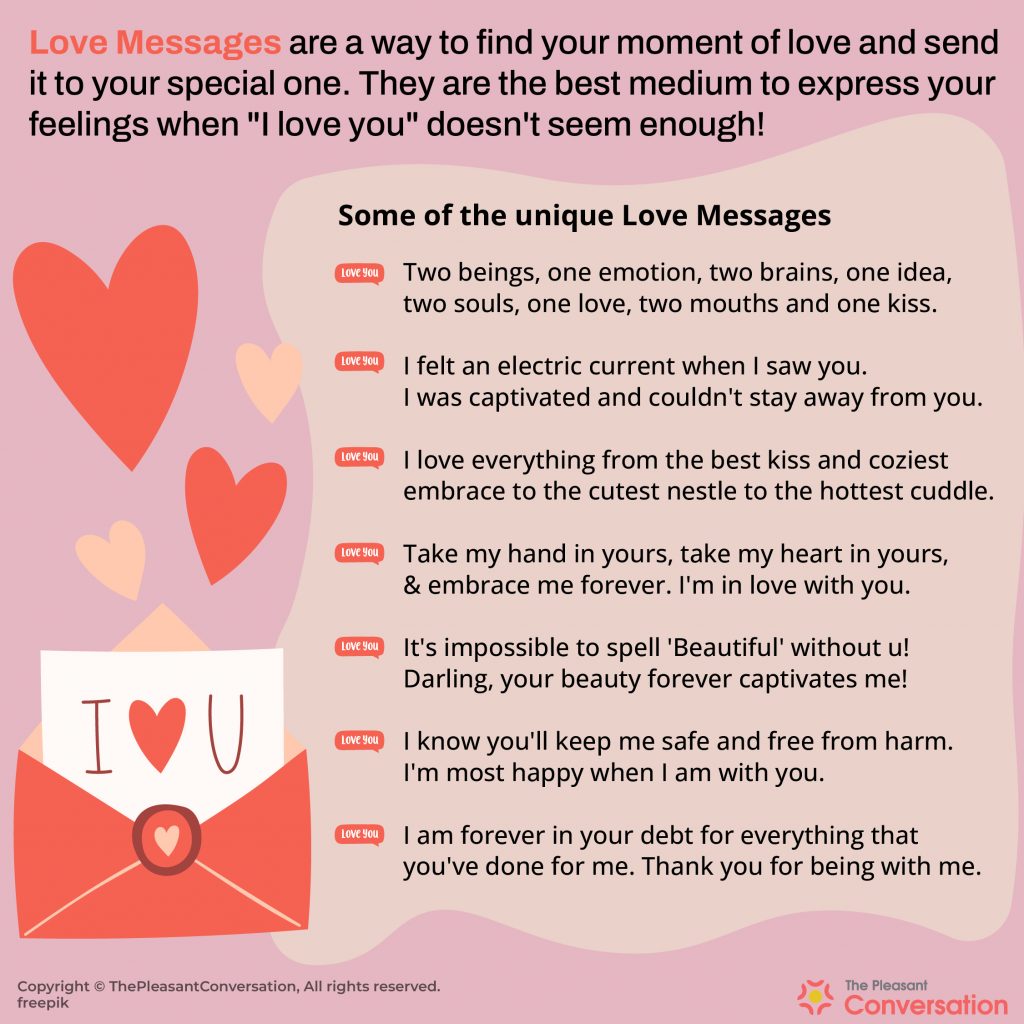 ---
Love messages
Expressing your love through messages is an amazing way to feel your partner loved. To make your task easier, below are the best love messages to opt for.
1. It sounds like we two were on different wavelengths. But now we are together and love each other.
2. If being a lover was a job, I'd probably be the most qualified and deserving person to do it. There's not much work that I wouldn't be willing to do for you because I love you.
3. Your smile is really cute – I'm really glad we met today!
4. You are someone I would be lucky to have in my life!
5. You are my priority and I greatly enjoy every moment with you.
6. I've done a lot of things I thought were impossible this year, and you have been one of them.
7. At this point, I want to be with you now and forever.
8. I forget how to breathe when I look into your eyes!
9. People can't be perfect, but you're so close to perfection, my love.
10. All I require is for you to be present in front of my eyes.
11. I still love you more than I did yesterday but not as much as I will tomorrow
12. It only puts a smile on my face when I get text messages from you
---
Love messages for her
Girls love it when guys repeatedly tell them how much they mean to them. Of course, it should not be done each time in the same words.
So, here's a list of love quotes you can send to your girlfriend right away to make her feel ecstatic:
13. Love is a mystery that we'll never solve, but it makes your phone ring sometimes!
14. I wake up every morning feeling loved. It must be your fault!
15. I really enjoy your voice & facial appearance and always love being around you.
16. I just wanted to let you know… I'm so in love with you.
17. May I kiss you? I promise to give it back.
18. I think you're so cute that I just want to take you home with me.
19. If I was a stoplight, I would turn red whenever you pass by so that I have a chance to sometimes stare at you longer.
20. I love you, who are you in love with? Maybe he is in front of you.
21. I had fallen in love with you because I saw the world through your eyes and it exists everywhere.
22. You're just one of a kind person — I love you.
23. I really care about you and I have to tell myself often that it isn't a dream.
24. Explore my heart, you'll be able to tell if I really mean what I say. My heart reveals the truth and the truth is that I love you.
25. I still feel this way. And nothing changes that feeling for you.
---
Love messages for him
When it comes to expressing their love, girls are frequently stereotyped as being shy. This is not entirely correct.
So, let's break this stereotype by sending love-filled messages to your guy in order to make him feel special. Here are some good love messages for a guy:
26. I love listening to your voice when you speak.
27. The time we've spent together has been so amazing so far, but we'll make it even more amazing in future.
28. I really enjoy being with you, so every little moment matters to me.
29. I was feeling a little down and you helped make my life a bit brighter. I cry less, laugh more & smile more because of you! You've been such an amazing person in my life.
30. Every day with you is a memorable experience!
31. You're my paradise! Why is it so easy to be with you for a lifetime?
32. I think it is impossible to love you more than I already do and then you prove me wrong!
33. Stop thinking about me! I know you love me.
34. It would be perfect if we cuddled tonight.
35. If no one was meant to be alone forever, can I be your one?
36. My heart melts when I see you!
37. I couldn't keep ignoring you even if I wanted to.
38. Thanks for always making me feel like a beautiful woman.
39. I get butterflies in my stomach when I'm with you!
40. You know I want you to come over, but sometimes the weather is so hot out.
41. You might have a ton of stuff to do today, but it would be really nice to have me included in it.
42. Don't worry! It might sound like I'm going to cling to you, but I actually should be releasing myself from that one. That's just the way I'm built- don't take it personally, and next time we hug and kiss, everything will be great!
43. I love waking up next to you or falling asleep with you. Which one is your favorite part of my day?
44. Everyone has their own motivation to get up in the morning and face the day – be it work, family, or a healthy lifestyle. However, you are my personal motivator.
45. Whenever my phone rings, I hope you're the one who is calling me.
46. You're the best thing that's ever happened to me. I love you.
47. I adore you with every atom, molecule, and cell in my body.
48. Love makes it easy to find motivation in the morning.
---
Good morning love message
What could be better than feeling the warmth of love the moment you open your eyes? Yes, you can express your love by sending a good morning text to your loved one to brighten his or her day.
Here is a list of good morning messages to brighten your day:
49. Do you want to make plans for the weekend now? Then, it's time to wake up to a great day.
50. It's not easy to watch you leave every day and come back in the evening. I wish there were more opportunities for you to stay home with me.
51. When you open your eyes in the morning, I see the first light of sunrise.
52. The flowers dance and the breeze comes in gently this morning. I love you, good morning my dear.
53. Love is like an eternal morning. It's a daily cycle that begins a new day.
54. When I wake up, I want to see you. I love you, my lady.
55. As the morning sun is shining in the morning, let us grow together in love.
56. Let's say good morning to the love of our lives! I love you.
57. I loved hearing you singing a song so much that I'm still singing it today.
58. Let's take a walk this morning! It can really be a fun time that only happens once in a while.
59. You shouldn't let something like darkness or bad days keep you down; every morning will bring a new moment and reignite your love.
60. Good morning my honey! I hope you have a nice day.
61. Let's glow like the sunlight this sunrise, and fill this day with as much love as our souls can hold.
62. I will adore you as much as the sun will rise and shine tomorrow morning. Good morning sweetheart.
63. Although I might say that you have fulfilled my heart, I still yearn for you every morning.
64. My baby, a smile on your face is the continuation of the gleaming dawn. Have a lovely morning!
65. It gives me the joy to be with you every day since I know your door is open for me to walk this morning.
66. On this misty morning, you're meandering through the streams of my imagination.
67. What a great evening! I am so fortunate to have such a wonderful and attractive man in my bed!
68. Every morning, I can hear my heart softly and sweetly opening to you, like the sunshine on our grinning cheeks.
69. The way the sun penetrates the darkness in the early morning reminds me of how I fell madly in love with you.
70. Like the rising sun in the early morning, my heart is on fire. My heart is ablaze with love for you. Good morning darling.
---
Good night love message
A beautiful expression of love before going to bed can make your lover dream about you and fall in love with you even more.
Don't miss that chance and express your love by using some romantic good night messages given below:
71. Good night! It's a good day, now close your eyes love.
72. Good night my dear, I can't sleep tonight thinking of you.
73. Good night my sweety, glad to know that you are thinking of me tonight.
74. Good night my love, what did I ever do to deserve you?
75. I miss you like crazy, think of you all the time! Stay well, good night.
76. Every night is a dream of yours, so I just wanted to say "goodnight" and show some love!
77. You, my sweetheart, are the world to me. Good night and sweet dreams
78. You should get a good night's rest, full of peaceful and optimistic dreams!
79. I love everything from the best kiss and coziest embrace to the cutest nestle to the hottest cuddle. Goodbye.
80. "I love you" are sweet words, but they cannot work miracles. If we want to conquer the dark thoughts that plague our minds, consider how focusing on positivity and people can actually help change your life for the better.
81. Soft and comfortable, your bed is just waiting to embrace you wholeheartedly. It's made of cloud blows made by the breath of my love. Good night.
82. Even in the dark, your extraordinary beauty mesmerizes the room. Good night and sweet dreams, dear!
83. Goodnight, my dearest love. I hope you sleep well my love and have a nice dream.
84. I hope you have a restful sleep and have lots of energy tomorrow. Good night, honey.
85. It's so hard to be separated from you. I can't wait for tomorrow to cuddle with you closely. Good night, darling.
---
Holy love messages
If your partner truly believes in God and has faith in Him, then you can express your feelings through the use of divine beautiful messages. Here is a collection of holy love messages.:
86. God sees you as a beautiful, loving being.
87. I know God because he taught me the meaning of true love.
88. You're one of my favorite people, and I can't imagine life without you. So many other people need our help, but we know the love of God is limitless.
89. Your heart is made of gold and spreads positivity wherever you go. You are a person who never fails to make others feel good.
90. I love you just as God commanded and I wish the best for you.
91. Just as love is eternal, I promise to love you till the day we die.
92. We are becoming close and I will make you an important person in my life. My love is true and selfless.
93. As the love of God keeps me together, your love makes life beautiful and worth living for me.
94. I learned this from the Lord and my love for you is deep.
95. Love is the foundation of our relationship and we grow more and more in it every day. God's love is the starting point of everything that arises in our relationship.
96. Love is a relentless & unending thing and just as God loves us, I love you forever.
97. I have done my best to love you for a lifetime, just as God does with everyone else.
98. I love you, just like God loves everyone equally. I hope our relationship continues to be as beautiful as it is now!
99. So love is never-ending or inconsistent. Love went on before you, and will be thereafter!
100. I know that I am only human, but I promise to love you and care for you as much as God does.
101. You may not know it, but you are awesome. And I think I have seen the best in you. Loving you is the next best thing to be saved by God.
102. Love never runs out, so I'm sure the love of the Lord won't either.
103. I love you. Love does not stop with flesh and blood but is eternal as God said.
104. I feel a strong bond with you and I wish you success. Live generously and gracefully just the way God does.
105. May God bless you with money and health! I love you.
106. I feel so much love for you from God and hope to show you how much I care.
---
Romantic love messages
Combining your romantic taste with words is not everyone's cup of tea. So what to do to win the heart of your special one?
Don't worry, express your love and care with romantic messages given below to make your partner's heart flutter.
107. Our love is a promise that we make and keep. Once given it never disappears and remembering it brings you joy.
108. I love you To the moon and back.
109. Spreading love is something we should all do more of! Love you lots!
110. Our relationship is strong, I love being with you and spending time with you.
111. I adore you now and forever.
112. Somewhere between all the laughs, long talks, stupid little fights, and inside jokes, we fell in love.
113. I say it to remind you that you're the best thing that ever happened to me.
114. Thank you, honey! I feel like the most beautiful person in the world when I'm with you.
115. I didn't plan to fall in love with you. But because I did, I am committed to us being together forever.
116. Take my hand in yours, take my heart in yours, and embrace me forever. I'm in love with you.
117. The best part of my beautiful day is waking up next to you.
118. It is such a joy to have you in my life and I'm happy for the chance to make it every day.
119. Every single day, I become fonder of you.
120. I love everything about you.
121. I'm so grateful to have found such a wonderful partner. It's so nice to know that I have someone in my corner. You're not just my soulmate, but you're also my partner and confidante.
122. Sometimes relationships end. Sometimes it is by choice, sometimes it's not really your fault. Whatever the case may be, you want to leave a lasting impression. Let me be your favorite hello and your hardest goodbye!
123. Your smile takes my breath away; it did on the day we met, on our wedding day, and every day since then.
124. Thank you for teaching me what marrying your best friend means!
125. I wish thoughts had the capability to be seen. I wish every day you could see yourself the way I see you and remember that deep down, who you are is perfect
126. When I put my arms around you, it's clear how much I care about you.
127. Thank you for bringing color into my life.
---
Relationship love messages
Expressing your love can act as a glue to keep you together. So, remember to send lovely messages to express your appreciation and love for this relationship.
Here is a list of heartfelt relationship messages:
128. I know you'll keep me safe and free from harm. I'm most happy when I am with you.
129. I'm so lucky to have a partner that I could choose.
130. I didn't know what it meant to marry your best friend until I met you, but now I'm glad that we did.
131. I think of you the moment I wake up, and then before I leave my mind.
132. You inspire love in me that I've never felt before, and I'm so grateful that we have this connection.
133. I can't wait for tonight. I'm going to come and see my wife, the love of my life.
134. I love you more than a pizza. My love for you is phenomenal.
135. I'm so happy that you'll be by my side every day & beyond.
136. You make my heart soar, my mind race, and my lips form a perfect smile.
137. There are a lot of ways to say how much I love you that I don't know where to begin.
138. The only highlight of my day is talking to you. I wish you were here to make it easier just by kissing me.
139. Meeting you today has been such a highlight that I'd love for more days like this.
140. I can't sleep without your love… I need you, goodnight.
141. The love I felt towards you was too strong to ignore, but when we were together, I still whined about everything and never had a moment's peace.
142. Being with you like this is the best way to start my day. You are holding my hands and telling me that everything's going to be alright, making me feel secure in your arms. I want this, I need this right now.
143. One day, hopefully soon, I'll wake up next to you.
144. Goodnight and sweet dreams tonight, my love! I hope I'm with you soon. You're already in mine!
145. Despite the distance, I will never stop thinking of you. Have a good night sweetheart.
146. I don't need to dream alone anymore. When I'm with you, all my dreams come true. I can't wait to share the rest of my life with you by my side.
147. I miss you and your hugs and kisses, I wish you were here!
---
True love messages
You are fortunate, if you have found your true love. Let your messages do the job of expressing them to make it last forever. Here are some messages from which you can express your love:
148. I wanted to make sure you know that I'm madly in love with you.
149. So excited to see you again! I love you truly.
150. I really couldn't focus today and I blame it on you. You just keep popping into my head.
151. If all goes according to plan, will I see you tonight, and will this happen?
152. I can't stop thinking about you right now, and my heart is feeling the music.
153. It's hard to get out of bed this morning, but once I'm up, I want to hold you.
154. I love you because of all the joy you bring into my life thanks to our relationship.
155. I want to say I love you in a way that is truly heartfelt and sincere, but nothing comes to mind. So, let me just say this: I love you, dear.
156. You are a beautiful lady who is confident in yourself and your body. I love you this way.
157. What are your plans for the weekend? You and I, snuggling nonstop for 48 hours?
158. I love that you are my date-night partner.
159. I want more, I always want more. And this is not a new problem, I just feel that it's becoming a bigger issue now that every time we part I may regret it.
160. There has been a romantic love story that I've shared with you.
161. No one can ever find me when I'm lost in someone else, but you can!
162. You deserve to be the best version of yourself, which is why I want you to be the best you can be.
163. I love you! Your smile is what makes life worth living.
164. I don't need a superhero in my life, I just need you by my side.
165. My princess, thank you for being happy with me.
166. My love for you is oceanic in its size & depth. It will never dry up.
167. Saying goodbye is always hard, but I want to be your best goodbye.
168. I would give anything to make you smile. Your smile lights me up and I know many people feel the same way.
169. I would die for you. I love you so much, and you are the only person that matters.
170. On a range of zero to 10, I would offer you a 9 and be the number one you require.
---
Short love messages
You don't need long philosophical extra-complicated love letters to make your partner believe in your pure love.
A short crisp message would be enough to feel the warmth and scent of your love. Here is a list of heartfelt short love messages:
171. My love for you might be a bit tough to understand, but I hope it's mutual!
172. I carry the key to your heart and absolutely no one else can open it.
173. You're my other half. We make sense together. I never want to be with anybody else but you.
174. I often use flowers as a way to better remember you and see that I have continued to think of you all these years.
175. I want someone who won't cheat, lie, or leave me. I am glad I found you.
176. When we first met, it was a dream come true. I couldn't imagine anyone better suited than you to be my lover.
177. As a couple, we're unstoppable. I love you and thank you for being with me.
178. Though we've been through a lot, the bond between us is incredibly strong. We're meant to be with each other and we'll get through it together!
179. I'm excited to share so many of the wonderful memories we've made throughout the course of our relationship. It has been a privilege having you in my life and I am so glad you're on this journey with me.
180. Trust is a key factor when it's present, making it easier to keep your promises. Promises are easy to keep when the love is eternal.
181. From the moment I met you, I knew we were going to be great together. You've always and will always rule my heart!
182. You are always the first person in my thoughts and in my heart. I'm so fortunate to have met you.
183. Love is a heavenly feeling, something that you can be proud to have with the meaning of "love" as an individual. Keep falling in love for a wonderful feeling.
184. My love for you is stronger than ever, but my feelings always change with time. And it said that time changes everything.
185. I find it's important to be kind to yourself, and I like to think of this as my morning coffee and my nightly tea.
186. I adore you… sincerely, truly, entirely, and unconditionally.
187. When I wake up in the morning, it's tough for me to even believe that you're actually a part of my life.
188. The emotional support that knowing you provide is a big strength to me. I wake up every day with a smile and am relieved knowing that I'll have you by my side.
189. Thank you for introducing love and beauty to my life! You've made me so grateful!
---
Cute love messages
Everyone agrees that cuteness is irresistible. Why not dunk your love messages in a cutesy sauce, to alter your lover's taste and brighten her or his mood.
If this sounds difficult, take a look at the examples below:
190. I can't believe I found someone as amazing as you! I love you forever!
191. Not only are you attractive, but you're a good person and I'm glad to be with you.
192. I know it's hard when you're in a difficult situation, but please know that I am here for you and will be waiting for the day we can talk over this and figure out how to get through this together.
193. I love you so much. It's hard to imagine life without you.
194. Dear love, are you from Hogwarts? Because when I'm around you, I feel like something magical.
195. You are my treasure! I want us to be together forever!
196. You came into my life when I was lonely and showed me that love has the power to save people and make them feel whole. I love you!
197. It's hard to express how happy I am when I hear you say these things. Marrying you has been one of the best decisions I've ever made & it looks like it'll keep getting better.
198. All the love songs are finally starting to make sense – this is because now I have you
199. Home smells like familiar comfort, love and happiness. It makes me feel cozy inside, just like your arms around me.
200. I'm so thankful to have you. Last year when I was a good girl, Santa gave me the best gift ever – you!
201. I would like to walk the rest of my life with you. Love you
202. Your face always makes me feel better whenever I see it, and it's easy to see the way you make your partner feel when they're stressed out. You're a lifesaver!
203. Let's face it; there are all sorts of tough times and challenges in life. But when you have a person like you, my love, it always feels better.
204. I feel the sparks from a kiss every time, and it's always a good feeling.
205. You're the power plant that helps me feel better about myself.
---
Best love messages
Not every love message prompts fancy wording. Your love can be expressed using simple words while still sounding beautiful.
All you have to do is choose the appropriate words. Here's how you can do it:
206. When I'm with you, honey, happiness runs through my veins. Thank you for being so pleasant to be around.
207. Every time I see you, I feel lost in thoughts about you. Sometimes there isn't even a change in the color of my traffic lights. That's how sad it makes me.
208. I am so happy you're my soulmate. Thank you for being there for me and supporting me when I wasn't feeling welcomed or appreciated by a lot of people around me.
209. Although it feels nice, thinking about inappropriate thoughts can be harmful to your mental health and is a trait that should not be encouraged.
210. The depth of your ocean eyes had me hypnotized since the first moment of our encounter!
211. I am forever in your debt for everything that you've done for me. Thank you for being with me.
212. I wish to make you excitedly pleased.
213. It's impossible to spell 'beautiful' without u! Darling, your beauty forever captivates me!
214. To be able to walk a portion of my life with the woman of my dreams feels surreal. Thank you for that chance, love.
215. I love you like a song – because my mind keeps repeating your name all day long!
216. I am grateful to have met you and have you in my life!
217. Thanks for the box of happiness you gave me! I wouldn't have gone without it and I'm glad you came along.
218. If my life were a painting, you'd be the one who painted each drab scene with brilliant hues!
219. I don't want paradise if it doesn't have you in it! My angel, you bring the sky down to me.
220. Thank you for the special time together, our time together has helped to brighten my day and more importantly has helped me grow.
221. The best movies in the world finally started making sense to me when I met you.
222. I wish I had more memories of when we are together.
223. My queen and I are planning a world tour sometime in the future. Love you.
224. Thank you for being the most wonderful partner anyone could ever wish for.
225. Let's make it clear that I love you a lot. I promise wherever you go, I'll always be with you.
---
Deep love messages
Sometimes we feel that our simple words fall short of expressing the intensity and height of our love, which is why we need to craft some perfect deep meaningful messages.
Here are some examples of how to do so:
226. I love you because they remind me of the best parts of my spirit.
227. I want you to know that I treasure our relationship. You've been my best friend for a long time and I'm grateful for everything we've been through together.
228. My queen stared back at me. I wanted to see if she knew that I was still in love with her.
229. I love it when we hug, almost as much as I love hearing your heartbeat.
230. No matter what, I think you're perfect. I love you.
231. Losing your way is not the end of the world if you are with me.
232. Thank you for surfing with me in the ocean of love, baby. I'm so glad you're here with me!
233. All I want are your fingers playing with mine. I miss you so much and I know we will always be together.
234. I would like to wake up with your hair every morning.
235. I find that kissing and touching your cheeks is one of my favorite things to do. You're so cute!
236. I love you forever, my teddy bear.
237. A simple touch from you can help me forget a million painful memories.
238. I just saw you for a fraction of a second, but it brightened my day.
239. Our love story is more than a love story; it's a true story!
240. I can't imagine living without you in my life. You are the cause for my existence.
241. You'll always be near to my heart, regardless of how far away you are.
242. I enjoy seeing you happy, and watching you smile is my greatest reward.
243. You're my better half, human notebook, and best friend. You are everything to me, and I adore you.
244. With each new day, I grow to love you even more.
245. It's not you who's the finest thing in my life; it's us. I'll go to any length to maintain us together.
246. When I think of you, I'll always have a part of my soul that grins.
247. I lose myself while I'm with you, and I yearn to be gone again when I'm not with you.
---
Heart touching love messages
A beautiful message does not just convey your thoughts, but it needs to deliver emotion as well so that it can captivate the heart of your loved one while reading.
Here are some examples of heart-touching love messages:
248. No other person in the world could compare to you. You have a beauty that people can't keep up with and it's pure.
249. Babe, knowing that you're with me is life changing. Your adorably radiant smile melts my heart and makes life worth living.
250. You helped me immensely on a personal level. I am forever indebted to you.
251. I know that things can get rough sometimes and that you might slip in between the cracks. But if I have to, I'd take the risk of being with you.
252. When you experience the joy of being loved by someone, it can make a person feel like they are king. Love is incomparable and unique to each individual.
253. You're a great partner and we will be together forever!
254. I love you, and I feel really lucky to have met you.
255. It's a common phenomenon to have emotions like regret after falling in love. Your love keeps me awake at night often.
256. I adore you since you are both attractive and intelligent. Even if you weren't gorgeous and crazy, I'd still adore you!
257. You're strange… However, I enjoy it!
258. People say that love is everywhere and I believe them. I know, because when I walked in circles around the city, it was hard to miss them.
259. Love is like a rubber ball when we throw it, and it always bounces back to us.
260. I fell for you because you tripped me up.
261. Lend me your love because I already have one.
262. You are my favorite cause for waking up in the middle of the night.
263. When you look at me, I get a bad case of butterflies.
264. Come inside my Heart and you will not be charged rent.
265. I'd watch you again and again if you're a movie.
266. I'm just as excited to think about you because it was the first time we met.
267. Every single one of my best days has been spent with you.
268. When I'm with you, each day seems like Christmas! Let's go locate some mistletoe, babe!
269. I wish I had the power to grant you all of your wishes.
---
Inspirational love messages
Sometimes your love messages can serve as a source of inspiration for your lover. You simply need to convey to them how valuable they are to you and how much you admire them for who they are.
Here are a few suggestions:
270. They say I'm just an empty shell, but if they knew you live inside me, they'd realize how wrong they are.
271. My greatest blessings in life come from you, my family, my friends, and all the people who have helped me over the years.
272. Your love will always provide me with peace and happiness.
273. It's impossible to live without you because my thoughts are empty with no love for them.
274. Life becomes beautiful when love visits you. I am grateful that my love looks like you!
275. My love is strong and I am happy.
276. I love your quirky self and nature which is why we got along so well!
277. I love the way you smile. It makes me happy and it can even turn the day around!
278. Let's just say that I love being around you and time flies when we're together.
279. Thank you for being a source of joy in my life! I'm so glad we've reached that point where I can share more things with you. Love you.
280. Without you, I would be nothing. There isn't anything more important to me than your happiness.
281. We all need someone who loves us the way we are. You're that man for me!
282. My biggest pride in life is that I'm so lucky to have someone as special as you
283. Thanks for your support and for leaving me with such a good memory!
284. I miss you so much! I want to be with you forever!
285. I want to see you accomplish your dreams and I would give up everything for that.
286. Imagine how amazing it is to have someone that makes things more enjoyable! You've transformed my days into something special.
287. I feel close to you when you are with me. The air smells nicer, the water tastes sweeter, and my day seems happier.
288. We love cuddling in the evenings after a tough day! You make my fatigue vanish with your warmth!
289. I miss you so much when we're apart! It feels like a lifetime, and I can't imagine anything else.
290. You make me feel like I can achieve anything with you by my side. You really make the world a better place.
---
Most touching love messages
If you have a partner who is always very practical and busy. Then choose some extra touching language to make him or her feel your love.
The following are some of the most heartwarming love messages that can be used:
291. Technology is preventing us from connecting with one another, not love.
292. You inspire me to make the best of each day and I can tell you how much you mean to me.
293. You made my day! I forgot about all the troubles from the past.
294. I know distance won't break us. I love you more than words can say.
295. We will be together soon and we can look forward to a new sunrise after this long night.
296. I really enjoy spending time with you.
297. I never feel lonely because I know you're with me every day.
298. We'll always have a special relationship no matter how far we are from one another physically.
299. I love you unconditionally. Distance can't stop me from loving you.
300. I can't quite explain how I feel about you, but I adore you with all of my heart.
301. My feelings for you will never change even though we are separated.
302. It might be worth taking a step back and assessing the situation.
303. I am never far from you, and I always feel like you are living with me.
304. I am so grateful to have found you, honey. I hope one day we can be together and that you feel the same way about me.
305. Every husband should follow you as your ideal one. You are the person with the highest amount of bravery and care for your family. I love you so much and I feel so grateful to have you in my life.
306. I could spend time every morning without a cup of coffee, but my weekend is much more fun when I'm cuddled up with my husband.
307. I'm so glad that you entered my life, I wouldn't want to be without you.
308. You always give me good compliments when I cook your favorite meal for you, it always makes my day.
309. I would've been so proud of us if I had been alive to see your accomplishments – you are a true champion!
310. I don't need anyone to save me. I actually have a superhero for that task who is very handsome and dashing.
311. I'm a better person because you're in my life.
312. It's not often that I can think of a day without you. You're always in my thoughts, and I know how much you mean to me.
313. I feel the sun, wind, and the ocean with you.
314. I trust you, not because I love you. I know that you will always care for me and be there for me, no matter what.
---
Valentine love messages
Your beautifully written note can change the mood of the love of your life. Here is a list of messages you can use to wish your valentine in an original way:
315. Dear husband, I'm so thankful for your help and support through this tough time. Thank you for everything!
316. I'm not breathing without your kisses. I love you so much, honey.
317. I honestly can't imagine you not being my husband.
318. Your presence helps give everyday color so I'm grateful for that.
319. When life throws you a curveball, I'm always here to keep my shoulders around you. This shows how much we love each other and I'll never stop loving you!
320. I feel so lucky to have such an inspiring wife in my life who makes me realize my full potential every day.
321. I didn't think I would find someone special in my life. I love you so much.
322. I felt an electric current when I saw you. I was captivated and couldn't stay away from you.
323. I appreciate that you care for me so much. It is fortunate to have such a wife as you.
324. I never seem to be quite as happy when you are not here with me. It feels like everything changes when you're not here. Maybe we should practice being together more often.
325. I require your presence at all times in my life.
326. I have so much fun when I'm with you and I think it's the best journey of my life. You're definitely one of the most beautiful women I've seen, and I hope we can spend our whole lives together as well.
327. I think you look super cute, and I want to be around you all the time!
328. Living without my wife is the toughest thing I've ever done.
329. You are the person who has made my life better. I can feel a reason to live in the world with you by my side.
330. My lady is without a doubt the most gorgeous woman in the world.
331. You are the center of my universe. I'm at a loss for words and can't think of anything else but you. I feel gloomy when you are not around me. You are everything to me.
332. I am really fortunate to have you as a life partner. Nobody in my life has ever cared about me the way you do. You are the one who truly cares about me and my desires.
333. No matter how much time you spend away, I am always thinking of you and wishing the best for you.
334. You can't hear the wind? It's whispering "I LOVE YOU!"
335. Our relationship gives us an opportunity to build our love and understanding over time. I know that one day we'll find our way through these circumstances and everything will be amazing.
336. Whenever I come across one of your smiles, I feel so fresh and full of energy. Let's hit the town and start something new!
---
Long-distance love messages
Distance acts as an impediment between two lovers. Heartfelt messages can be the most effective way to express love to your long-distance partner.
Here are some messages for those people to make their love stories evergreen:
337. I feel so happy and satisfied in my relationship that it is the perfect one.
338. I want to tell you that I love you too. I am all yours and nothing could compare with our relationship.
339. Do you know what my favorite bed is? It's you, honey. I love to have a peaceful sleep there forever.
340. When I'm in your arms, it's the best place for me as it has always been.
341. You really do look amazing, and your warm smile melts any heart.
342. I am a princess in the love story you are writing. I love you prince and admire you very much.
343. If you kiss me thousands of times a day, I won't be any different than the first night we met.
344. You are my sweetheart and the one who lives in my heart.
345. When I am with you, I love to do all sorts of silly things and have fun. Otherwise, I'm usually a lovely girl.
346. I love you more than anyone or anything else in the world.
347. Your faithfulness is unparalleled and will be appreciated for my lifetime. My love for you will never die.
348. You mean the world to me, you are my everything. You are what inspires me to keep going on. I would not be able to live if it wasn't for you.
349. You are all I need in this life, the best of all worlds.
351. Thank you for all the love and care you've given in my life, I love you so much.
352. I can't seem to get enough of you.
353. Whenever I see your face, I feel like I'm in heaven.
354. I consider myself really fortunate to have found you as my first love.
355. I want you to be remembered in all of my prayers.
356. When I met you, I realized what life was all about.
357. You are the most beautiful thing which has ever taken place to me!
358. It's a blessing to have you in my life.
---
Funny love messages
Add your quirkiness, wittiness, and humor to your love messages in order to cheer your lover's mood.
It will make her or him instantly adore you. Below are some examples to do that:
359. Getting to know someone takes time and effort, so it's better to focus on other parts of your life in the meantime.
360. I love you and I want to acquire you just like Facebook did with Instagram.
361. I realize today that the times I was crying because I was missing you, those memories still make me laugh.
362. Let's commit a crime that sounds fun – I'll steal your heart and you steal mine.
363. I often have lovely dreams about you these days and how you are irritating me with your voice.
364. No matter what others say, there's no substitute for you. You're my one & only trouble maker.
365. You're definitely attractive and I love looking at you unless you wear glasses.
366. Falling from the sky is easy, but falling for a special person is difficult, especially if the person is you!
367. It takes a great picture to captivate someone, that's for sure. Your poses and gestures are quite unique. "I have to say -you are the worst crying person."
368. Love shouldn't be forced. But you are someone who forced on me. LOL.
369. It's good to take risks now and then- even when it comes to love. I could never stop loving you as I took the risk in the form of you.
370. I think I've been developing wrinkles from smiling too much. Please stop being so lovely to me, I am about to go crazy.
371. You are my favorite game to play, and I think your hair just makes it that much more exciting to play.
372. Love deeply with one makes true love better than anything. But loving you deeply is hard. You know it, right?
373. My heart will always be with you and the same goes for yours. Let's take a break right now and lock them up together before throwing away the key for good.
374. I'm not sure what perfection is, but you seem like the best fit from below!
375. It's nice to have someone who's there for you to share the chocolates. What if I don't share with you?
376. We do everything together. Without you, life would be incomplete, just like a sentence without spaces. LOL.
377. True love is like a cushion. You can hug it when you're upset, cry on it when you're hurting, and embrace it when you're joyful. So, when you're in need of real love, go out and get a pillow!
378. I'd like you to enjoy a candle light dinner with me and utter those three magical words to me. I AM SORRY.
379. You remind me of candles. My heart's melting because of you.
380. Despite my lack of understanding of humor, I must admit that you make me smile like crazy.
381. You bring me chocolates even though you don't work at a chocolate factory. That is something I admire about you.
382. Every time I glance at my fingers, I'm reminded that Saturn has a ring too. It makes me excited for our wedding and makes me feel a little better inside.
383. On Spotify, I attempted to download your voice. However, it was not to be found. As a result, I've chosen to make a complaint to you because of it.
384. Two beings, one emotion, two brains, one idea, two souls, one love, two mouths and one kiss. You got it, right?
385. You make things easier for myself. That appeals to me.
386. Do you understand what my all-time favorite thing is? The second word in the line. But sometimes!
387. I understand that looking at someone for an extended period of time is considered impolite. As a result, I'd like to request your permission to stare at you.
---
Sexy love messages
To make your partner's heartbeat fast, all you need to do is express your love while maintaining a good balance between words and emotions.
Here is a list of some hot sexy messages that can make your job easier:
388. Any day, you can make me your girl.
389. Every time I'm with you, I want more and more.
390. I'm missing you here beside me.
391. Every one of life's pleasures is shared by you and me.
392. On my body, my perfect weight is yours.
393. All I need is the feel of your lips.
394. You have a special place, soul, and mind.
395. Why would I want to get up to drink when I could get up with you?
396. You drive me insane with how you hold, touch, and gaze at me.
397. A few of life's finest moments are those that you can't share with anyone.
398. When 'home' changed from a space to a person, I realized I loved and cared for you.
399. I enjoy spending time with you. I'm missing you!
390. Have an amazing day here at work; I'm looking forward to seeing you when you come home.
391. It's the ideal night for cuddling. I'll see you at 7 p.m.
392. I've seen several thousand people these days, and all I have to think about is how much I'm looking forward to seeing you!
393. Let's cuddle every time when you feel overwhelmed and loved.
394. Recall when we hugged, I'd want to do it right now…
395. I realize I'll meet you later at night, but I can't stop thinking about you during the day.
396. That night was incredible. I long to be in your hands once more. Soon.
397. I'm always on the lookout for you. I'm missing you.
398. Having your arm around me makes me feel at ease. I'm missing home.
399. Every music I hear reminds me of you while I'm missing you.
400. I have complete faith in you. Be my now, tomorrow, and forever!
401. I'm happily married to a hottie!
402. You're hilarious, and I'm still giggling at you about it.
403. You adore me even when I'm at my very worst. Thank you very much!
---
Self-love messages
You must have heard that "self-love is the best love". You can only love another person if you love yourself.
You need to express that love also to make yourself feel great. Sounds tricky, here is how you can do that:
404. Speak to yourself like you're talking with somebody you care about.
405. The first key to happiness is to find love in oneself.
406. Be kind to yourself. Learn about how you like being considered. Know what you're worth. Always.
407. You educate everyone else to adore you by how you adore yourself.
408. Fashion is how I show how much I like myself.
409. You'll never know how magnificent you can be if you're always striving to be regular.
410. Love yourself first if you do have the potential to love.
411. Try to be complete rather than perfect.
412. True self-care isn't about Epsom salt and cheesecake; it's about choosing to live a life you don't have to run away from.
413. A positive mindset will lead you to a sense of accomplishment.
414. Make sure you're not expressing 'no' to yourself while you say 'yes' to others.
415. You are enough on your own; you have little to show to anyone.
416. I am a person. I am who I am. I enjoy being myself. And I don't need anyone to make myself someone.
417. There is more to rejoice in life the more you appreciate and enjoy your life.
418. Take care of your mind, body, and soul by doing activities that make you happy.
419. The world has calmed down to give you the opportunity to find yourself.
420. I'm who I'm supposed to be. I'm not the person you believe I am. I'm not the person you want me to be.
---
Conclusion
As we've discussed throughout the article, a message not only conveys your thoughts but also your emotions and feelings.
It can have a big impact on the reader, especially if it's well-written. All you need is the right set of words and the right flow of emotion.
By doing that you can easily capture and win the hearts of your special one.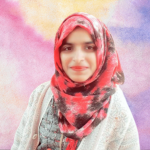 Hazra Khatoon
A writer by day and a reader by night, Hazra is a well-skilled freelance writer. She is tender, compassionate, authoritative and has a fun personality shine at the same time. Her valuable quality of understanding things helps her tackle even the critical situations making it the easiest of all time. She can dive deep into one's heart through her words bringing them close to oneself. She is a firm believer and achiever who loves to explore new things. Besides, she is a compulsive information seeker who is fond of reading, writing and drinking too much coffee with a laptop. When not writing, Hazra enjoys exploring the outdoors.