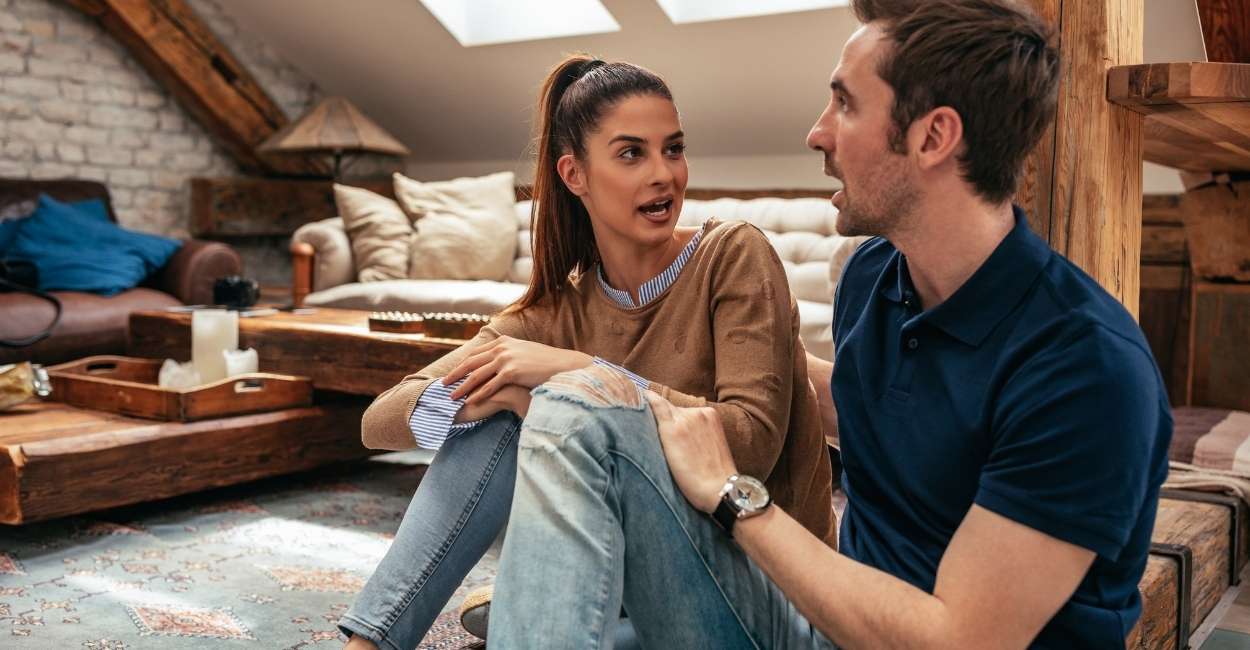 Are you looking for conversation starters for couples? Do you repeatedly hit rock bottom during conversations? Is all your time together full of small talk and no meaningful ones?
I'm so sorry to hear about your distressing situation. You experience constant anticipation, anxiety, and excitement to meet your beau… but when you're together, you blank out, and there's nothing but awkward silence.
I understand it all, so I prepared this think-piece for your aid. The next time you meet them you will have no dull moment in your relationship.
Can't wait to talk about something exciting? What are you waiting for? Start scrolling!
…and I hope, you have a fantastic time together!
What are conversation starters for couples?
SUMMARY
For couples, conversation starters are like open-end icebreakers to begin a conversation, to fill an awkward silence, or to get closer to your partner.
Conversation starters for couples are a concept that helps both of them to initiate an intriguing conversation. It breaks the silence of the room and brings you two closer.
Sometimes couples don't understand what is going on in one another's minds. What is he/she thinking? Whether or not they want to talk?
At that moment you can initiate an open-end conversation by asking questions that revolve mainly around your partner. That way, they will enjoy a comfortable chat with you.
You get to know them with deep, romantic questions that bring out their real self. The understanding, trust, and bond become stronger with communication.
Also, you need to respect their boundaries, if there are any. Do not force them into a conversation and be soft and comforting while delivering your words.
Strengthen the base so that your mansion never breaks… even if the strongest storms blow.
With that being a short glimpse of what conversation starters are, let's begin the first list of conversation starters here…
---
Deep conversation starters for couples
The best way to form a strong emotional connection with your partner is definitely having deep conversations with them. It need not be about the relationship.
It'll make you familiar with their way of thinking and perceiving things. Sharing it will make them even more attached to you. So, let's get to business…
1. If you could make money doing anything in the world, what would you do?
2. What are five things you can't live without?
3. What piece of clothing will you never part with?
4. What's your relationship with your parents like?
5. Do you want to be more like or less like your parents?
6. Have you ever been in love before?
7. Who do you really look up to in your life?
8. What's one of your most cherished memories?
9. Have you ever hurt someone and deeply regretted it? Did you ever make amends?
10. Who is behind building the person you are today?
11. What experiences have made you who you are today?
12. When did you last cry in front of another person? By yourself?
13. Have you ever felt very strongly about something and then eventually changed your mind about it?
14. What do you think is your best quality?
15. What do you think is my best quality?
16. What quality do you want to nurture more of in yourself?
17. What's the meaning of life?
18. What's your purpose in life?
19. Do you believe in an afterlife?
20. Do you like your life right now? If not, what's keeping you from changing it?
It is beautiful when your partner is comfortable being vulnerable around you because they feel safe. Deep conversations are important and a game-changer in that way.
However, your job is to cheer them on and lift their spirit with some humor. Need some inspiration? You got it all here…
Fun conversation starters for couples
Who doesn't like humor? What's not to like? Of course, you must be a little careful while using it. Having fun conversations with your partner is essential but not triggering painful memories is equally important.
So, they'll feel happy and safe around you and the fun moments will always stay on their mind, even in your absence. So, let's take a sneak peek at some humor…
21. If you were an animal, what kind will you be?
22. Who is your current celebrity crush?
23. Who was your celebrity crush as a teenager?
24. What celebrity do you want to play your role in a movie about your life?
25. What would be the title of your autobiography?
26. What is your soul age?
27. Did you ever date a bad kisser?
28. What reality TV show do you wanna be on?
29. What's the worst date you've ever been on?
30. What's the weirdest thing that ever happened to you while having sex with someone?
31. Do you have any "moves" when it comes to flirting or dates?
32. What was your first email address?
33. Do you believe in ghosts?
34. What's something you were weirdly into for a very long period of time?
35. How will you survive a zombie apocalypse?
36. How many drinks per day do you feel are too many?
37. Do you kill people on periods?
38. Did you ever have any unexplainable or supernatural experience?
39. If you were a social media influencer, what category will you be in?
40. When and how did you first discover masturbation?
Both you and your partner must know where your relationship is heading, what it means to you, and how you feel for each other.
Other than that, the sexual part of love is equally important. It is a part of every happy, healthy relationship. So why keep that part untouched? Let's check out the…
Sexual conversation starters for couples
Communicating with each other about your carnal desires and preferences goes a long way, though many feel embarrassed or fear offending their partner.
Sexual conversations strengthen your physical as well as emotional bond with your partner. It helps you learn your compatibility off and on the bed. So, let's be a bit more open with these…
41. What kind of porn turns you on?
42. What's your dirtiest sexual fantasy?
43. What's a very ordinary thing that just really turns you on?
44. How do you feel about being tied up (or tying me)?
45. Which is better: morning sex or sex at night?
46. What does it mean to be good in bed?
47. Fast and hard, or slow and gentle?
48. Hottest sex position?
49. Sex position that's most likely to make you orgasm?
50. Where is the wildest place you've ever had sex?
51. AS per you, what's a really hot place for us to have sex?
52. How do you feel about people watching us have sex?
53. What's your go-to masturbation routine?
54. Do you like to be spanked? (Or the idea of spanking me?)
55. What do you want me to wear on a special sexual occasion?
56. What's your favorite part of my body?
57. What part of my body do you want to explore more?
58. What part of your body do you want me to explore more?
59. What's the hottest memory you have of us?
60. If you can relive one of our sexual experiences, which one is it?
Intimate conversations are the key to long-term happy relationships. Both of you get comfortable and feel loved when you are together. At the end of the day, you make them feel comfortable and close and strengthen your bond day by day.
Communication is the key to healthy relationships as we all know. Its lack causes insecurity and doubts… and nobody wants that. So, let's head into some…
Good conversation starters for couples
Good, meaningful, and long conversations are important to catch up with your partner. Know if anything is bothering them or the things they always wanted to share.
Quality conversations are important to maintain a long-term relationship. To last your relationship longer, let's check these…
61. Who was your favorite Disney or Pixar character growing up?
62. What movie did you watch the most times?
63. Tell me about a recent article that changed your mind about something.
64. Tell me about the subject you're most interested in, but concerns your daily life the least.
65. What's something that most people you know like, but you don't?
66. If you were to frame and hang a quote on the wall you look at most, what will it be?
67. Do you want to be a part of any movie universe, like Marvel, DC, or anything else? What will it be?
68. What social media account did you learn the most from?
69. If you get a tattoo tomorrow, what will it depict?
70. What reality show do you think you'd be most successful on?
71. Who do you want to see run for president in the next election?
72. If you gave up all of your social media accounts, how will it improve your life? How will it impact your life?
73. Do you consider yourself an introvert, an extrovert, or an ambivert?
74. If you get enough money to help you follow your passions, what will you pursue?
75. What is the biggest thing you are looking forward to this coming week?
76. If you were asked to pick only one type of food to eat for the rest of your life, what will you choose?
77. If you win a lottery today, what will you buy first?
78. What's more important: forgiveness or acceptance?
79. Do you believe in a higher power or something beyond the physical world?
80. Have you ever donated to a random start-up or online fundraiser for an unknown person? Tell me about the most recent one.
Intimacy is an important aspect to sustain a healthy relationship. It helps you get rid of relationship boredom too. You get to know more about your partner through such discussion.
Knowing them intimately helps you instill a sense of togetherness. It's a pretty good way to stay on their minds all the time! So, let's hop on to…
Intimate conversation starters for couples
Do you ever feel disconnected from your partner? Is there something missing? A strong emotional and physical bond requires effort.
When you are comfortable with your partner, intimate conversations can bring life to your relationship. Remind them how much you love them.
Reminisce about their lovable parts to connect emotionally. Come on, let's get them a penny for their thoughts…
81. What does marriage mean to you?
82. How do you feel about big proposals?
83. How do you think our relationship will change if we get married?
84. What does it mean to be a good partner?
85. What's your love language?
86. What's the most romantic movie you've ever seen?
87. What's a song that reminds you of our relationship?
88. Do you believe in love at first sight?
89. Do you believe in soul mates? (What about twin flames?)
90. When we're apart, what do you miss the most about me?
91. What's your most precious memory of me?
92. What do you love most about our daily life together?
93. What kinds of things will we be doing 10 years from now? Twenty years from now?
94. What will we do after retirement together?
95. What initially made you interested in me?
96. How did you know you were in love with me?
97. Is there anything about our relationship that feels totally unique to you?
98. Where do you see our relationship going?
99. What is the best advice you ever received from someone?
100. If you got a chance to change your name, what will it be?
These convo starters are the key to maintaining long-lasting as well as long-distance relationships. They make you both feel satisfied even when you're miles apart. It also makes your partner long to be close to you again.
Though many might disapprove of this idea, showing love when you're in a relationship is extremely important. So, let's jump into…
Love conversation starters for couples
What is a relationship without love? Love is a very basic aspect of man's life; humans are wired in a way that the feeling of love makes them happy. Without love, we feel isolated, and depressed, as if our chest is hollow.
So go ahead and let your partner know… how much you are proud of them and what they mean to you… like these…
101. Will you consider taking a weeklong vacation alone with friends once we are married?
102. If we can go back in time and find each other as teenagers, do you think we'd have still found our way here?
103. Who is the person in your family you're the most honest with?
104. What is your most unique family tradition? What is your favorite family tradition?
105. How does your family express love and affection?
106. Do you wish to be a parent? If not, why?
107. What class or teacher most impacted your life while growing up?
108. What does happiness mean to you?
109. If you no longer need to work to live comfortably, what will you do in life?
110. What's one thing in your life that you're struggling with right now?
111. What's one thing in your life that you're grateful for?
112. Now that marijuana is legal in most places, will you consider smoking it openly?
113. In what ways are you different from how you were in high school?
114. If you can change one thing about your upbringing, what will it be and why?
115. What book impacted you the most in your childhood?
116. What did you enjoy doing as a kid that is no longer part of your life?
117. What food or drink most evokes a feeling of home for you?
118. What rules or practices did your household follow growing up? Which of them will you also implement in your own household? What rules or practices will you not follow?
119. Should children help with household chores?
120. How do you show love to the elderly?
All of us love late-night chats with our partners. Their long paragraphs make us feel so loved and cherished. So, never miss a chance to share that special feeling with your partner.
Even if everything goes wrong in their life right now, little gestures like this bring a smile to their face. Make sure that romance is always alive in your relationship no matter how old your relationship with these…
Romantic Conversation starters for couples
Romance is the key to keeping any relationship fresh. Ever wondered why the old couples still walk hand in hand whereas your partner is just on their phone while they are around you?
The old couples put efforts to sustain romance in their relationship. If you want to be as happy as them, follow these…
121. When was the first time you said "I love you" to someone who isn't family?
122. What's a very ordinary action that you find really attractive?
123. What is something you want to ask me but are afraid to?
124. If you only have one year to live, how will you spend your time?
125. Tell me about someone you no longer speak to that you wish you were still friends with.
126. Tell me about the most recent kind thing you did for a stranger.
127. What's something you're really good at?
128. What's your favorite thing to do by yourself?
129. What is the greatest accomplishment of your life thus far?
130. What do you consider to be the biggest mistake you've ever made?
131. Tell me about a time you felt completely out of your comfort zone.
132. What's the biggest risk you've ever taken? Will you do it again?
133. If you can ask a psychic one question about your future, what do you want to know?
134. What stresses you out the most when traveling?
135. Do you like to exercise? What's your favorite form of exercise, if yes?
136. What is something you want to tell me about yourself but fear being judged?
137. Name three things we have in common.
138. Describe the physical touch that best communicates "I love you."
139. What have been the highest and lowest points of your life?
140. If you could apologize to one person from your past, who is it and why?
Showing romantic gestures to make your partner happy is the easiest. The reason? They will always love it no matter what.
This brings you close to them and they can't stop thinking about you for how you make them feel. They bring life into your relationship. And this great person deserves the best, like these…
Best conversation starters for couples
Are you thinking about making the best of this moment? Think that life is all about the moment and you can't bear to lose any? I love how you cherish every instance of your life.
So, the best list is all yours! Because no matter how much you have on the plate, a few dishes are always the best, and favorite. Come on, let's dig in…
141. What's something that cheers you up when you're sad?
142. How do you plan to take care of your parents in their old age?
143. Would you rather be very famous or very wealthy?
144. In what circumstances, if any, is it okay to lie?
145. What are you most selfish about?
146. Which three words do others frequently use to describe you?
147. What do you worry about the most?
148. What do you wish more people recognized you for?
149. What's something you wish you were better at?
150. Name something that's always worth splurging on.
151. Would you rather travel the world or have the house of your dreams?
152. What motivates you professionally?
153. When is the last time you put a lot of effort into something outside of work or school?
154. How do you feel about drug use?
155. When do you feel the strongest?
156. What are your favorite forms of self-care?
157. What have been the most serious injuries or health scares in your life?
158. What will you do if you get a terminal illness? What will you do if I have a terminal illness?
159. Tell me about the person you admire most that is not a celebrity.
160. If you had one million dollars to donate to charity, what causes or organizations will you support?
A beautiful and interesting conversation can make a date unforgettable. And it leaves your partner looking forward to meeting you soon.
They long for you when you bid adieu, they hope that they can marry you right that instant and protect you from the world. So, to always keep them interested in you, let's look at this bunch of ideas…
Interesting conversation starters for couples
We always wanna make sure that our partner does not feel bored. However, we worry so intensely that we miss the best moments of our life.
Moreover, if they are on their phone way too much during the date, realize that it's time to use one of these interesting conversation starters…
161. What is the craziest thing you've ever done to impress a girl?
162. What do you find most attractive in a woman?
163. What is one thing that is a total turn-off? What is one thing that is a total turn-on?
164. What is one thing you will change if you get a chance to rewrite the past?
165. How will you set up the first date with someone you just met?
166. What is one thing you wish to change about yourself?
167. Who or what is your biggest go-to person or activity whenever you feel down?
168. What is a random hobby you always wanted to try but never got the chance to?
169. What do you want to be written on your/our tombstone when you/we die?
170. Do you have a good relationship with your body?
171. What are your life and professional goals?
172. Did you ever have a heartbreak?
173. What will you do if you get a million dollars?
174. What is the scariest thing you've ever done?
175. When did you last cry in front of your peers, and why?
176. If you were forced to move to a rural area, what are the top three things that you will take with you?
177. Do you find it easier to give or to receive?
178. What's one dish or meal that reminds you of home?
179. Have you ever broken up with a friend?
180. What makes you anxious?
Your partner will eventually end up sharing way more than what you expected. Your job? Be a good listener and don't judge them for their choices. Since they love you so much, they'll show many vulnerabilities.
It also feels great to share spice and content about each other and develop an emotional attachment between you both. So, let's learn that here…
Conversation starters for dating couples
Though it's not necessary to talk 24/7 with your partners, many of us just cannot go without talking to them… to an extent where there's absolutely nothing to talk about.
If you are in a similar situation, it might head from a non-stop chatter to a disturbing silence. So, to avoid them, the following ideas will come in handy…
181. What life lessons did you learn from your previous relationships?
182. What are three important things that guys must know and understand about girls?
183. What are some of the signs of a guy starting to be creepy?
184. Are you decisive or indecisive, and to what extent?
185. What is a weird smell that everyone hates but you really enjoy?
186. What do you enjoy doing that is traditionally considered masculine/feminine?
187. Do you like meeting new people?
188. What are the things you love about yourself?
189. What are the things that make you insecure?
190. What are the factors that help you decide whether or not to trust a person?
191. What are your expectations from a romantic relationship?
192. What do you think are your biggest strengths and weaknesses?
193. What are the best and worst things about being a guy?
194. What are the three events in your past that made the biggest impact on your life?
195. What is the worst thing about being in a relationship?
196. What do you wish people stopped asking about you?
197. What are the best and worst things about being a girl?
198. If you get to be someone else for a day, who will you be?
199. What was the most embarrassing thing you did for a friend?
200. If you can swap gender for a day, what will you do?
So next time when you meet them or see them online, no need to wonder how to start a conversation. You are all set if you keep these in mind.
Whether you started dating months back or you're in a relationship for long, communication always fixes your frowns, so let's have a look here…
Conversation starters for long term couples
Long-term couples have already made it through commitment and effort from both sides. Be honest with each other, about how you feel about the relationship, and if you have any specific needs, share them without fear.
Boredom and misunderstandings easily seep into long-term relationships… but not when you indulge in meaningful talk! So, talk away with these…
201. How will you feel if I make more/less money than you?
202. What changes do you want in our life 10 years from now?
203. If we were a superhero duo, who would we be and what superpowers would we have?
204. What are the most important questions partners must ask each other before getting married?
205. When was the last time you laughed so hard that you cried?
206. What is one decision that changed the entire course of your life?
207. If you had to choose between a career you loved for little money and a career you don't enjoy for a high salary, which would you pick?
208. What will be the title of the book about our love story?
209. When I/the family does not approve of your decisions, how will you handle it?
210. If you can trade lives with someone, who will it be?
211. If we have a child, what is your greatest wish for that child?
212. If we found out that our child will be disabled or sick in some way, will you still want to have it?
213. If we have children, will being their friend be more important to you than being a disciplinarian?
214. Are there any physical traits of yours or mine you don't want our child to inherit?
215. Have you ever been arrested? For what?
216. What is one thing I do that makes you really happy?
217. What curiosity-killed-the-cat story of mine/yours is your favorite?
218. How much space or alone time do you think people in relationships must give each other?
219. What is the biggest lie that someone told you? What is the biggest lie you told anyone?
220. What new hobbies or activities do you want to try together as a couple?
Open communication about everything leads to healthy long relationships and we hope that you make it to marriage.
However, do you think there are no awkward silences in marriage? Well, you'll share the same space with them 24/7… you're bound to run out of topics. So, let's have a look over these…
Conversation starters for married couples
An individual always feels safe and secure in a healthy marriage, and just because you are married doesn't mean that you don't need to make any efforts.
Talk about every detail of your life and catch up with each other to make each other feel at home. I prepared just the right list for you here…
221. If only one of us is infertile, will you consider a surrogate or donor so that the child will be biologically one of ours?
222. What is the one thing I might do to you that you'll never forgive me for?
223. What is the one thing that made you realize you were falling in love with me?
224. If one of us were to get sick or become disabled, will you still stay with me?
225. How do you feel about pornography? Does it disgust you or is it something you'd be open to watching together?
226. What is a secret sexual fantasy you're too afraid to share with me?
227. If you ever catch me pleasuring myself, how will you react?
228. Will you ever consider a threesome? Or "swinging" with close friends for a night?
229. If someone were to offer one of us $1,000,000 to have sex just once with them, will you consider it?
230. What makes you the most jealous about others' relationships?
231. If I have a best friend of the opposite sex and unattached, will you feel comfortable with me hanging out with him or her alone?
232. If our parents insist we name a child after someone in the family, and you hate the name, will you do it for them?
233. Will you ever tell our kids about any of our indiscretions when we were younger, such as drugs or alcohol use?
234. Have you ever been married or close to it before? If you were married before me, will you ever tell our kids?
235. If our child turned out to be gay, will you be ok with that?
236. If we find that we can't have children naturally, will you consider fostering or adoption?
237. What do the words, "for better or for worse" really mean to you?
238. Should we get a pet? Which one?
239. Do you think that telling "white lies" on occasion is ok when it comes to your spouse or partner?
240. Do you find yourself attracted to other people now and again? Is it physical or something else?
Happy marriages require effort from both sides. Try talking about your future when you are together… or look back into the past to the good times you spent together.
Sometimes, you might even take a trip alone and miss your partner. Texting is the best way to stay in touch. But what if you run out of topics for texts? Let's have a look over here…
Conversation starters for couples texting
We understand the constant anxiety when you check your phone screen every 5 minutes for a message from your partner. Well, if they don't have anything to say… it doesn't mean they don't want to talk to you.
You can always initiate the conversation yourself. So, here's a list of amazing conversation starters to keep both of you hooked to your phones…
241. Do you believe in God?
242. How important is organized religion to you? Do you attend services regularly?
243. Do you expect me to change religions once married? Will you consider changing religions?
244. Do you support the tradition that the bride's family must pay for the wedding?
245. Do you want a big wedding or a small gathering? Where is your dream wedding locale?
246. How worried are you about aging? Are you worried about feeling less attractive?
247. If I told you I want to quit my high-paying job and move off the grid somewhere with you for a year or two, will you join me? Even if it meant working odd jobs and living very modestly?
248. Do you ever think about any of your past relationships?
249. Are you friends with any exes on social media?
250. When we argue, do you ever think about ending things?
251. Do you believe couples counseling can help solve serious problems in a relationship? Will you be receptive to it if we ever hit that point?
252. Do you believe there is any information that must be off-limits to family members when it comes to our relationship?
253. Do you think that it's okay to have separate bank accounts when you are married?
254. Do you believe in prenuptial agreements?
255. Do you believe that stay-at-home parenting is work and makes a financial contribution in its own way?
256. Is there any habit or trait of mine that concerns you? Or that you feel may get worse over time?
257. If one of us can't take care of ourselves when we turn old, will you look into nursing homes? Or hire help to take care of things at home?
258. Some people live together for many years without ever getting married. Do you believe that marriage is the only way to prove you are committed to one another for life?
259. If I die, will you consider remarrying? Will having children make a difference in your decision?
260. If one of our parents became ill and asked to move in with us, will you agree?
Try to know each other better with effective communication and be a good listener because it is important.
Share every detail of your life, your past, your goals, your dreams, your fears, and even about your family with them. Keep them connected to you and connect with one another's families with these…
Conversation starters for couples focus on the family
When you are dating someone, it is important to know about their family. Sometimes they might not want to talk about theirs. Nobody opens up about their family issues easily.
But regular conversations with your partner make them trust you and they will eventually bring them up. So, to be a part of their family, give these a shot…
261. When do you plan to have kids? Why not earlier or later?
262. What kind of parent do you want to be?
263. How do you feel about religion?
264. What was it like to grow out of your religion?
265. How important is sex to you?
266. What do you need when you're angry? Stressed? Sad?
267. Could you date someone who doesn't share your political views?
268. What do you hate?
269. What's your deepest insecurity?
270. Are you a jealous person?
271. Is jealousy healthy in a relationship?
272. What types of activities did you enjoy as a kid? Do you still do them now?
273. What do you think my childhood was like?
274. What do you consider a perfect day?
275. Tell me your life story.
276. What's your best habit? Worst habit?
277. Did your parents ever tell you they hated you? Are you willing to share the story?
278. What does a perfect marriage look like to you?
279. How do you want to be different from your parents as a couple?
280. What did you learn from your parents' relationship?
Talking about families, future goals, ambitions, and weaknesses deepen your emotional bond. So, they'll crave for you, even more, when you are not around.
This makes a relationship even more beautiful. Emotional attraction develops feelings even more. But what's more important is having a conversation about your relationship. So, let's try it out…
Conversation starters about your relationship
When you are in a relationship it is very important to have clear ideas about your relationship. Whether you both are going along in the same way, have the same expectations and goals… all of it is important to prevent future misunderstandings.
Many people forget to bring up such a convo. They assume that their partner wants the same. So, for the sake of awareness, check these…
281. What do you think makes us unique and different from other couples?
282. What parts or attributes of our relationship are you most and least proud of?
283. What adventures do you like to have and go on with me?
284. What was your most memorable experience with me?
285. What is your favorite gift from me?
286. What are the top three things we must include on our bucket list?
287. Do you believe in unconditional love?
288. What are your dating deal-breakers?
289. What is the worst gift you ever got from someone?
290. What do people naturally assume from one look at you?
291. If the house was on fire, what is the first thing you'll grab and take away with you?
292. Where is your dream destination, and how do you want to spend that vacation?
293. What did you want to be, in your childhood, when you grew up, and do you still want it now?
294. What are the things that make you genuinely happy?
295. How far did you plan a life with me?
296. What's the No. 1 thing you look for in a partner?
297. Why do you think your past relationships didn't work out?
298. What kind of gifts do you like?
299. If you can live anywhere in the world, where will you live?
300. What do you know about your family's history?
Communication is the most important aspect of your relationship so make sure you are not afraid when you communicate your needs, goals, and hopes in the relationship with your partner.
But dear, how you communicate matters too. So, don't miss the tips here…
---
5 Tips to keep the conversation going (for couples)
Your communication style reflects your personality. Good communication skills help you win in any situation. The way you put forward words to express yourself tells a lot about you.
But another equally important thing is how you respond to a conversation, and also whether or not you're a good listener. All this will help you to take your conversation forward.
So, to wrap up your perfect conversation, let's run through these tips…
1. Ask Flexible Questions
Open-ended questions help you to take your conversation ahead. It is a great way to initiate and keep a conversation going.
For example, ask questions that will give you an idea about the other person. And something that will also intrigue them to say and ask more. Refrain from one-word answer questions.
Let them be comfortable in expressing their ideas or views because not all are good at expressing themselves. Also, respect their boundaries if they have clear ones.
Ask them questions, in return to which they will have to answer in long sentences.
2. Drop Nonverbal Cues!
The way they respond to your question conveys a lot about their mental status.
If they express themselves with anger, frustration, or sadness, then that clearly shows their lack of interest in proceeding with the conversation.
The tone of communication is important just like your facial expressions or body language. So, focus on them and read them properly.
3. Don't try to read their minds
No one's able to read minds nor must they try to do so. It's different that you can understand what is going on with one look at their face.
But you can't always guess others' minds… that is not possible every time, right? You must communicate and share your likes and dislikes to make the other person understand.
The same goes for them… wait until they share their feelings and don't assume anything.
You'll be amazed to see that you guys misunderstand a lot when you assume the unspoken words. So, communicate, that is the solution to all your problems.
4. It's a two-way road
As said earlier, the tone of communication is important. Similarly, the way you express things also says a lot, like whether it is about 'you' and 'yourself' or whether it's about 'we' and 'US'.
Relationships always involve two people. So, if you always focus on yourself instead of focusing on the two of you, then this is totally wrong.
It's always a two-way street… where both of you have the right to put your opinions on the table. Both sides need to be heard.
5. Clear your head
Often lack of conversation leads you to arguments, loss of interest, and headaches. So you need to sit down and clear every issue that concerns your relationship.
Search the core of all the problems, then communicate about them. It helps you make the base of your relationship strong. Take time to understand each other's opinions and decisions.
A word from ThePleasantConversation
Being able to talk is not everything for a relationship. It's more about talking wisely and meaningfully. And for that, you don't need much – Just a list of conversation starters!
However, remember, a conversation to spend quality time with your partner mustn't lead to heated debates. Even if it does, stay calm instead of triggering the situation further. Your goal is to feel closer after the discussion.
Whether you're dating for years or are a new couple, indulge in more conversations. Couples often forget that speaking out their heart is like pouring out past hurts.
So, be more expressive and if you can't find a topic, share something about yourself and ask them about the same.
Surabhi Kedia
Surabhi has a deep passion for words. She puts her heart and mind into whatever she pursues and craves for creative ventures. She has always been keen on creating original content that can make a difference. In her experience as a content writer, she has had the opportunity to work on several fields with Psychology being her favorite. Surabhi says, words have the power to transform the world, better than a sword. So she hopes to contribute her bit to this revolution. At ThePleasantConversation, she feels lucky to have the opportunity to share content capable of bringing about a change in the lives of the readers.