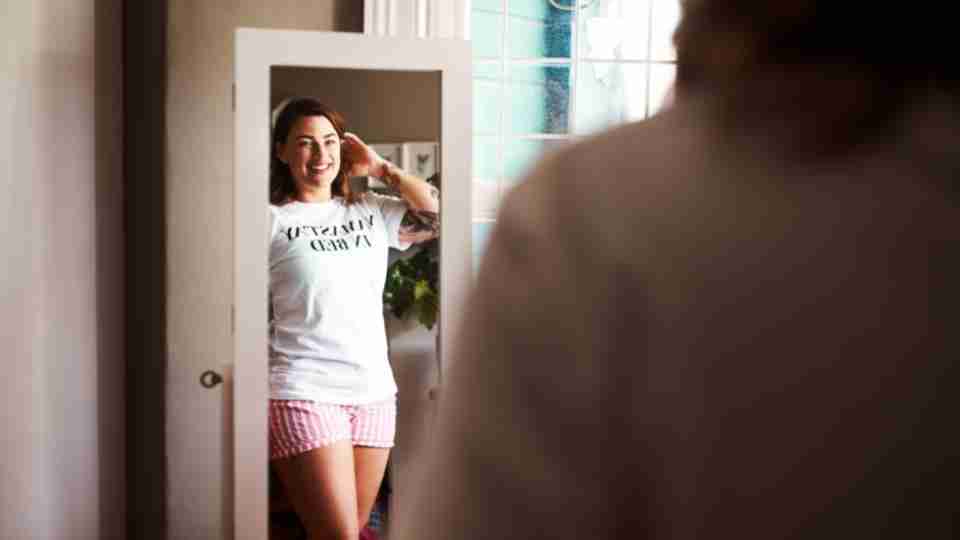 Have you ever wondered what you would do if you met your future self… and thought about the questions to ask your future self?
If you haven't, you should!
Not because the world will one day invent the time machine and offer you a ride on it. But because it is the best way for you to think about yourself in the present.
It is only when you start asking the right questions to your future self, you'll find answers to where you want to be in the future.
Find your goal in the future? Check.
Know what to do to achieve them in the present? Check.
Find out exactly what you don't want in the future? Check.
You will find all your boxes ticked if you use this simple way and imagine who you are going to meet in the future!
So, let's first begin with a few basic questions.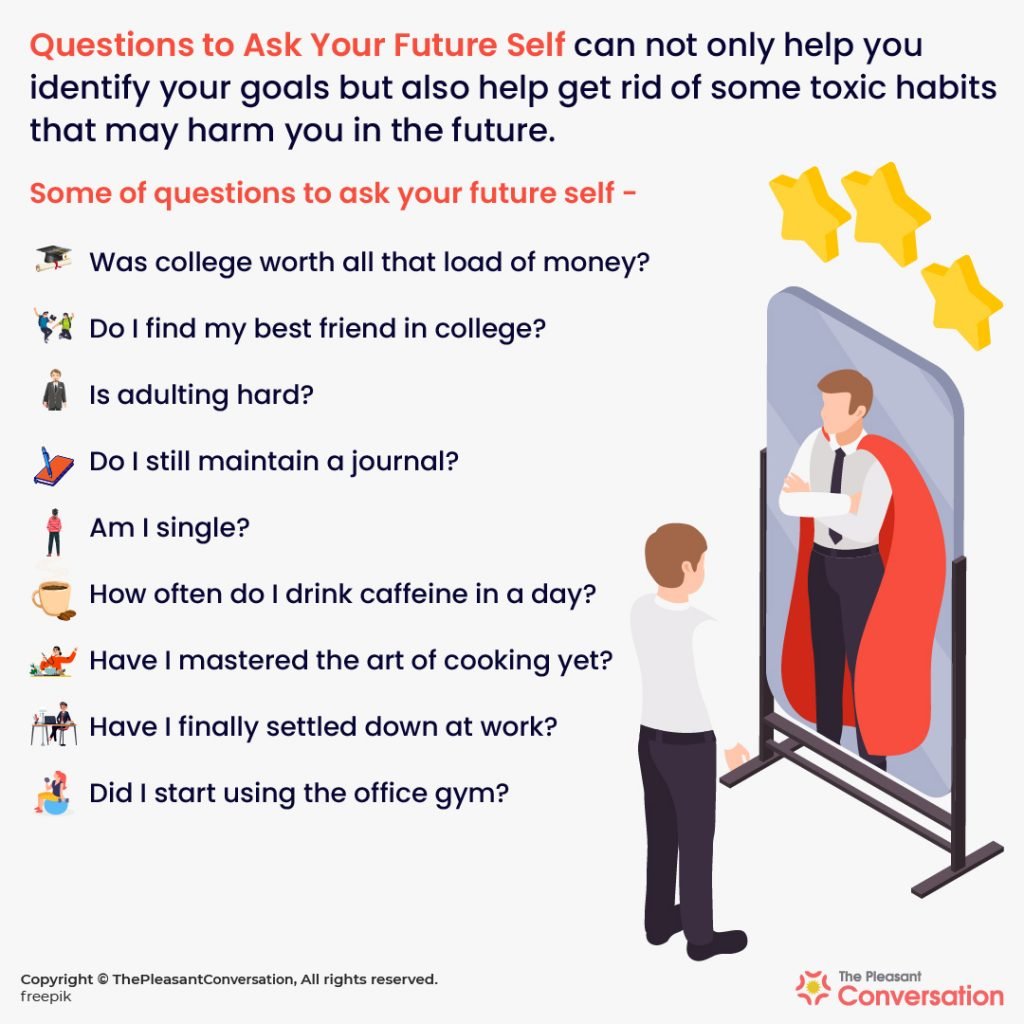 Basic Questions to ask your future self
Not every day do you get a chance to meet your future self. But isn't it exciting to know what you are going to grow up to be?
So, I know you already have some questions but that has to wait. Begin with these questions to establish some clarity and then eventually move on to asking others.
And of course, it is a thrilling experience to get the answers to your lifelong journey.
1. Was college worth all that load of money?
2. By when do I clear off the college loan?
3. Which subject do I regret taking at university?
4. Do I find my best friend in college?
5. Which was the best night of my life?
6. Have I ever felt alone even after being surrounded by people?
7. Who can still make me feel giddy after all the years?
8. Is adulting hard?
9. Did I learn to take care of my mental health?
10. Do I still maintain a journal?
11. Do I still fear to sleep alone?
12. Did I successfully transform my passion into a profession?
13. Am I still in contact with my childhood friends?
14. Did I fulfill my childhood dream?
15. Did my lazy ass start exercising?
16. Am I physically fit?
17. Who helped me the most in my journey?
18. Who is one person whose face I do not want to see?
19. What is the biggest mistake I made?
20. Did I want my life to be something else?
And then try to know more about your lifestyle through some…
Starting questions to ask your future self
Well, it is difficult to question your own future self. Obviously, you will be confused and overwhelmed. But relax.
Start with some easy-going but important questions like…
21. Am I single?
22. Am I a night owl or a morning early bird?
23. How often do I drink caffeine in a day?
24. Did I finally get to try authentic Italian food in Italy?
25. Have I mastered the art of cooking yet?
26. What are the new things I tried and absolutely loved?
27. What is a gift that I still cherish, after all these years?
28. Have I ever fallen seriously sick?
29. Do I still get the worst hangovers?
30. Has my definition of an ideal life partner changed?
31. Do I have to compromise with my life partner?
32. Which is my favorite hangout place?
33. What do I spend most of my time doing?
34. Do I still have the support of all the closest people around me?
35. Have I inculcated any bad habits?
36. What is the biggest change in me?
37. Who am I closer to now, mom or dad?
38. Could I help a bit to uplift my family?
39. Am I a miser?
40. Do I still stand by my ethics?
After the starting questions, aren't you curious to know something more about yourself that helps you understand your habits too?
Do you not want to know if you carry the habits of your present, in the future?
Answers to these questions will help you dig further about the basic things like if you still follow the same goal or are a sensitive person like before.
41. Do you still cry while watching movies?
42. What aspect of my life should I improve first?
43. Have I ever been blindsided by someone I trusted?
44. Has money ever been an issue?
45. Are my parents proud of me?
46. Did I ever get proposed for marriage?
47. Am I still a big-time foodie?
48. Did I change my go-to drink?
49. What is your idea of an ideal day now?
50. Who were my mentors going forward?
51. Do I date my best friend's partner?
52. Have I ever acted all creepy for somebody?
53. Have I ever rejected someone who loved me?
54. What is my biggest regret?
55. Have I missed opportunities?
56. Am I providing milk to any snake in my peers?
57. Am I still a geek?
58. Have I learned any qualities of an extrovert?
59. Do I still waste my time on social media?
60. Do I believe people's opinions easily?
Don't sob! Your future self has acquired these habits based on your life experiences.
If you are observing a lot of change in you and need a mood shift, grab some popcorn and ask…
Funny questions to ask your future self
If you like tickling the bones, you are certainly going to enjoy having this conversation with your future self.
After all, you have the right to know if you haven't lost your ability to make others laugh with your growing age.
So, ask the following questions and know if you have changed at all.
61. Do I ever stop being a party animal?
62. Do I still have nights I can't remember with people I can't forget?
63. Do I still eat cereal for breakfast like a kid?
64. Will I ever not call my mom whenever I can't find my socks?
65. Did I learn any new languages?
66. Did I finally finish writing that book?
67. What is the price of the stock I got this year? Has it gone up as I thought?
68. Which country is the most powerful country?
69. Did you get a surgery you regret having?
70. Will I gain weight or lose some?
71. Do I still go to the office without brushing my teeth?
72. How often do I take a bath?
73. Does mom still have to clean my room?
74. Which is the lamest joke I have said?
75. Did I ever believe in 'first-sight' love?
76. Do I still sleep with my bedtime teddy?
77. Do I still turn on the lights while sleeping?
78. How many kids do I have?
79. Have I been a good parent?
80. Am I able to help my children with their homework?
And then you can go with some…
Good questions to ask your future self
Now that you have been privileged to meet your future self, take some advantage of it.
Ask your future self about some mistakes that you have committed or you can avoid. Or maybe just ask if you got the soulmate who you desired for?
81. What is your best fashion go-to advice for yourself?
82. Will I ever really grow up to be who I want to be?
83. Did I finally find the soulmate I was looking for?
84. Did I find the chance to travel the world?
85. Was I finally able to gift myself my dream home?
86. Did you relocate for love?
87. How often do I feel a sense of achievement?
88. Did I get a chance to go to my dream university?
89. What am I most passionate about in the future?
90. How can I start loving myself more?
91. Am I spending enough time for my mental peace?
92. Is my life partner happy with me?
93. Do I work consistently towards my goal?
94. How often do I change my mind?
95. Does my presence matter to anybody?
96. Am I religious?
97. Have I ever encountered an accident?
98. Have I been able to save anybody's life?
99. Did my degree help me in my profession?
100. Have I been able to quit my overthinking habit?
But, but, but.. all of these questions are worth discussing if you are meeting your future self in person. But what if you want to communicate in some other way?
Well, read along to find out what new we have for you.
For a few people, it is not always easy to talk in person. Or probably, you feel overwhelmed seeing your future self.
In such cases, you might not be able to speak enough to talk with them. It does not mean you don't get a chance to talk.
Don't forget our good old days when hearty feelings were expressed through letters. You can use the same strategy and ask these questions in letters.
101. What is the best part of your life?
102. Who is the person in your life who feels like home?
103. Am I still a hugger?
104. Have you ever donated to a charity yet?
105. How do you deal with conflicts?
106. Have I ever lost someone close to me?
107. Has your purpose in life changed?
108. When do you know it is the right time to let go?
109. A win in life that resonates with you every day?
110. Did you manage to tick off items on your bucket list?
111. Have I seen the bitter part of life?
112. How did you manage to go through the tough times?
113. What do you do to motivate yourself?
114. Do you still preserve every letter?
115. Do you still find letters as the best medium to express feelings?
116. Are you still a fan of love letters?
117. What kept you going?
118. What was the biggest tragedy you went through?
119. Did you ever feel like quitting the world?
120. Was there a time when you were fighting a battle alone?
And once you have engrossed in the conversation, you can dig deeper into the conversation with some…
Self-discovery questions to ask your future self
We all have regrets from our past. And we will keep having more as we walk along the path of time.
So, if you are confused about which path to choose or what will lead you to success, then ask your future self.
Since your future self knows your past, it will rightly be able to help you with your mistakes and discover your hidden talents.
121. Are you still good with your family relationships?
122. Have you had your heart broken recently?
123. Which decision do you wish to change in the last five years?
124. What habits did you develop recently?
125. Which habit do you regret letting go of?
126. Am I still in touch with my school friends?
127. Do I regret missing a celebration at home due to work?
128. Have I ever been worried about failure?
129. Has the journey gotten tougher?
130. Am I making the right choices or still the old-school confused self?
131. Have I learned lessons from failure?
132. With success, did I turn humble?
133. Have I been able to see the potential within me?
134. Who inspired me to take up my profession?
135. Am I under anybody's pressure?
136. Am I living life on my own terms?
137. Am I financially independent?
138. When did I upset my family?
139. What is my biggest fear?
140. Do I prioritize work or relations?
If you are an enlightened person, you can move further to ask some questions related to…
Questions to ask your future self related to work
Have you been successful in your work? Will you be able to follow your passion? All these are a few questions that haunt us every night.
All of us want a stable income and a luxurious life. For this, we have to work consistently for years.
So, ask your future self if your hard work has paid off or did you shift your focus towards something else?
141. Has my career changed?
142. Has my bank account ever seen my dream amount?
143. Have I finally settled down at work?
144. Did I start using the office gym?
145. Have I ever been involved in bad politics?
146. Have I ever faced biases at work?
147. What is the most important work advice you would give yourself?
148. Which limitation at work has irritated you the most?
149. What does your typical day at work look like?
150. Three words to describe your work-life balance?
151. How many jobs did I change to finally settle?
152. Am I able to impress my boss?
153. What do my colleagues feel about me?
154. Was I ever removed from a job?
155. Am I good at my job?
156. Do I enjoy being in the office?
157. Which is the biggest compliment my boss has given me?
158. Did I travel overseas for business?
159. What are the barriers I face while expanding my work?
160. Is someone trying to pull my image down in the office?
And c'mon it is not wrong to know if you still feel horny in a similar way! 😉
Five years down, you probably preferred a guy with a mustache or a girl with beautiful eyes. Now, you like somebody with a beard or a cute smile.
Similarly, there are chances that your sexual preferences might have changed too.
And the fun part is, when you are talking to your future self, you have got nothing to hide. Your future self already knows about your past choices.
So, think wild so your mind starts working. Until then, ask these questions.
161. Are you still a cuddler?
162. Am I still a virgin?
163. How often have I had one-night stands?
164. Did I finally join the mile-high club?
165. Have I ever regretted saying no to someone?
166. Did I finally learn to enjoy foreplay?
167. Have I ever given a lap dance to someone?
168. How often do I go out on dates?
169. Do I enjoy getting spanked in bed?
170. Have I ever faked an orgasm to avoid confrontation?
171. How many times do I masturbate?
172. Do I still watch porn?
173. How many times do I have sex in a week?
174. Is my partner sexually active?
175. Do I often visit strip clubs?
176. For how many people have I stripped?
177. Do I own any sex toys?
178. Which is the weirdest place I have made out at?
179. Have I ever slept with someone to gain a promotion?
180. Which is my favorite position?
Your list might have been exhausted but mine wouldn't. So keep asking some…
Random questions to ask your future self
Don't worry if you run out of questions or cannot think of something new. Just come back here and talk something stupid or serious.
Because after all, it is the most comforting person you are talking to: your future self.
181. Do I still keep my hair short?
182. Have I ever colored my hair?
183. Have I ever been stranded outside of my house?
184. Who keeps crashing at my place for no reason?
185. Have I ever taken out a loan?
186. My most prized possession at home?
187. Who makes me smile at work?
188. Am I still a pyjama person?
189. Do I still prefer noodles over pasta?
190. Have I ever made a drunken blunder?
191. Have I committed any crime?
192. What is the first thing I do in the morning?
193. Do I still wake up late?
194. Am I still enthusiastic about every festival?
195. Do kids love me?
196. Do I still secretly watch cartoons or animated films?
197. Do I skip meals just to sleep more?
198. Do I have a bedtime pal?
199. How do I spend my weekends?
200. What are the countries I have traveled to so far?
Now that you have the entire list, let me encircle you back on…
Why would you want to ask questions to your future self?
Asking questions to your future self gives you a reality check that not everything will work according to your plans.
You might have made some promises to yourself or somebody, but the situation might not have worked in your favor. Things you planned may be interrupted by an external force or an external being.
Most times, talking to your future self also helps you rediscover yourself. All these years, you have kept suppressing your emotions and eventually, lost yourself on the way.
Walking according to societal standards may have hidden aspects of you that needed more exploration.
Hence, asking questions to your future self acts as a reminder to know what you REALLY want in your life!
5 Tips to Ensure that you meet your happy future self!
Happiness doesn't make its way to us. Instead, you need to find your way to happiness.
But how to do this?
Well, if you want to meet a peaceful and happy future self, always keep these 5 tips in mind.
1. Plan your priorities
You should know what is important for you, AT ALL TIMES.
We all come across multiple opportunities and obstacles. At such times, it will be very difficult to find your way ahead if you don't know your priorities.
Hence, you must plan your priorities first and take action in a way that helps you reach your goals.
2. Ignore unimportant stuff
While you are on your way to the top, many people will laugh or try to pull you down. Some may even say demeaning things about you.
Such things will restrict you from working towards your goals. So, the goodness lies in ignoring such unimportant stuff.
3. Keep your mind flexible.
Your mind should be free of toxicity and negativity to be able to welcome new thoughts and learnings.
Remember, the most difficult process is to unlearn something. And that is because as we grow, our mindset becomes rigid. Don't let that happen to yourself.
Instead, be flexible so that you can easily adapt to new life lessons and situations.
4. Stay in touch with favorite people
Who's the one person you go running to when times get tough? Of course, your best friend!
Why? Well, no one can deny that talking to your favorite people can reduce your stress levels significantly.
Additionally, they know you very well so you neither have to hide your real self nor filter any information. This is one reason why you must keep your favorite people close, no matter the time or age.
5. Use humor wisely
When you are stuck in any situation, opt for humor. It provides you with an easy escape route.
However, you must be careful about the words used, the tone in which it is said, and to whom it is said.
Humor can be very tricky; if used wrongly can also lead to several misunderstandings.
Over to you…
Aren't you already excited to talk to your future self? Certainly… we all are! None of us can wait to know what our future self is going to be like.
But, but, but… you never know this opportunity comes knocking at your door.
So, you must be prepared to make full use of it…
Out of the thousand conversations running in your head, you must have one with your future self too.
So, depending on your concerns or desires, create your own questions. And if you don't know how to go about it, use this list of questions to get an overview of all aspects of your future life.
Surabhi Kedia
Surabhi has a deep passion for words. She puts her heart and mind into whatever she pursues and craves for creative ventures. She has always been keen on creating original content that can make a difference. In her experience as a content writer, she has had the opportunity to work on several fields with Psychology being her favorite. Surabhi says, words have the power to transform the world, better than a sword. So she hopes to contribute her bit to this revolution. At ThePleasantConversation, she feels lucky to have the opportunity to share content capable of bringing about a change in the lives of the readers.