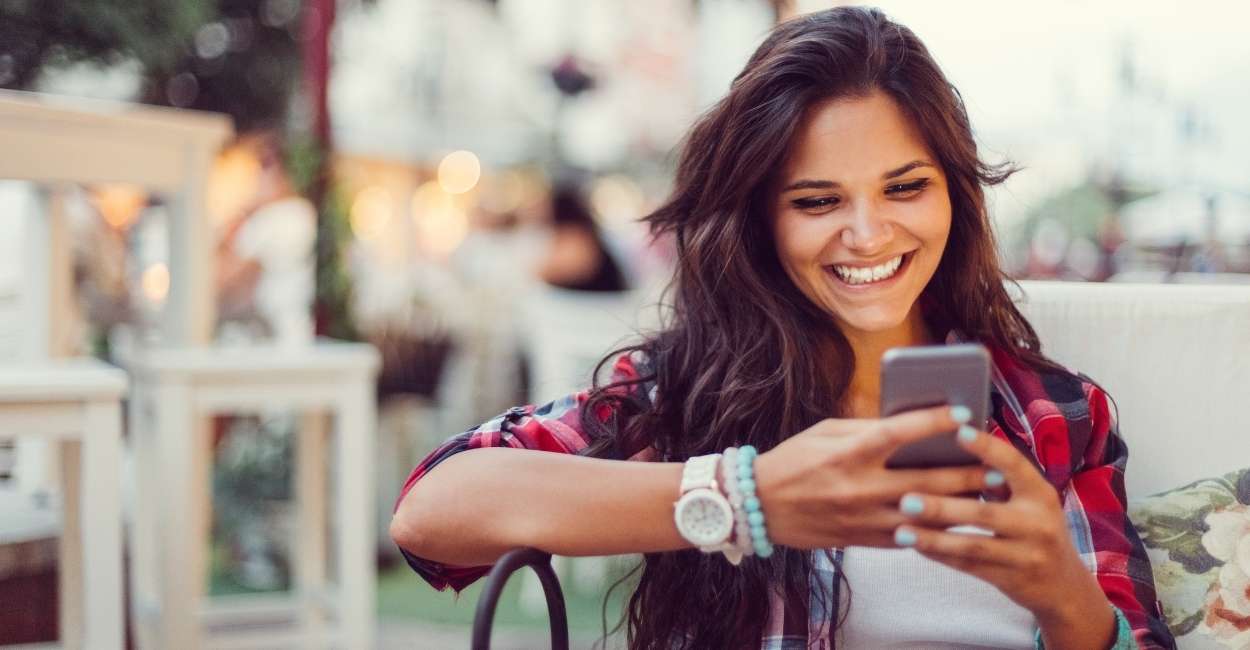 Thanks to online dating questions to save our dates from turning into interview sessions! Dates let us know each other better. But in the process, we end up asking serious and boring questions to our dating partners. Now that's an old hat!
Don't you think dates are supposed to be a pleasant meeting? Why make it a monotonous deal of question-and-answer rounds? Same conventional questions, and same boring answers. That turns you off even before the relationship starts.
The good news is that the question-and-answer rounds can be fun. Wondering how? Then your answer is this think-piece. Don't believe it? Try it yourself!
So, girls let's first start with you and give you some questions to ask your man!
Online dating questions to ask him
Do we still need to talk about how quickly guys get bored? It's not possible to keep a guy engaged in your conversation if it lacks thrill.
That's the reason I've handpicked these online dating questions for them. Simple, but captivating. Give it a try!
What's one thing you're great at?
What makes you laugh?
Where were you born?
Where are you brought up?
Do you have any brothers or sisters?
Did you have a childhood pet?
Can you speak different languages?
What's the best thing about the job you do right now?
What nicknames do people give you?
Where has been the best place you've ever traveled to?
Do you have any tattoos or piercings?
What's your favorite childhood memory?
Did you have a career in mind when you were growing up?
Were you a nerd or a cool kid growing up?
Who was your role model growing up?
How would your friends describe you (in three words)?
When was your last relationship?
What subject did you like most in school?
What fears do you have about dating?
What do you think your friends would say your best quality is?
Now that was for girls to ask their guys, but the guys shouldn't feel left out either! Here you go with the exclusive list of online dating questions for her…
Online dating questions to ask her
Honestly, unlike popular belief, there's no rocket science to keep them interested in your talk. It's simple. Keep it all about them.
A dating questions list with a personalized touch that makes them feel special. That's enough!
Here's how you can do that.
What was your favorite entertainment as a child?
Which book did you love reading?
What's your ideal first meeting?
What's your favorite spot in town?
How would you plan a perfect date?
What's your love language?
What's your opinion on [insert a topic]?
How do you spend your Saturdays?
What do you like most about our conversations?
Where did you go to school? Did you have a favorite class?
What goals do you have this year?
If you could pick any actress to play you in a film about your life, who would you pick and why?
Are you an outgoing person or a shy baby?
Describe yourself to me in emojis?
Where would you like to go on a date?
What's your favorite cuisine to eat?
What's exciting happening in the next month?
A long-term relationship or a forever friendship?
What's something you can never compromise when you're in a relationship?
Would you like to have a big family or a small family?
Told you! No rocket science.
Now let's solve your next issue. How to start a conversation? Well, to start a conversation is no big deal, but to make it a gripping one… hmmm. Now you're talking about something.
Let's see what we have for you!
Whether you're an introvert or an extrovert, waiting for the other person to begin the conversation makes it awkward.
To help you wave off your coyness and get the conversation started, I have a special list of ice-breaking questions for you. So, dig in!
Are you close with your siblings?
Do you have a lot of friends or just a few close ones?
What's your schedule normally?
Tell me an awkward/funny story of your life.
Do you prefer going out or staying in more?
Tell me something about your family.
What's your biggest dating pet peeve?
Do you normally eat super healthy or are you a foodie?
If you could spend all day doing one activity, what would it be and why?
Have you ever met someone who didn't look like their profile picture in reality?
Do you see yourself as an adventurous person?
What's your favorite restaurant in the area?
How long have you been dating online?
What kind of food do you like to eat?
Did you grow up here?
Do you enjoy traveling? Anywhere you would like to go one day?
How do you like to spend your free time?
What are you looking for on [one dating app name]?
What's something currently you don't get the hype about?
What's your favorite recipe to cook for someone you're dating?
So easy, right?
Good conversations depend on a good list of date questions. Do you have one? No? Well, don't worry, I got your back. Check it out!
Good questions to ask online dating
While the world is busy working, you get a chance to sit with your dating partner. So, why not talk about some happy experiences and tough choices with them? It doesn't have to be dramatic. It can be something as simple as asking about their weekend plans. Here you go!
What's your happy place, which lifts your mood instantly?
What was your first concert?
What kind of vacations do you like to take?
Beach or mountains… which one do you prefer?
Tell me about 3 good highlights of this week.
Would you like to meet people worth your time, or just to hang out with?
Have you seen [Name a movie? Then just discuss it].
What's something that you want to learn how to do?
Do you remember your best friends' pet peeves?
What's your favorite drink on a night out?
Why is someone as great as you on here?
Do you enjoy working out?
What's there on your bucket list?
What's the worst lie you've told while on a date to escape?
What shows have you binged watched recently?
What's one YouTube channel you would recommend?
What's your favorite cocktail?
What's something that makes you angry?
What's one TV show you cannot stand?
Are you an early bird or a night owl?
You had a great date but did you laugh with it? No?
Well, no date is complete without a great laugh! That just takes away the apathy of the situation, eases you, and wipes off the hesitation. So, you know, what's gonna follow, is pure fun…
Funny questions to ask in online dating
We've innumerable meaningful and serious subjects of discussion. But without humor, life's difficult, pal.
An ideal partner is the one who can make you laugh in the worst circumstances. Further, you don't know how much a good laugh can tell you about the other person. Time to find out!
What meme always makes you laugh? Show me.
What reality TV show would you participate in?
What's the weirdest dress you've tried?
What's the weirdest thing that's ever happened to you while having first-time sex?
Why do bartenders use blenders "to break the ice."
Do you have any odd talents? Something that's out of the way?
What's a funny school story you've been involved in?
What movie scene is always guaranteed to make you laugh?
What's your most bizarre quirk?
Have you ever dated someone who was a bad kisser?
What are the most cringy "moves" when it comes to flirting or dates?
What was your first email address? What age did you enter?
If you were an animal, which one would you be?
Who was your celebrity crush as a teenager? Tell a funny thing you did about it.
Tell me a funny drunk story.
What's the worst pickup line someone has sent you to start a conversation?
What is your soul's age?
Do you believe in ghosts? Would you like to date one of them that's good-looking?
Have you ever watched Discovery just to watch animals mating?
What's the funniest online dating story you have heard?
Now do you want to know more about your partner? Then it's time to make the conversation more absorbing with…
Interesting questions
Did you know the Bumble dating app has been named after the world's smallest mammal? It's a Bumblebee bat! Hey, that was just an interesting joke.
And if you want to keep your partner hooked, you need to do just that. So, here's the list to help you!
Are you religious?
Tell me a high-school secret no one knows about?
Is there any food you hate?
What would be the title of your autobiography?
Are you a spontaneous person or a hardcore planner?
What's one thing you absolutely love about your best friend?
Do you think you will enjoy being famous?
Would you rather go for a cabin in Alaska or an apartment in NYC?
A fast car or a fast Internet connection?
What 3 things annoy you in a relationship?
What star sign are you?
What is the soundtrack of your life?
Who's your biggest celebrity crush currently? Why?
If you had to choose between Instagram and Netflix, which one would you choose to keep? Why?
What's the most extreme thing on your bucket list?
Do you have a special place you like to visit when you need mental peace?
What's the most interesting fact about yourself?
If you had the choice to obtain superpower, which one would you choose and why?
What's a dealbreaker for you in friendship?
How would you motivate yourself to work on a Sunday morning?
Well, we've been funny, we've been interesting, and now it's time to explore the depths with…
Deep questions to ask
If you want to take this relationship ahead, you need to know about your partner's values and beliefs. After all, that gives you a sneak-peek into how maturely they will deal with future endeavors of your relationship!
So dig deeper with this list…
What is the one thing in your life you are most grateful for?
What are your relationship deal breakers?
Do you believe in God?
What would you pick: a cheap gift full of feelings or an expensive gift just for show-off?
Who are the most important people in your life?
What are you passionate about in life? How does it add to your values?
What's your biggest fear in life?
Do you tend to focus more on the big picture or the little details?
Are you close to your family?
Where do you see yourself in five years?
What are you most proud of in your life?
What's the best piece of advice you've ever received?
What qualities do you value most in a potential partner?
What short and long-term goals do you have for your professional life?
Would you consider your belief more traditional or practical?
What motivates you every day when you wake up?
What is one memory that still makes you vulnerable?
What's the worst piece of advice someone has given you?
Have you ever been dumped, or are you usually the person that ends the relationship?
What level of commitment are you looking for now?
You know what, some dating questions are so good that you just can't resist them… and that brings us to the best list!
Best questions for online dating
Remember the best things you promised to yourself? Did it include the best dating questions list? If not, add it right away! Because this list is full of fun, laughter and everything else.
What's the best pickup line someone has sent you to start a conversation?
When you first saw my profile picture, what did you think?
If you could buy a plane ticket right now to anywhere in the world, where would you go and why? Will you take me?
What's your idea of the best marriage?
What are your guilty pleasures?
What's the best love story you have seen or heard?
Tell me two truths and a lie.
Are there any topics you could talk about for 3 hours without getting bored?
Nights in or nights out?
If you won $1 million, how would you spend it?
What do you like to do when you're sad?
What's one thing in your life right now you couldn't live without?
Are you 100% honest, or depend on the situation?
What's your addiction?
Can you tell me 3 random facts about yourself?
Would you prefer a walk or an outdoor adventure activity?
What political topics are you interested in at the moment?
When was the last vacation you took?
Have you ever been genuinely scared by someone while speaking to them online?
What hobbies are you into at the moment?
Imagine a pleasant evening, some wine cups on the table, and a beautiful dating partner. What would you do? Flirt, of course!
To give you a hand in your endeavor, here are some flirty questions for you! 😉
Flirty questions to ask
If someone says flirting is cheap, they don't know the "right" way to flirt. If you're mindful of the line, this can turn out to be the most intriguing conversation ever.
What famous actress do you think I look like?
Do you like my outfit? So do I!
What do you think is my favorite food?
What is refreshing about me? My perfume or my breath?
If you could ever be smart or good-looking – which would you pick?
What would you say are the aspects that draw you to me?
Name 3 of my body parts that you like the most.
What color do you think looks best on me?
If I was a flower, what kind of flower would I be?
What is something that sets me apart from other people?
Do you believe in love at first sight?
Do you see me falling for you?
What kind of pillow is your favorite? Will my arms suffice?
There's just something about you, I can stop staring at. Do you know what it is?
Do you have a foot fetish?
What do you wear to go to sleep?
I just want to know how on earth you are still single.
Do you see yourself as a romantic person?
Are you a blanket hog?
Would you say that I am your usual type?
Well well, so far, so good. What about gearing up? I'm talking about the transition from flirt to dirt… Getting it? Time to finish the date on a juicy note, if you're not the neat-and-boring type. 😉
Dirty questions to ask
Who says adulthood is all about finances and responsibilities? With our raunchy list of dating questions, your date night is gonna be nothing but an enthralling experience.
What's your favorite thing to do in bed apart from sex?
Do you want me to be shirtless right now?
Are you touching yourself? May I?
Would you like to have a shower with me?
Where's the naughtiest place you've ever had sex?
What's your favorite position?
How many times have you been asked to send nudes?
Tell me about one of your sexual fantasies.
What is the kinkiest dream you've ever had?
Where would you touch me if you were here right now?
What's your favorite sex scene in a movie?
Do you like cuddles after sex?
Does the idea that you might get caught having sex turn you on?
What spots on your body would you love your partner to touch?
What if I kissed your neck?
Have you tried virtual sex yet?
What are you wearing? Will you show me?
Want to see a sex video?
Where should I lick off the ice cream from your body?
What's the sexiest outfit you own? Wear it and show me, please!
And with that, it's the end of the riveting lists of questions… But pause, there is something crucial you must learn before engaging on dating sites.
Have you ever been turned down by an online date? It could be because of an insulting remark or an uncomfortable question. Whatever it was, it made you cringe like anything.
If you don't want to commit the same blunder while dating online, don't miss out on some DO(s) and DON'T(s) enlisted here…
---
5 Tips for fun online dating
No doubt, online dates are much more time-saving and effortless for our lazy birds who don't like to step out of their nests in the search of their soulmates. But contrary to popular belief, it's not all gold.
Since it's gonna be a virtual date and your partner can't feel your presence, it's tough to know who is on the other side… for real.
And, if you don't wanna create a mess, here are some tips for you to follow.
1. Do your Homework
Conduct a basic background search of who they are and what their personality is like. That gives you an idea of their interests and turn-offs. So, you've lesser chances of messing up while on the date.
2. Be Curious
Don't start sharing your long list of experiences and stories before listening to theirs. Both of you are different, and each of your stories stands interesting in its own way.
Infact, be curious to know more and ask questions. It will introduce you to them in ways you never imagined.
3. Respect wins the game
No matter what, don't cross your line and ensure their comfort before speaking. The moment you see them turning nervous, or embarrassed, stop right there.
If you spot them being uncomfortable, apologize and say "Sorry, if I stepped on a vulnerable area. Please avoid that question.
4. Don't be a yarn-spinner!
Look, friend, no one's a fool. There is no end to lying or hoaxing about yourself, just to impress them in one go. Despite you being a pro-lier, people can sense dishonesty. So, never, I repeat, NEVER try to impress them with fake stories.
5. Be the real you
Be the wonderful person that you're. If your date partner is interested in the real you, only then this relationship is worth it. Remember, anyone can love the mask that you carry around, you want your partner to love the real you.
Keep things as genuine and realistic as possible. Honesty and Simplicity never go unnoticed.
A word from ThePleasantConversation
That's all honey, and your date is sorted! Just to wrap it on a good note, I would like to throw another piece of advice for you – Dating includes two people who probably have no clue about the history of each other's life.
So, it's not an issue if you have a couple of failure dates before hitting the right one. It's a part of all other experiences that together make life!
Never let these discourage you. Take it easy, have fun, keep trying, and you shall meet the right person when the time is right!
Surabhi Kedia
Surabhi has a deep passion for words. She puts her heart and mind into whatever she pursues and craves for creative ventures. She has always been keen on creating original content that can make a difference. In her experience as a content writer, she has had the opportunity to work on several fields with Psychology being her favorite. Surabhi says, words have the power to transform the world, better than a sword. So she hopes to contribute her bit to this revolution. At ThePleasantConversation, she feels lucky to have the opportunity to share content capable of bringing about a change in the lives of the readers.